DiSabatino Landscaping Transforms an Outdoor Living Space
April 18, 2017
Now that the mild weather is back in town, Delaware Valley residents are starting to emerge from their homes to enjoy the outdoors. Lawns are starting to green up,  perennials are poking through those freshly mulched beds, shrubs and trees are budding – we are beginning to surmise our outdoor environment.
Many of us wish our backyards were more inviting and conducive to on-the-fly gatherings or family dinners. As we survey the rutted bare spots created by poorly designed outdoor furniture scattered haphazardly on the lawn or ancient patios cracked to pieces, we begin to realize it doesn't have to be that way.
If you're looking for ways to create a beautifully hardscaped living space with all the modern conveniences, get in touch with DiSabatino Landscaping, we can make all you outdoor living dreams come true.
Check out this property we recently transformed for the Marcelo family in Wilmington, Delaware. They have it all –stunning built-in firepit surrounded by a comfortable and inviting seating area, hot tub thoughtfully hardscaped with half height wall for sitting or resting beverages, and an awesome cooking and dining area protected by roof with exhaust and ceiling fans.
Notice how the design fits into the scale and architectural materials of their home. That's what the hardscape experts at DiSabatino Landscaping do best. This upgrade is sure to pay for itself when you take into account the increase in usable space, ambiance and resale factor.
Featured: Marcelo Property in Wilmington, Delaware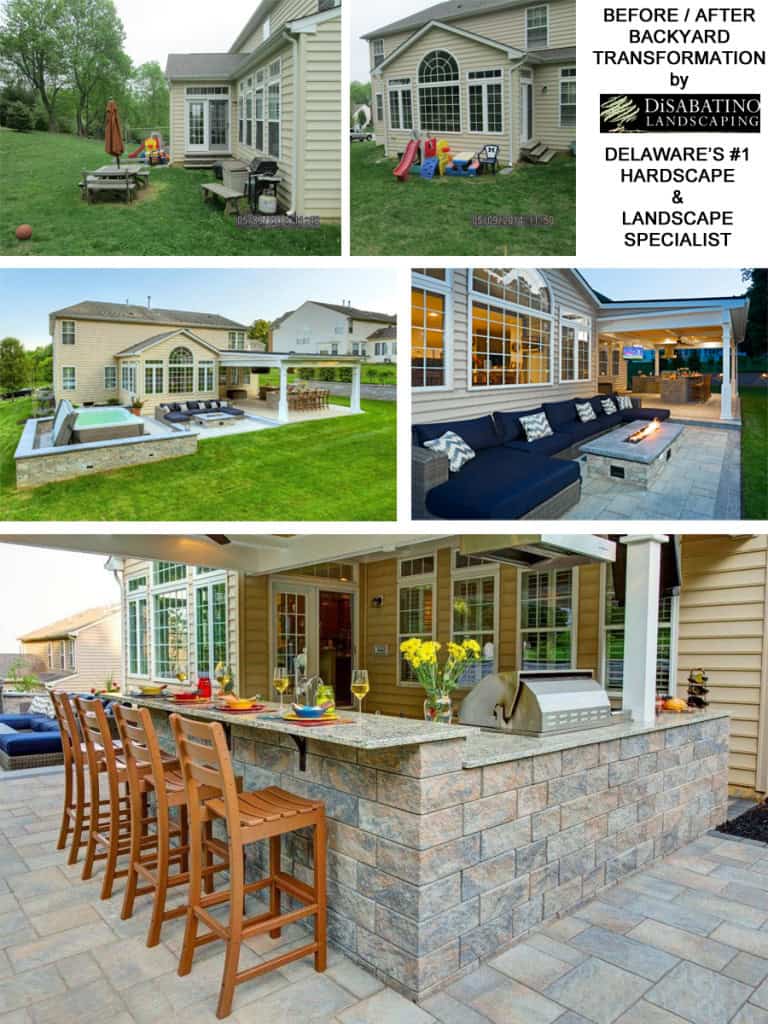 ---

DiSabatino Landscaping is Delaware's #1 Hardscape and Landscape Specialist. We can design an outdoor living environment that will add quality to your life and value to your home. Give us a call today! 302-764-0480
Related Articles