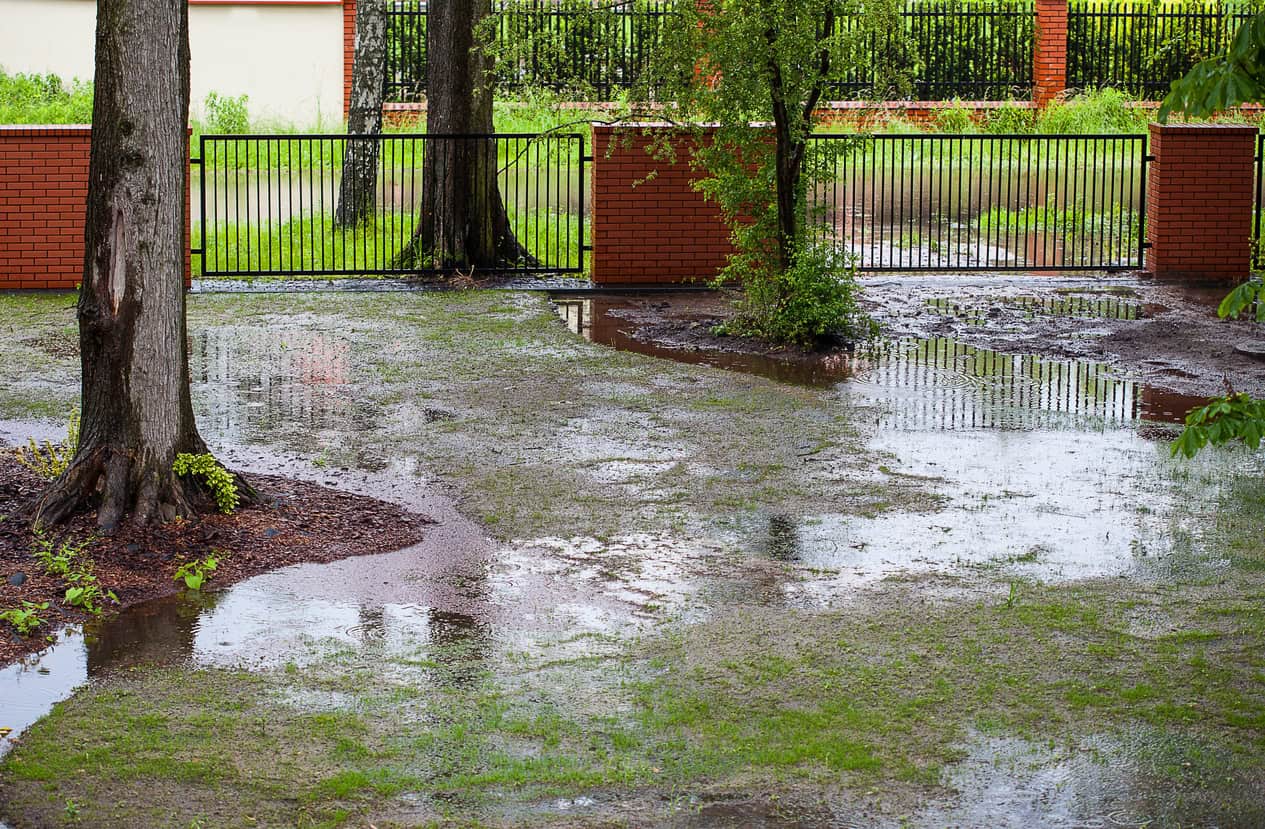 How to Solve Landscape Drainage Problems
November 17, 2020

If you are experiencing an unusually soggy lawn with pooled water, there is a good chance you are suffering from landscape drainage problems. This year has brought more than our fair share of challenges to our area. Between the pandemic, the Spotted Lanternfly invasion  and unrelenting rainfall, our landscapes are saturated and mushy.
When your landscape is saturated, it can be bothersome all the way around. It is not only bad for your outdoor living; it can affect your indoor living, as well. If you property is suffering from drainage issues, it can permeate your home's foundation and wreak havoc on your indoor environment.
Redirecting water away from your home's foundation and using certain water management strategies can solve your drainage issues and get your property back to a healthy harmony.
Properly grading around the perimeter of your home to prevent water from seeping into the foundation is one-step towards solving landscape drainage issues. There are a number of other very effective ways to divert water to other areas of your landscape.
How to Solve Landscape Drainage Problems:
Add extensions to your downspouts: Attaching extensions to divert water from a downspout guiding water collected in gutters well away from the foundation. This will prevent water from flooding basements or sub-ground areas of the home.
Dry Well: A dry well holds water in a large hole filled with gravel allowing it to slowly soaks into the ground.
Strategically placed drainage grates and boxes: Placing surface drains with grates that keeps debris out, yet allows water flow into the box channeling to a slanted pipe allowing the water to run downhill.
Swale or French Drain:  Drainages swales are pitched areas lined with stone or grass designed to guide water off your property or to an area well away from the foundation. Whereas, a French drain is another effective way to fix drainage issues. A French drain is a perforated pipe sheathed by a fabric sock to keep dirt and sand from clogging the pipe.
Rain Garden or Barrel: A rain garden in problem locations of your property could be the solution when an underground spring or creek is the issue. Likewise, installing a water barrel or storage well below grade to capture the runoff that can be used to irrigate landscaping elsewhere.
Many drainage problems will require hiring a landscape drainage professional. A trained and experienced landscape professional knows what corrective drainage measures will work best for your specific water flow patterns. They will be able to assess the full scope of your drainage issues and create an overall design.
Please note this is not a full list of solutions to alleviate poor drainage areas. However, if you have a wet spot in your lawn or an area you are worried about please give us a call and one of our designers will find the right solution for you!
DiSabatino Landscaping helps fix landscape drainage problems for residences in Delaware and the surrounding area. If you would like to find out what we can do for you, please get in touch
302-764-0408 | DiSabatinoInc.com
RELATED ARTICLES:
Drainage Fixes to Protect Your Home and Landscaping
7 Reasons to Install a Fire Pit this Winter
---


DiSabatino Landscaping is Delaware's #1 Hardscape and Landscape Specialist. We can help advise you what is best way to create outdoor fireplaces & fire pits  Give us a call today! 302-764-0408
Related Articles