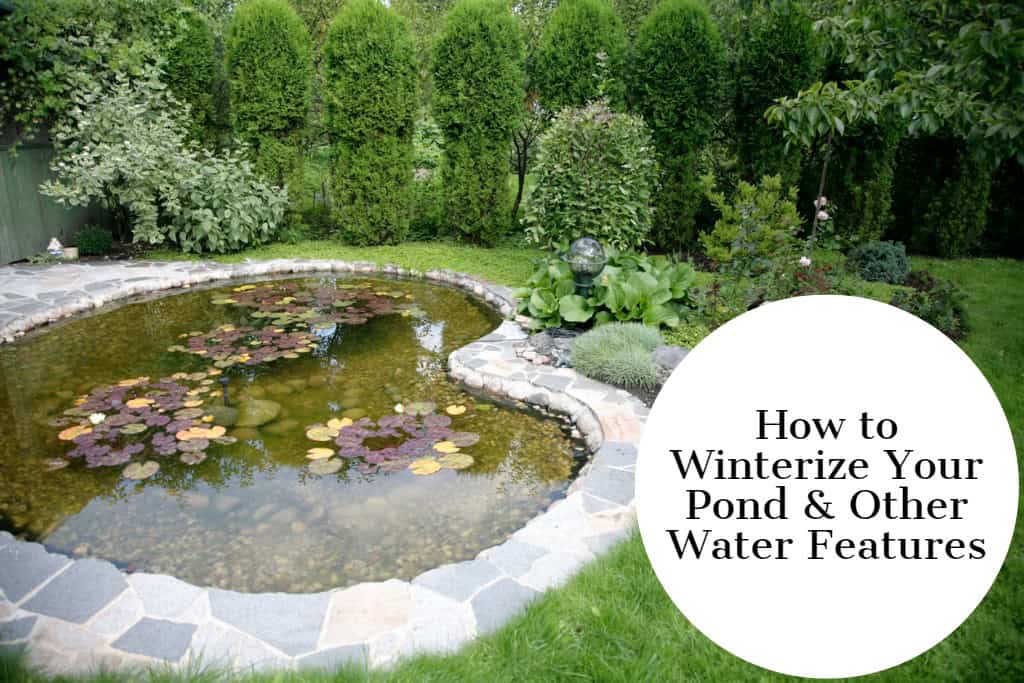 January 9, 2020
---
Winterizing your pond begins in the fall, as water temperature is a big factor in determining when is the right time to begin the winterization process for ponds and other water features.
Tips to Winterize Ponds
DiSabatino Landscaping of Delaware helps homeowners to properly take care of their hardscaping and landscaping investment. That is why we suggest that you complete the following steps to prepare ponds and other water features for the winter months ahead.
How to Winterize Living Ponds & Other Water Features:
Debris Control: Clean out all debris, leaves and silt from the bottom of your pond. The cleaner you can get the pond before freezing weather comes, the healthier your pond will be throughout the winter. Ponds need to be covered with netting in the fall. This netting should be well above the surface so leaves can be easily cleaned. Use a fine-weave aquarium net to sift out excess sludge and debris.
Water Change: A water change can be done anytime, but it is much more comfortable if it's done before the water reaches 60◦ Remember to use dechlorinator if your water contains chlorine.
De-Icer: Use a de-icer to keep a section of your pond open to allow oxygenation and gas exchange. This does not warm the overall water temperature of your pond. A de-icer simply allows toxic gasses to be released and oxygen to enter the pond.
Pump Care: When temperatures drop below 40°F, the main pump should be removed and filters thoroughly cleaned. Do not leave the pump running on the bottom of the pond. It will lower the temperature of the entire pond by disrupting the natural thermal layers of the pond water as well as adding extreme stress on pond fish.
Plant Care: Trim and remove any dying plant material as it appears to avoid debris build-up. In this area, bring inside all tropical plants and set all hardy water lilies to the bottom, if the pond is deep enough to keep them from freezing to the bottom.
Fish Care: Depending on the water temperature will determine what food you feed you fish. Cooler temperatures make it harder for fish to digest food properly. Though it is important for fish to bulk up during the winter months, it is imperative that they not be overfed. As this is a complicated topic, here are more intricate instructions on fish care.
If you would like help with your landscaping needs, please get in touch
302-764-0408 | DiSabatinoInc.com
---
---
RELATED ARTICLES:
---


DiSabatino Landscaping is Delaware's #1 Hardscape and Landscape Specialist. We can help advise you what is best way to create outdoor fireplaces & fire pits  Give us a call today! 302-764-0408
August 14, 2019
Want to enjoy the outdoors anytime of the year by creating a beautiful outdoor living area?
Then consider adding a fireplace or fire pit to your outdoor living space. Don't forget to get the kids involve by letting them cook their own food. There are plenty of campfire recipes to try. Of course there has to be s'mores!
Do you have pizza lovers? Consider adding a wood fired brick oven to make authentic pizza for a hungry crowd. Did you know brick ovens cook quickly and efficiently? Better yet, they are a great way to cook desserts, meats, veggies and more!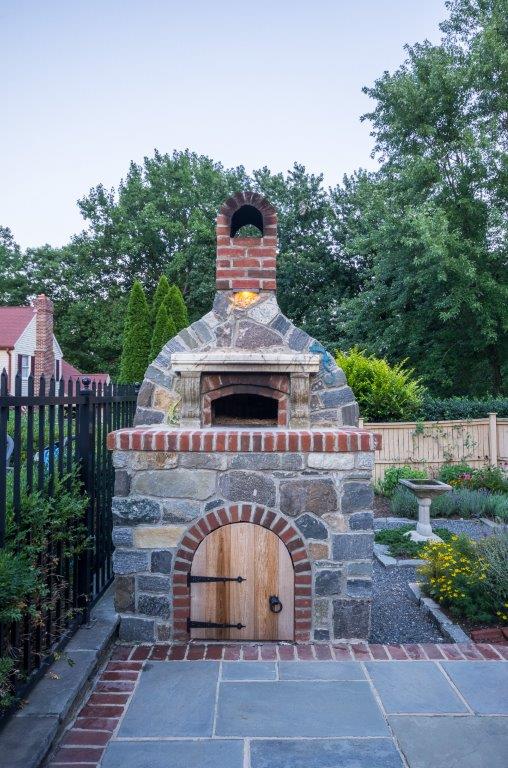 How about a full outdoor kitchen? An outdoor kitchen allows you enjoy an outdoor party while you cook! In addition, it makes you more efficient and  lessens the need to run back and forth to the house. That is why we encourage clients to consider some sort of cooking options for their outdoor living area.
Check out some of our luxurious outdoor kitchens that will make your home the preferred party location. Likewise, be sure to create comfortable seating areas that will have you looking for every opportunity to enjoy the outdoors.
Add one of these below unique features for creating an even better outdoor living space that will extend the usable square footage of your home. Not only will it increase your home's value, it will give REAL value to your home life. Also consider the savings from staycations, a great way to bond with family without spending tons of cash!
7 Great Ideas for Creating a Beautiful Outdoor Living Area:
A pavilion to keep your seating area comfortable and dry
A pergola is a great way to add shade, privacy and ambience
Custom in ground pools and hot tubs are refreshing touches. Add special features such as waterfalls and ambient lighting
Ponds and other water features, such as a fountain is great way to add character to your landscaping
Create peaceful locations to relax and meditate
A deck off the master bedroom – connect with nature any time of day.
Utilize the front, side and back of house to add a custom made deck with gazebo, gorgeous pergola, pavilion or sun room
The possibilities are endless!
If you want a beautiful custom made outdoor living area created just for you, get in touch with DiSabatino Landscaping and Esposito Masonry. We create unique outdoor rooms and patios!
302-764-0408 | DiSabatinoInc.com
RELATED ARTICLES:
The History Behind Our Outdoor Spaces
Three Ways to Transform Your Yard Into an Outdoor Room
---


DiSabatino Landscaping is Delaware's #1 Hardscape and Landscape Specialist. We can help advise you what is best way to create your outdoor living space  Give us a call today! 302-764-0408
If your pool area has become worn cracked and overall uninviting, it might be time for a full makeover!
Let DiSabatino transform your pool area into an inviting oasis that can make your backyard the envy of the neighborhood. Fall is a perfect time to remodel the hardscaping and landscaping surrounding your pool area, making your next pool season a huge success!
Check out this transformation we did on the Walsh property. Notice how we installed a beautiful slip proof decking, stone walls and waterfall with ambient lighting. Not only is this pool side  more inviting, it's a lot safer than the previous cement and wood decking conducive to slippage and other mishaps.