May 28, 2019
Outdoor Living Room Tips You'll Want to See This Spring
A typical backyard space can provide the kids a place to play, adults with a space to kick back in a lawn chair, and pets a place to roam away from busy streets. However, so many patio spaces are nothing more than a concrete pad, a few chairs, a grill, and perhaps a few potted plants. Why stop there?
Today's backyards are essentially extensions of the interior, complete with comfortable furniture, outdoor kitchens, and even protection from the elements. Yet, these outdoor rooms retain the natural elements and connection with the outdoors necessary to provide an escape from the stresses of daily life. Here are three ideas to get your outdoor room started.
Three Ways to Transform Your Yard Into an Outdoor Room;
Traditional Decking
A traditional deck can be the perfect beginning to an outdoor room. It elevates any furnishings up off the ground, providing space between you and natural annoyances such as insects, mud, and weeds. Decking also provides adequate drainage so that excess moisture does not remain trapped underneath any items you may have in your outdoor space.
You can choose from a variety of woods, stains and paint colors to accentuate the exterior of your home. However, you'll need to seal your deck against the elements, and will need to refinish the surface every two to three years. In addition, traditional decking does not have the life expectancy of other materials. Generally, you may need to replace as soon as ten to fifteen years after installation.
Azek
Although natural wood decks are certainly beautiful, more and more homeowners are choosing to use capped polymer materials for their outdoor spaces. Polymers, such as Azek, typically require less maintenance than traditional wood decking and will not warp, crack or split. As a result, a surface constructed of Azek won't require replacement or refinishing as a natural wood surface would.
You can also install Azek near pools, spas and water features. It is resistant to mold and will not absorb water and warp. The only potential drawback for some homeowners is the decreased ability to refinish with various colors and stains; however, the product itself comes in a variety of widths, finishes, and colors.
Timber Framing
If you'd like your outdoor living space to provide shelter from the elements and extend its use further into the fall and winter seasons, consider adding a timber-framed shelter. Gazebos, pergolas, pavilions and sunrooms all provide shade, protection from rain, and varying degrees of wind protection. In addition, your furniture, outdoor kitchen, and other design elements last longer and weather better when afforded some protection. Consider whether your home's architectural features support an attached structure like a sunroom or awning, or whether a stand-alone structure would benefit your space.
If you'd like to discuss adding an outdoor room to your landscaping, contact us today.
---


DiSabatino Landscaping is Delaware's #1 Hardscape and Landscape Specialist. We can help build an outdoor living area that will have you enjoying the great outdoors in style!  Give us a call today! 302-764-0408
January 22, 2019
With every year there comes change, improvement and trends to access. At DiSabatino Landscaping we are always looking to learn new things and explore our creativity in order to deliver the best landscaping product or service to our clientele.
With that in mind, we've come up with a list of landscaping and outdoor living trends to look out for and consider this year.
17 Landscape Trends for 2019:
1) Younger customers: As I get older, everyone else starts to look younger. Over my many years in the landscaping business, I have notice that we are getting a large amount of millennials contacting us for major landscaping and hardscaping projects.
2) Integrating technology: Landscaping companies are utilizing all sorts of technology to the benefit of their clientele. Whether it is the use of a drafting program during the design and build stage, retractable awnings or solar powered lighting; expect increased integration of technology.
3) Battery-powered equipment: Cordless-electric outdoor power equipment has gained more power and dependability to the point that is becoming a formidable competitor of gas-powered equipment. Keep in mind when purchasing several pieces of battery operated lawn tools that it might make sense to stick with the same brand so you can use the same battery for several different pieces of equipment.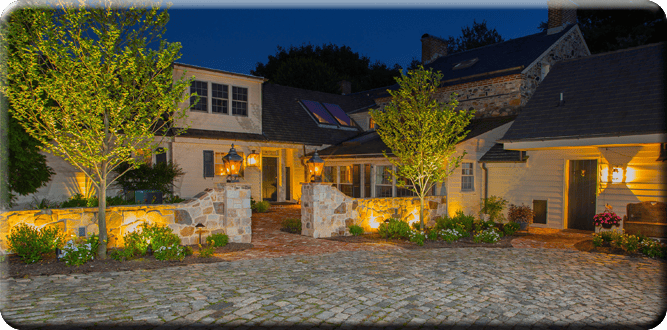 4) Low-maintenance landscapes: People are working longer hours and looking for ways to cut back on home and outdoor maintenance. Low-maintenance plantings, cutting back on the amount of grass you must mow and installing automatic irrigation systems are just a few of the low-maintenance landscaping strategies you can take to lessen your workload.
5) Pollinator gardens: Many gardeners are stepping up to the plate to protect our native bee species whose population has greatly declined due to pesticides, habitat loss or other ecological changes. Create pollinator gardens with the best bee plants and nesting habitats according to the particular native species you are trying to help.
6) Asymmetrical design: Abstract landscaping or asymmetrical design is key to creating landscaping results that are pleasing, artistic and free form. This gives a more natural and relaxed impression that is less dependent on the shape of your garden and more concentrated on creating unity through the use of a variety of elements such as rocks, plant and décor.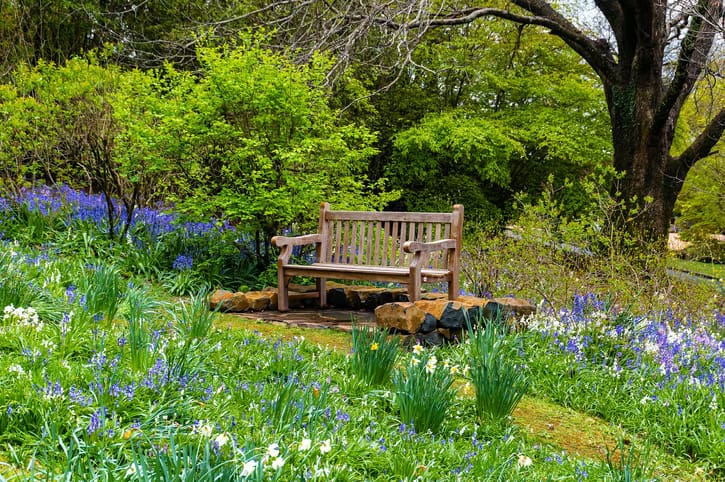 7) Secluded spaces: Secluded Garden Spots or garden rooms are a great way to build an outdoor sanctuary to escape the everyday stress of life. A quiet place to sit and ponder or read can be soothing and reinvigorating.
8) Creating a "staycation" spot: More and more families are creating an outdoor oasis in their backyard where they can enjoy each other's company, nature and extend the square footage of their home. Creating outdoor kitchens, dining areas, recreation or living areas is a great way to have a place to staycation every weekend!
9) Making backyard structures focal points: The ambience of sharing a nice bottle of wine while relaxing outside with a roaring fire is one of the best ways to wind up a long day. Creating an outdoor space to focus on you is going to be one big trend going forward.
10) Making a notable first impression: The entrance to your home is the first and often the most lasting impression friends and family will get when visiting. Many homeowners are investing in landscaping combined with hardscaping to make that impression a good one.
11) Including unexpected elements in your arrangements: Get creative! A café table set next to a lily pond, a lighted stone bridge leading to a welcoming sitting area, a tall urn fountain – these unexpected features will wow visitors and sooth the soul.
12) Including food in landscapes of all sizes: When planning your landscaping, include plants that provide food, cover and water for wildlife. This will ensure a lively and thriving garden while providing much-needed habitat restoration.
13) Giving back with gardens: The 'Giving Garden' is trending as a way to give back to the community. Many organizations are encouraging the giving garden as a way to foster sustainable community values while making an immediate impact on food security.
14) Investing in furniture that lasts: Outdoor furniture is subject to many abusive natural elements, such as the sun's rays, high winds, pelting rains and sleet. Many homeowners are looking for more durable and sustainable features in outdoor furniture, such as concrete, stainless steel, synthetic wicker or teak furniture, which is a dense, close-grained hardwood with a natural oil content that makes if resistant to the elements.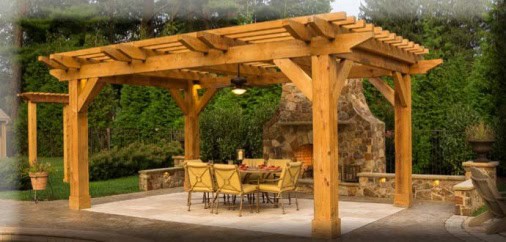 15) Pergolas: A pergola can provide protection from direct sunlight, yet allow air to circulate freely. This makes them a welcome respite from the harsh rays of the afternoon sun. Making a pergola the perfect feature of an outdoor living space.
16) Pink hues Pink promises to be the most popular hue in landscaping this year. Picture a lovely English garden on a sunny spring day. Expect to see a lot of pink hued knockout roses, delphinium, carnations, dogwoods, hydrangea, foxglove and petunias.
17) Metals: Metal landscape edging, corrugated metal sculptures or tall privacy screens are finding a niche in the landscapes of today. Metal is durable and weathers well, why hasn't this become a 'thing' much sooner?
---


DiSabatino Landscaping is Delaware's #1 Hardscape and Landscape Specialist. We can help build a outdoor fireplace or fire pit to keep you warm over the winter months ahead. Give us a call today! 302-764-0408
December 18, 2018

Winter is the perfect time to use that fireplace or fire pit. Letting the warmth of a nice roaring fire bask over you as you sip a hot toddy or yuletide drink while inhaling the brisk winter air is invigorating, yet soothing!
Don't let you fireplace or fire pit sit idle this holiday season. Check out our video on fireplace and fire pit maintenance so you can safely enjoy the great outdoors this winter.
Whether you are enjoying the warmth as you listen to the crackling of the fire, sipping on your favorite beverage or toasting marshmallows with the kids, there's nothing like relaxing in the comfort of your own backyard.
The benefits of fire pits are many –they make the outdoors a year round gathering spot. The winter night sky is a beautiful thing and being able to gaze at the vibrant stars by the warmth of a roaring fire is perhaps the biggest benefit.
---


DiSabatino Landscaping is Delaware's #1 Hardscape and Landscape Specialist. We can help build a outdoor fireplace or fire pit to keep you warm over the winter months ahead. Give us a call today! 302-764-0408