---
There are numerous benefits to building pool houses. A custom pool is a luxurious draw for family and friends to while away the hours and escape from day-to-day responsibilities. Likewise, a pool house can create an extremely enjoyable time and the perfect staycation. Custom-designed pool houses by DiSabatino Landscaping upgrade your luxury swimming pools. They make entertaining easier because they eliminate the need for multiple trips back to the house for sunscreen, refreshments, and other forgotten items. A pool house also saves your home's interior from soggy visitors dripping water throughout your house.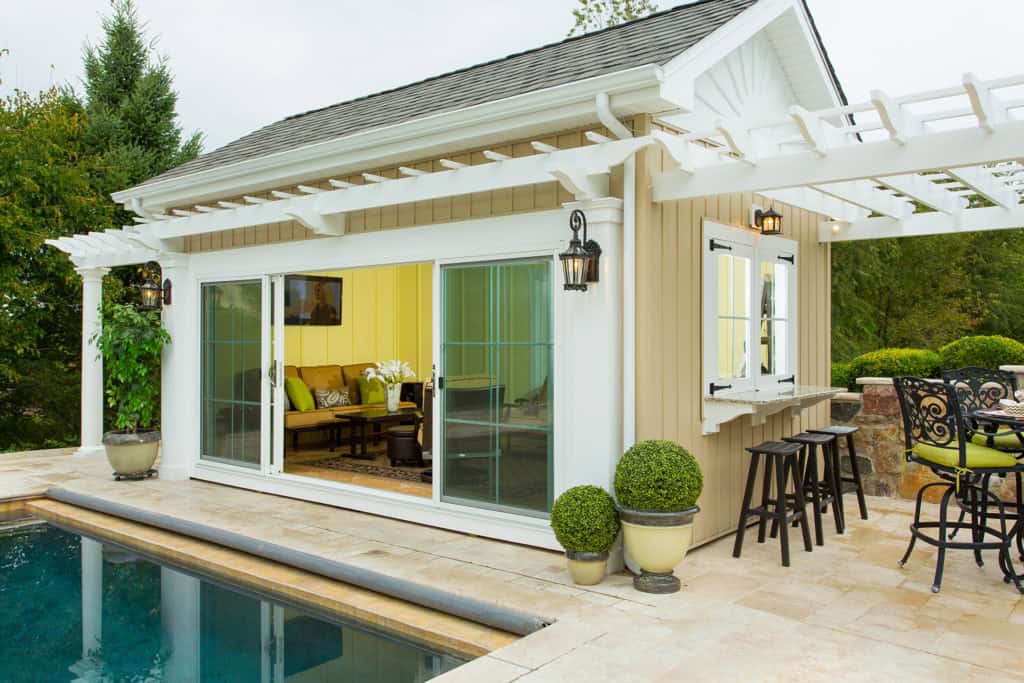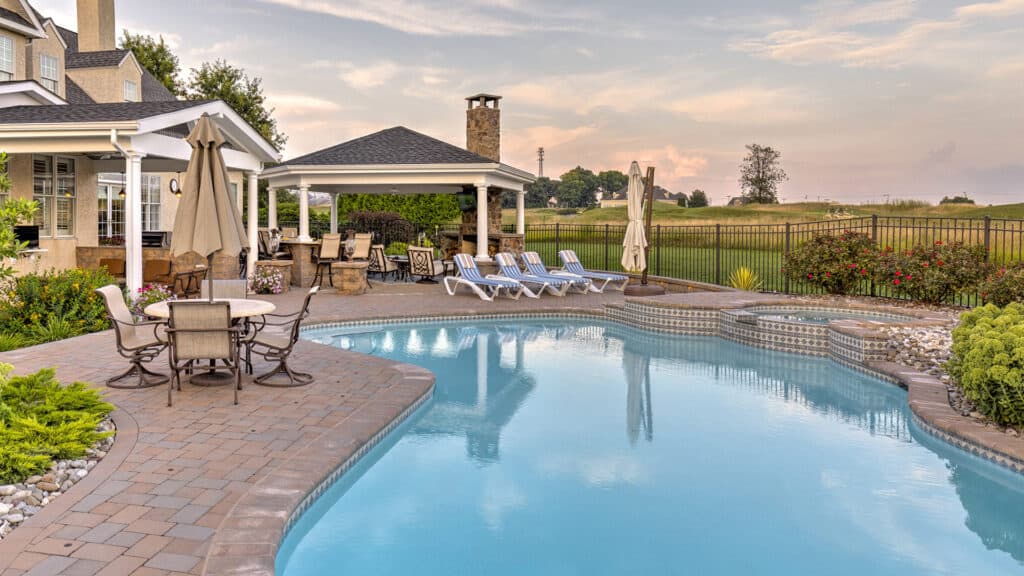 Today's Pool House Design Offers More
A luxury pool house is a smart solution for adding value, style, and comfort to your outdoor living area. It should be close enough to the action, yet far enough away to offer guests some privacy as they change or relax.
In the past, a pool house was a simple structure with a changing area with a small bathroom and a shower head. Today's pool house designs do so much more.
Modern pool houses tend to be more luxurious and livable. They can be made of metal, stone, wood, or brick. Pre-fab or custom pool houses can also be installed. DiSabatino Landscaping's custom-built pool house installers have been providing homeowners in DE and PA with beautifully designed, perfectly situated pool houses for decades.
Customized Pool House Designs with Modern Conveniences And Full Kitchens
A kitchenette stocked with snacks and drinks will eliminate needless energy spent lugging items from the house. Incorporate relaxing sitting areas outfitted with waterproof fabrics to ensure durability. This will also allow guests to escape from severe weather or grab a little shade.
Be sure to create a covered sitting area outside and consider adding a fully stocked bar. Don/t forget to include storage space for pool toys, floats, chemicals and other outdoor gear.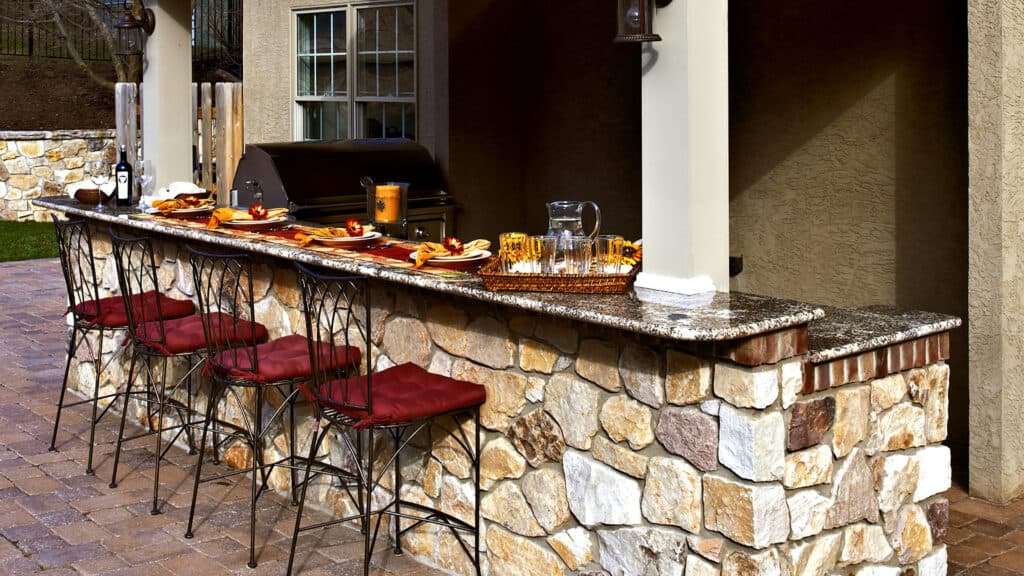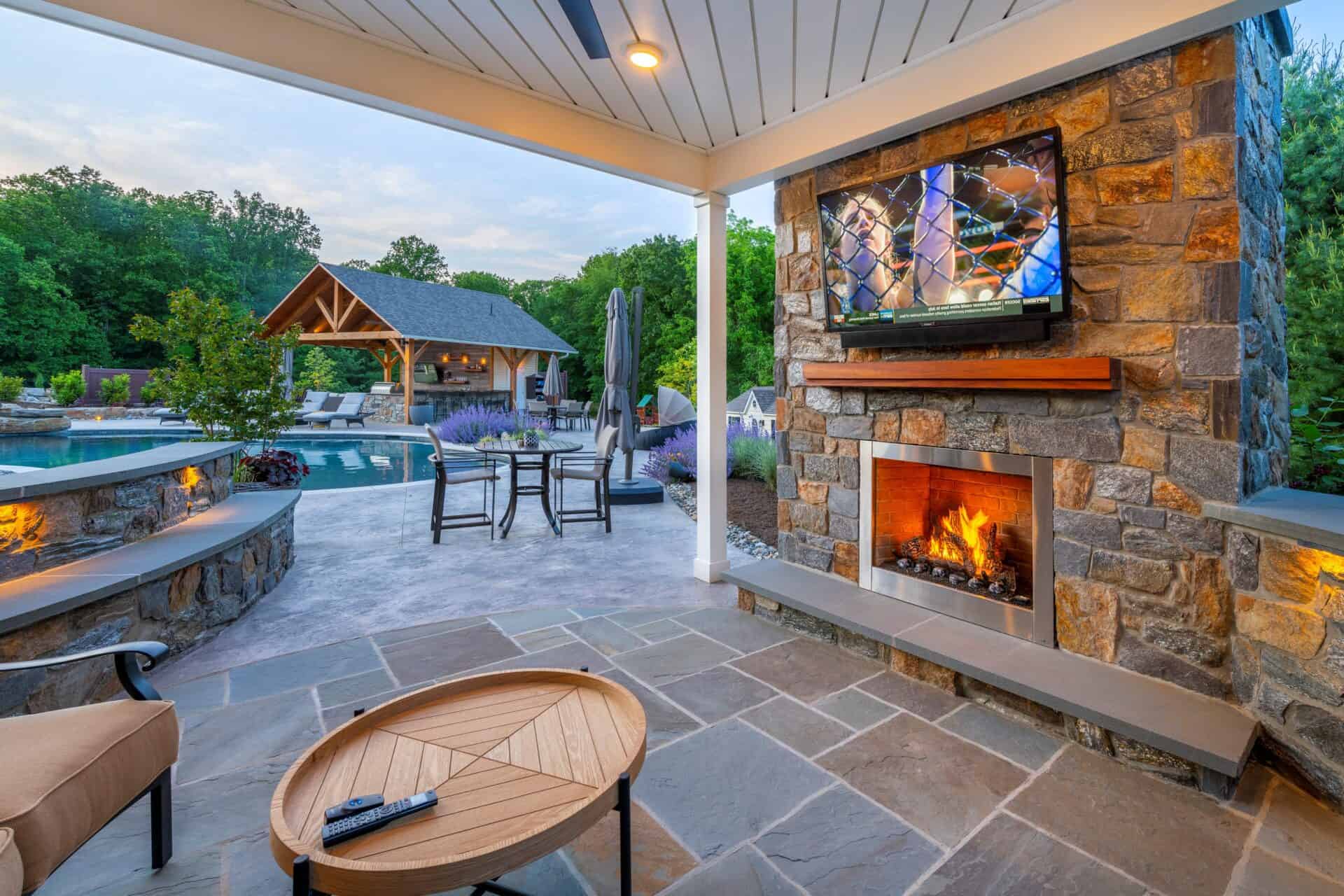 Entertainment Systems And Wi-Fi
There are many ways to upgrade a luxury pool house. An integrated sound system, Wi-Fi, lighting, and entertainment center will go a long way towards keeping guests engaged and happy.
Add ambient lighting, fireplace accents, or other extras to have your pool house reflect the style of your home.
DiSabatino Landscaping offers beautiful pool house design and installation work to homeowners throughout Delaware, Pennsylvania and New Jersey.
Our design architects use the latest 3D modeling software to custom design a pool house that will meet your needs and desires. Our team members are experts in landscape architecture. Paired with superior artisan masonry, our team will work together to make your pool house a work of art.
An Array of Pool House Options
We pay great attention to detail, using only quality materials. Below is a list of some of the unique features that we have to offer:
Fiberglass or Wood Materials
Custom Designs
3d Modeling
Shingled, Metal or Cedar Roof Options
Cathedral or Coffered Ceilings
Fans and Lighting
Heater Options Including Radiant Floor Heat
Many Flooring Options To Choose From
Screened In or Windows
Kitchens and Bathrooms
Sun Decks
Integrated Media Center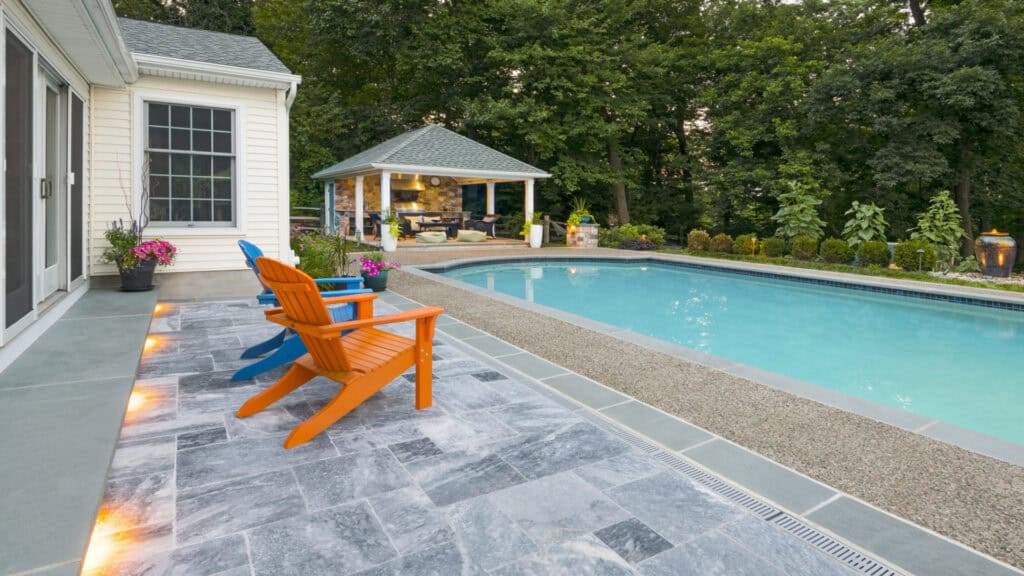 Let us show you how to make your pool house structure special. Whether you live in Delaware, Pennsylvania or Maryland; you can depend on our family-owned business to expertly design and install your custom pool house.
Contact our local luxury pool house designers to get your project started today.