Outdoor Pizza Ovens Custom Designed
 

by Esposito Masonry in Delaware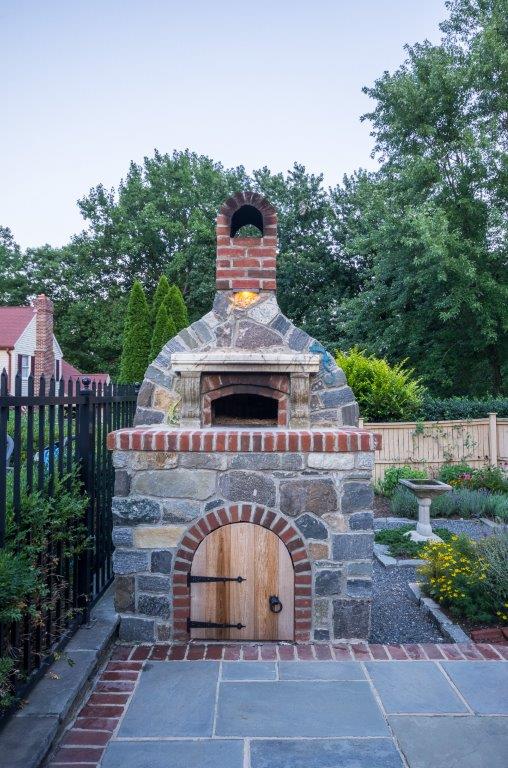 Outdoor pizza ovens are no longer a scarcity seen in outdoor living spaces. The crucial benefits and pleasures derived from an outdoor wood-fired pizza brick oven has made them one of the most desired features in an outdoor kitchen design.
Are your family and friends a pizza-loving crowd that likes wood-fired pizza cooked in a traditional brick or stone oven? If so, you may want to consider adding an authentic brick pizza oven to your outdoor kitchen.
Wood fired outdoor pizza ovens deliver a crisp crust with a soft chewy interior and a pie full of flame-cooked yumminess. Even better, the entire cooking process only takes a matter of minutes!
A wood-fired brick oven uses a small fire to heat a large solid oven. A brick pizza oven holds the heat for a long time hence why they are so popular. They cook quickly and efficiently!
There are many benefits to a wood fire pizza oven, such as a shorter cooking times and better heat circulation. Cooking over an open flame boosts flavor and adds a unique smoky flavor that is impossible to duplicate in a convention style oven.
The added advantage of wood fired cooking is that fruits and vegetables retain more of their nutrients and antioxidants due to shorter cooking times.
Many list pizza as their favorite foods – having an outdoor pizza oven will take your entertainment to the next level. Only a wood fire pizza oven can give you that rich flavor and best tasting crust, crisp on the outside and soft on the inside.
OUTDOOR PIZZA OVENS COOK MORE THAN JUST PIZZA
However, outdoor pizza ovens are not limited to cooking only pizza. They can cook all sorts of food, such as roasted meats, fish, stews, vegetables, desserts and breads. Humans throughout history have used wood-fire ovens to cook their meals. The possibilities are endless.
A masonry oven made of brick and/or stone can use wood, natural gas or even electricity. They have the added benefit of cooking quickly thanks to the triple combination of conductive, radiant and convection heat. Wood-fired pizza ovens offer a better cooking option because they provide these several cooking methods simultaneously.
The shape of the dome and the location of the fire serve as a convection oven without the need of an electrical fan to keep that heat circulating. The refractory bricks concentrate the heat in one area and are better at maintaining temperatures for conduction cooking. The heat from the bricks radiates back into the food for more efficient radiant cooking. These three factors allows for higher cooking temperatures and a better tasting food.
OUTDOOR PIZZA OVENS CREATED BY OUR ARTISAN MASONS
Constructional practices of creating a brick or stove pizza oven have not changed much over the centuries. However, the insulation properties of a brick oven have greatly expanded thanks to technological advances.
DiSabatino Landscaping and Esposito Masonry have been providing Delaware with quality built brick or stone pizza ovens since the turn of the century. Our reputation for masonry artisanship is unmatchable. Esposito Masonry work is exemplary due to our eye for detail and commitment to perfection.
We build all shapes and sized pizza ovens; half barrel pizza ovens, dome shaped pizza ovens, stacked pizza ovens, and more. Each of our brick and stone pizza ovens is custom designed to meet your needs and offer the highest quality cooking experience.
Food cooked with real wood tastes better. A wood-fired brick oven will give you the ability to make great pizzas, smoked and rotisserie meats, breads and more!
Get in touch with us to find out how we can add value to your outdoor cooking area. We can create a unique brick and stone pizza oven designed just for you.