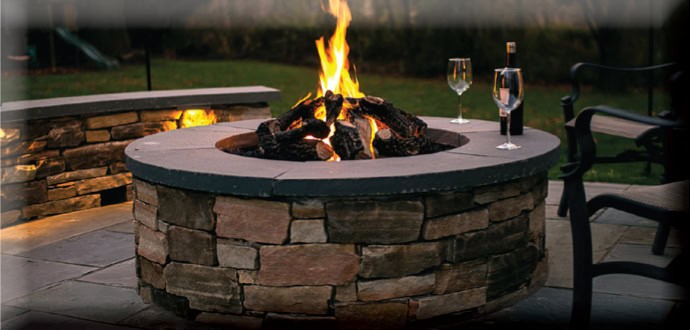 Most of us would not think winter as an optimal time to install a fire pit, however   CST or EP Henry Segmental Fire Pit Kits can be easily installed on a crushed compact base any time of the year. Similarly, a custom designed fire pit can be installed when temperatures are above freezing.
The benefits of fire pits are many –they make the outdoors a year round gathering spot. The winter night sky is a beautiful thing and being able to gaze at the vibrant stars by the warmth of a roaring fire is perhaps the biggest benefit.

Delaware winters often treat us to harsh conditions that can be just as hard on our landscaping as it is on our skin.  Winter winds, freezing temperatures and sun can severely damage trees and shrubs. Cold temperatures can dehydrate and desiccate evergreen foliage, damage bark, injure branches, flower buds and roots.
The winter hazards for trees and shrubs are many; snow, ice, sunscald, salt used for deicing, and increased animal damage due to increased food shortages. That is why it is wise to take precautions in order to save your landscaping and avoid costly losses of trees and shrubs.
Burlap has long been an affordable, eco-friendly and biodegradable material use by many landscapers for a number of purposes. It is endurable and perfect for protecting trees and plants from winter's wrath. Burlap is ideal for protecting recently planted trees, trees with underdeveloped root systems, and trees subject to powerful winter winds, sunscald, perpetually moist conditions and the infrequent, yet damaging, hard frost.