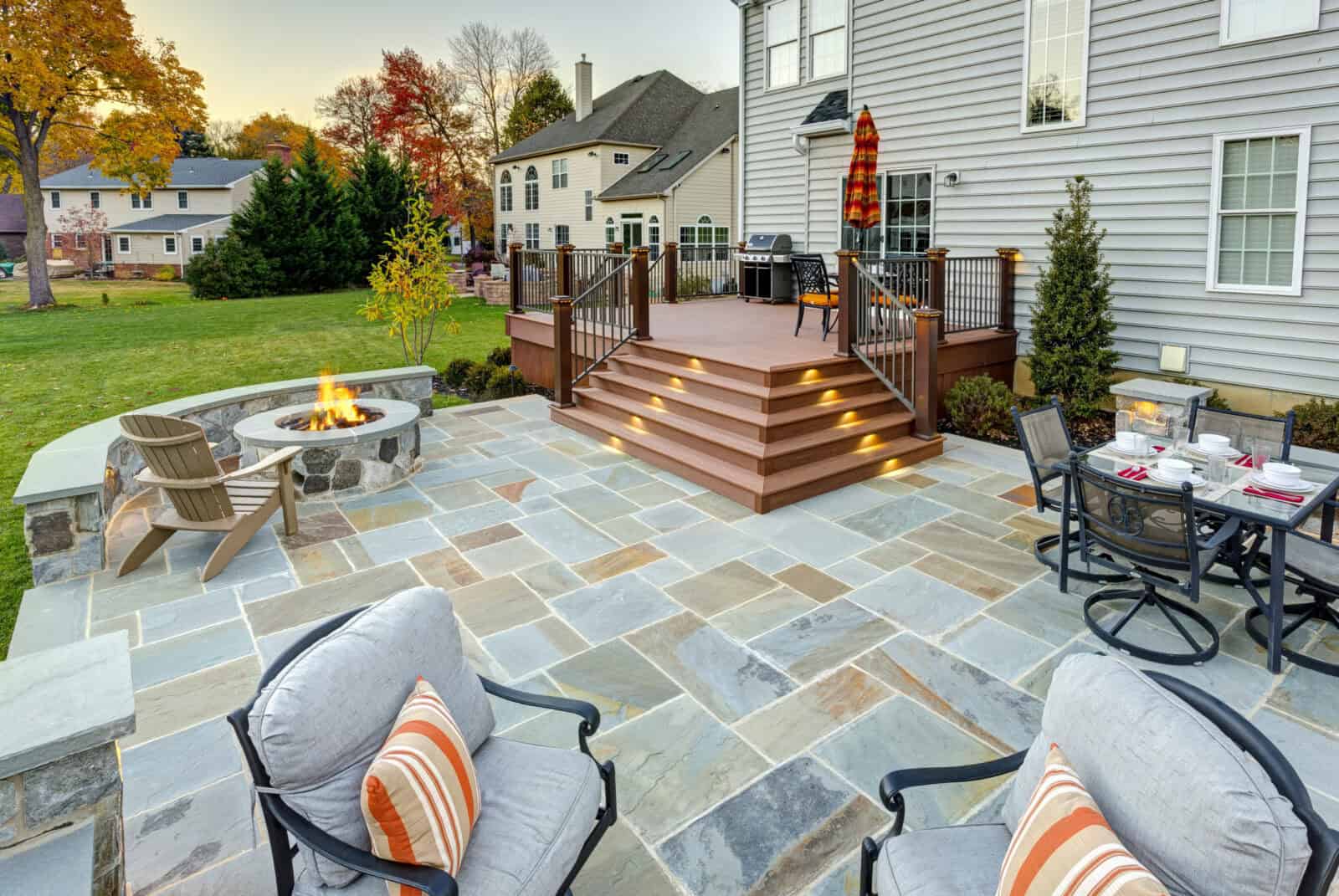 May 18, 2021
If you are considering installing a new deck or patio installation, you will want to explore your options. Natural Stone, Decorative Concrete or Pavers are some of the top options of types of material available to create you outdoor living area. All have benefits and drawbacks. Some are more expensive, but last longer. While others are lower maintenance and easier to install.
Before starting a hardscaping project, it is wise to research the various options and materials available. Consider materials that are safe and blend or contrast nicely with your home and surrounding landscape.
When choosing your material, educate yourself on its longevity, aesthetics, install method, maintenance, and cost. An experience hardscaping contractor will be able access your unique needs and help you make the choices as clear and simple as possible:
NATURAL STONE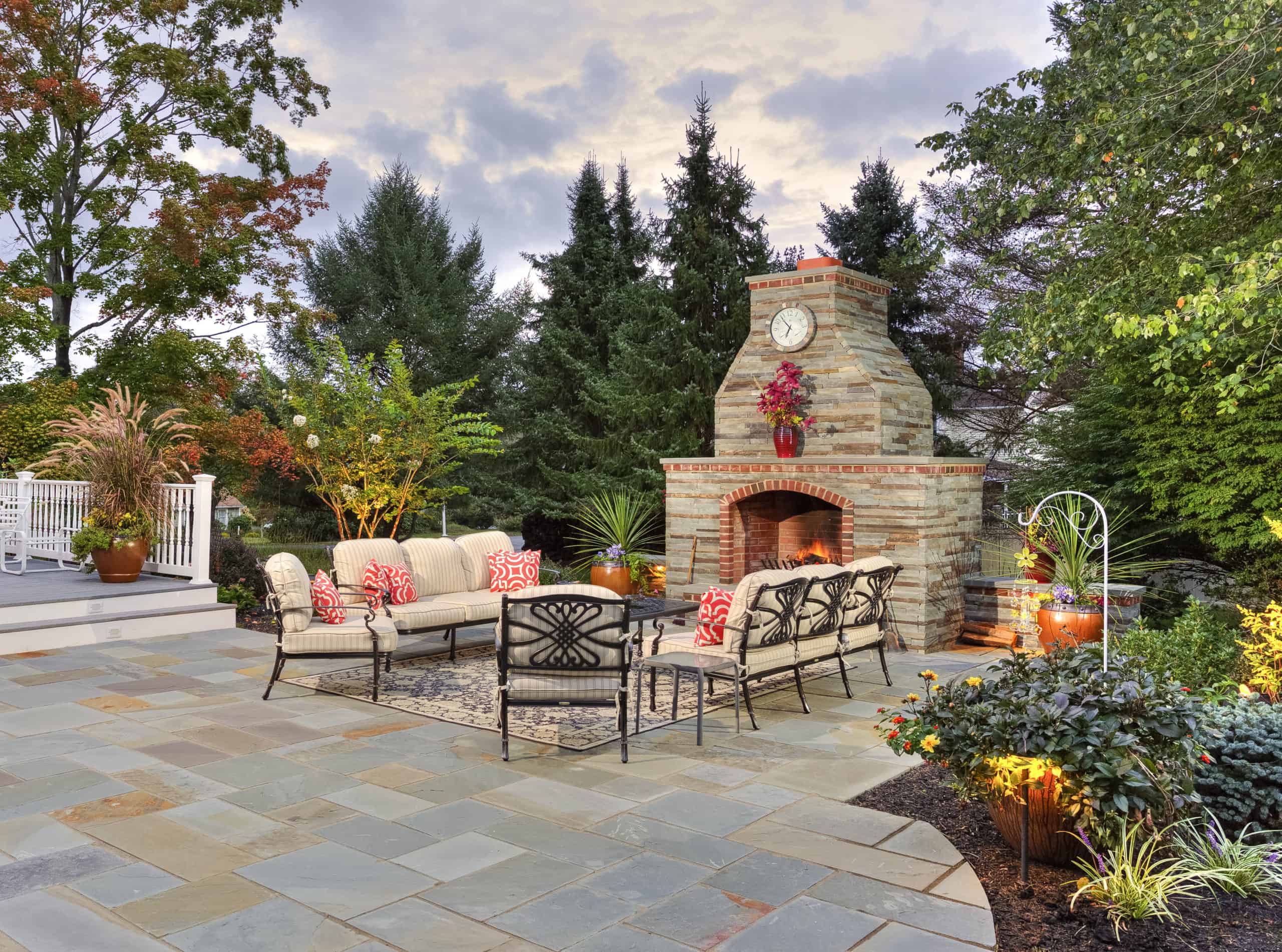 Natural stones, such as flagstone or slate are rich looking, attractive material that holds up well to the elements. Natural stone holds color better than most manufactured products and has a unique appeal. Slate and flagstone offers a classic or rustic aesthetic that would probably be well-suited to an older or traditionally styled home. It can be installed both with cement and polymeric sand joints. Versatility and looks make this material a great selection for any property.
Natural stone typically costs more because it has to be trucked in from a quarry. It can also take more time and effort to install, increasing labor cost.
CONCRETE PAVERS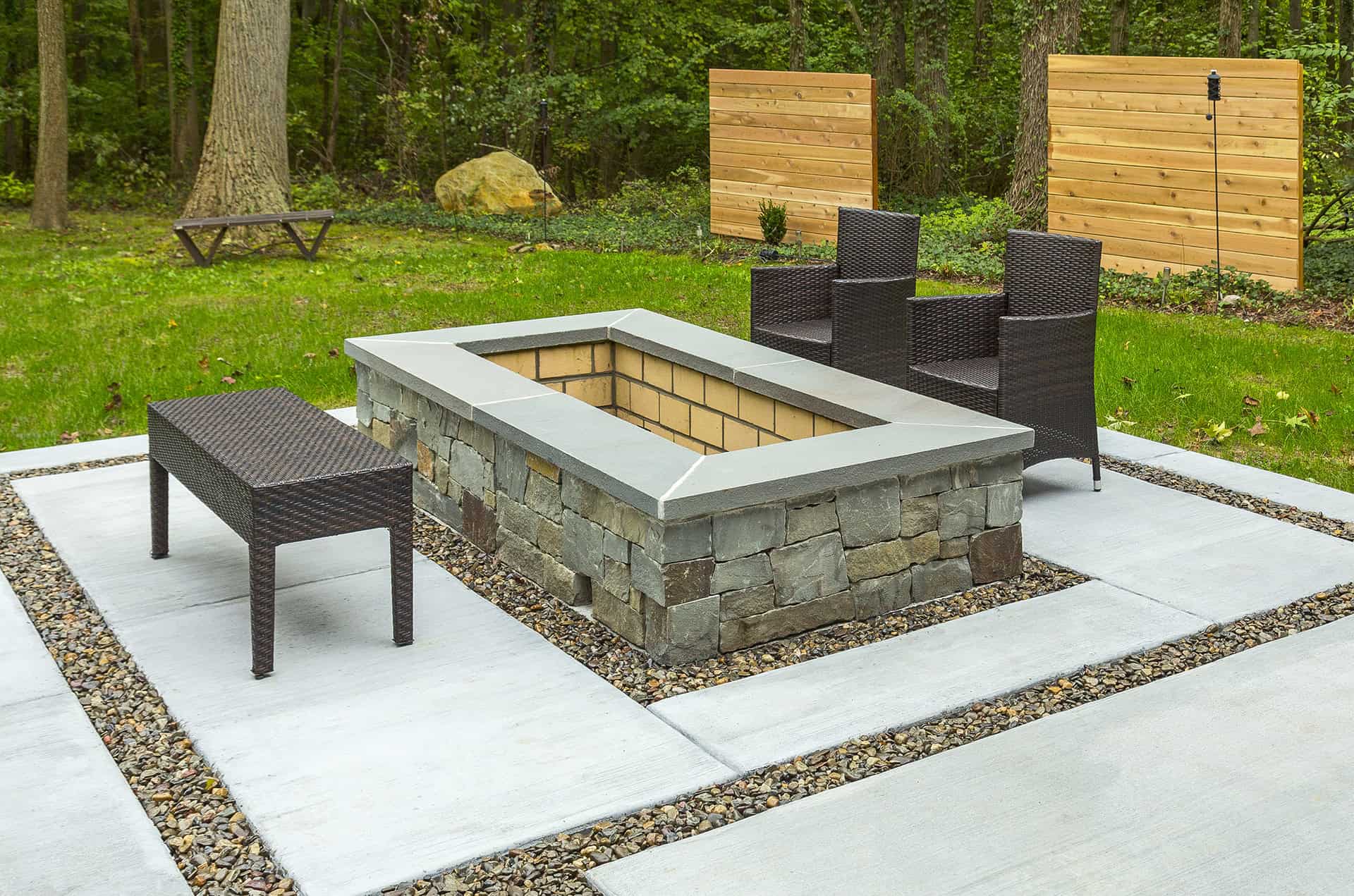 Concrete Pavers have a more modern look and offer a more uniform pattern and coloring. They are typical lest costly than natural stone, yet still offer a similar aesthetic. There are a vast number of shapes, sizes, and colors available. Do your research when selecting pavers as not all manufacturers offer the same quality.
Installing concrete pavers are simpler that natural stone because of their uniformity & therefore are more wallet friendly. This does not come without drawbacks however. You will need to be more mindful in terms of maintenance if you want your patio to keep its original luster if you choose this material. Polymeric sand joints need repaired every 3-5 years so that weeds do not grow in, and sealers can help to reduce the fading that occurs over time.
DECORATIVE CONCRETE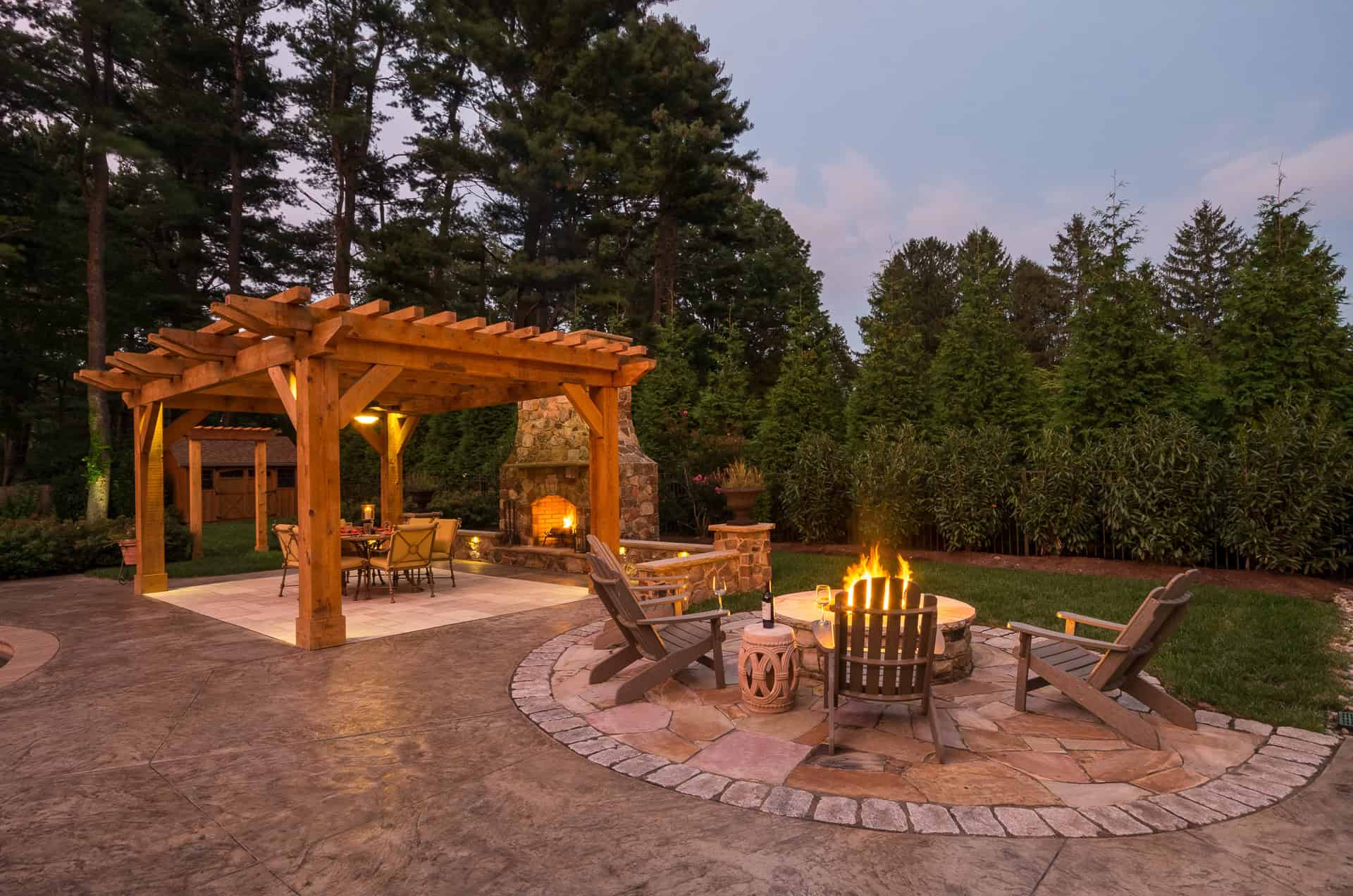 Decorative Concrete is an old concept that has benefited from new install techniques in the past couple of decades. Options range from brushed finish (typical sidewalks) and exposed aggregate (tiny pebbles) to stamped concrete with synthetic designs printed onto them.
If you want a traditional or authentic feel, this look may not be for you. One big benefit of decorative concrete is its durability and cost effectiveness. This option does not need as much maintenance as the other two options listed here.
At the end of the day, your patio must fit your style preferences and needs. No matter the type of material or method you decide on, be sure to have a reputable installer assist you with the process.
---
SOME RELATED ARTICLES:
---
---
302-764-0408 | DiSabatinoInc.com
---
The Landscape Experts
DiSabatino Landscaping is Delaware's #1 Hardscape and Landscape Specialist. Give us a call today! 302-764-0408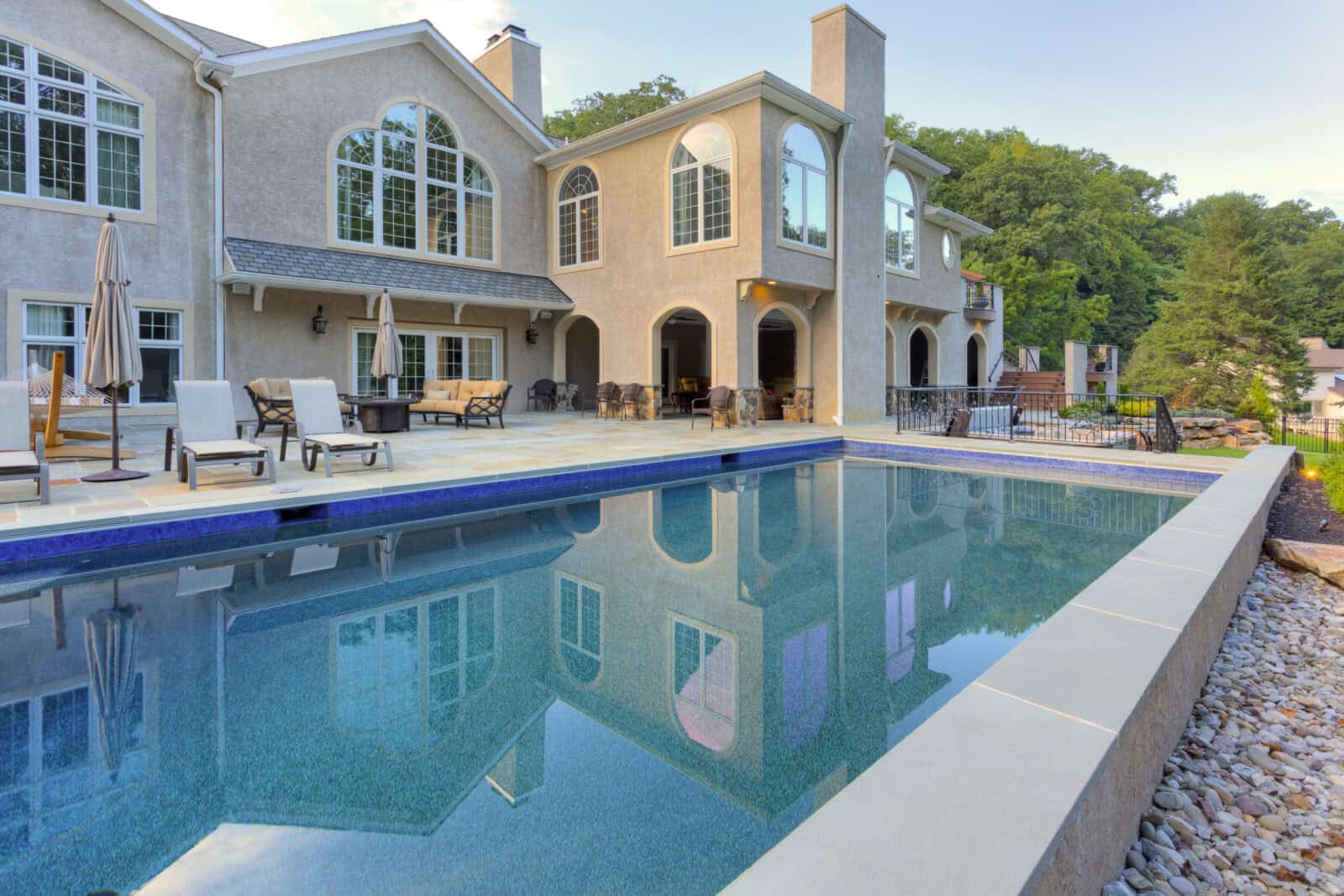 May 11, 2021
Thinking about investing in a staycation location in your own backyard?
It is definitely a good investment, as the cost to create an escape space on your own property could be about the same as a two-week vacation for a family of four.  Divert those funds to improve your outdoor living space and create incentive for the family to enjoy the fresh air year round.
How About an In-ground Pool?
Having a staycation spot can help parents survive the summer months when school is out and kids are idle. Consider adding an in ground pool to help keep the kids entertained and moving. 
With the pandemic still an issue this year, many families forgoing their summer vacation plans. That is why creating a perfect staycation in your own backyard just might be the solution to keeping everyone healthy and sane at the same time.
Outdoor Cooking at its Finest
Picture a summer of sunbathing by the pool with a icy cocktail while the children play and your stress melts away. Create  a comfortable outdoor seating area with all the cooking amenities close by to make your life easier.
DiSabatino Landscaping, partnered with Esposito Masonry, offers the highest quality outdoor living area designs. We create superior water features, such as spas, waterfalls and grottos, to make your staycation unique. Add to that a full outdoor cooking area, fireplace, fire pit or pond. Check out our gallery below to get inspired:
If you are considering investing in a 'staycation' project this year, consider some of the latest hardscaping and landscaping trends.
---
SOME RELATED ARTICLES:
---
---
302-764-0408 | DiSabatinoInc.com
---
The Landscape Experts
DiSabatino Landscaping is Delaware's #1 Hardscape and Landscape Specialist. Give us a call today! 302-764-0408