If your pool area has become worn cracked and overall uninviting, it might be time for a full makeover!
Let DiSabatino transform your pool area into an inviting oasis that can make your backyard the envy of the neighborhood. Fall is a perfect time to remodel the hardscaping and landscaping surrounding your pool area, making your next pool season a huge success!
Check out this transformation we did on the Walsh property. Notice how we installed a beautiful slip proof decking, stone walls and waterfall with ambient lighting. Not only is this pool side more inviting, it's a lot safer than the previous cement and wood decking conducive to slippage and other mishaps.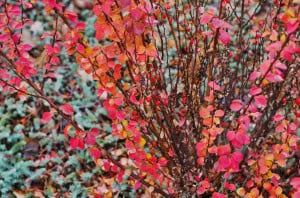 The soaring temperatures of summer mixed with plenty of humidity make the idea of fall foliage and plantings seem a long way off.  Yet, there are those that prefer the bold strokes of red, yellow and purple that autumn brings. For them, now is the time to start planning for the fall season.
Planting for multiple seasons cannot only make your landscaping a year round hit, it serves as important food sources for wildlife populations, such as hummingbirds, insects, butterflies and bee colonies.  Depending on the temperatures, these populations can peak in the fall and greatly enjoy the later flowers of fall asters, salvia, and helenium .
Gardens that peak in the fall often can withstand dry conditions and create an oasis in your yard that looks good even in the worst weather. Shortening days and crisp nights  can create perfect conditions for jewel like fall blooms such as Colchicum bulbs (a.k.a. autumn crocus), Leadwort, Smoke Tree, Fothergilla.