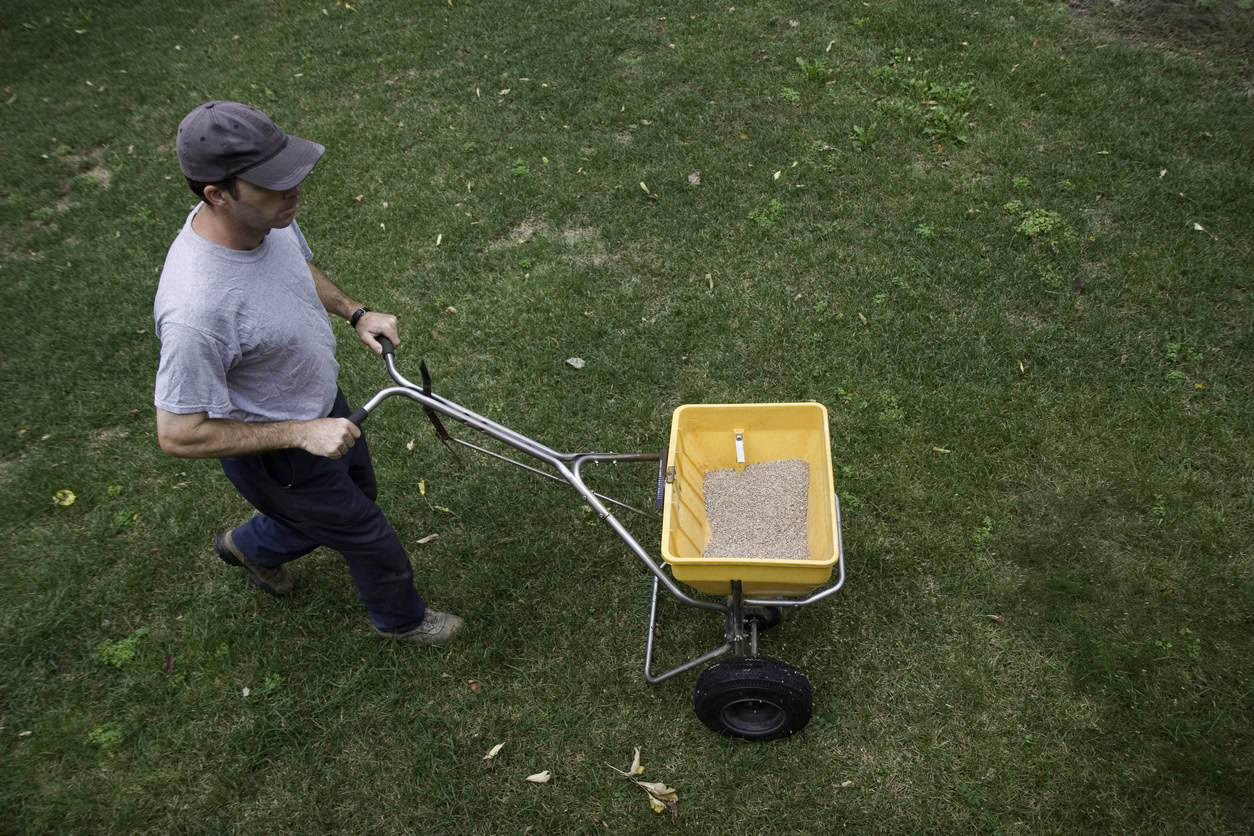 April 20, 2021
Spring Fertilization is Best Applied After the Last Frost
When considering spring fertilization, many take a "more is better" approach. However, the way you apply spring fertilizer could make or break the difference in your plant growth come summer. Make sure you are following these guidelines for safe, effective fertilization.
1) Apply a Little Later in Spring
Fertilizing once in spring, twice during the growing season is a solid rule. However, don't jump the gun and fertilize too early in the spring. Fertilizing too early runs the risk of unexpected snow or a late freeze, which can harm new growth in plants. It is best to wait until after the last frost for application.
2) Follow Application Instructions
Follow the suggested application instructions and avoid overdoing it. Too much fertilizer can result in excessive nitrogen. Start with the recommended amount and apply more in the summer if necessary. Over a few seasons, you should get a feel for the right amount of fertilizer that leads to healthy plant growth.
3) Consider a Five-Step Fertilizer Plan
Some experts recommend fertilizing every six to eight weeks after your first feeding. If you keep your first feeding a little later in spring, you will be fertilizing through October and into November. That is just fine for this area. To be honest, fall  fertilizing is more important than the spring.
4) Time Your Fertilization with Forecasted Moderate Rain
Watering about ¼ inch along with fertilizer will provide optimum benefits. Timing fertilization to coincide with a moderate rain will make it easier and avoid using precious resources. Be sure not fertilize before a predicted heavy storm as much of the fertilizer will wash away before it has the chance to work.
5) Weed Killer Treatments May Have Fertilizers Added
Early herbicides aimed at controlling weed growth often contain fertilizer as well, to combat the herbicide's negative effects on your garden. Be aware of what you are applying so that you do not over fertilize.
One important tip is to avoid over-fertilizing too early. If you do, your garden will not stay beautiful through the growing season. Seeking help from a lawn care professional will provide accurate answers to plant fertilizing questions in your area. For information about garden maintenance and fertilization services, contact DiSabatino Landscaping today.
---
SOME RELATED ARTICLES:
---
---
302-764-0408 | DiSabatinoInc.com
---
The Landscape Experts
DiSabatino Landscaping is Delaware's #1 Hardscape and Landscape Specialist. Give us a call today! 302-764-0408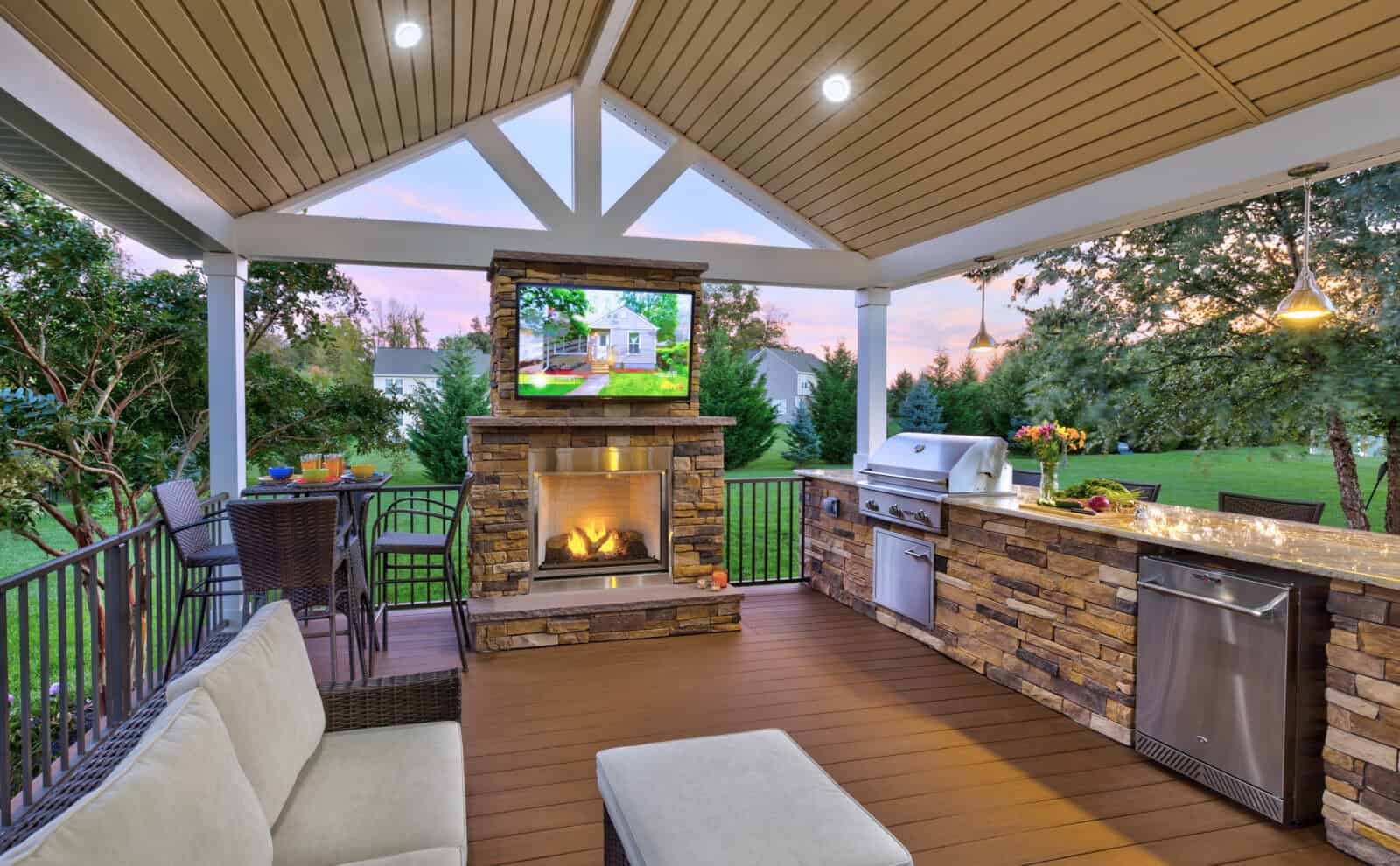 April 13, 2021
This is the season that outdoor entertaining begins. At DiSabatino Landscaping, we believe creating an outdoor kitchen for entertainment will be a life changing experience for you.
Think on how easy it will be to socialize with guests while preparing a meal. Not to mention the added benefit of being able to meet the needs of the times by social distancing, yet still keeping relationships in tack.
Our custom outdoor kitchens make outdoor living spaces more usable and adds value to your home. They are a perfect addition to enhance your staycation with functionality, beauty and quality.
The past year has presented many unique challenges to residents around our community. With social distancing and mask wearing expected to be in place for the a little longer than expected, many are exploring ways to cope.
Enjoying the great outdoors and simplify entertaining by having an outdoor kitchen stocked and ready to go is a great way to adjust to our current climate.  What better way than to improve your outdoor living area to include an outdoor kitchen?
Extend your entertaining outdoors where social distancing is easier and airflow more conducive. Natural stone floors and outdoor rooms with built-in outdoor kitchen appliances can make entertaining possible anytime.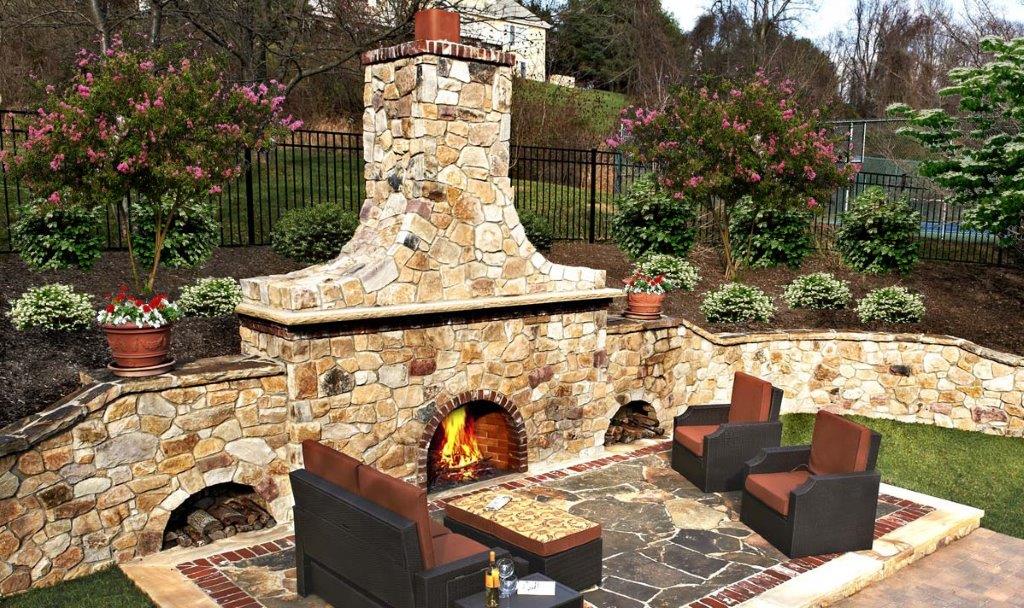 Customize your outdoor cooking area to meet your unique style is key to getting the most out of your outdoor kitchen design. Everyone's entertaining style is different, consider yours before deciding on what the focus of your outdoor kitchen will be. More into creating signature cocktails than food? Then maybe incorporate a showcase bar as your focal point.
There is a wide variety of ways to customize an outdoor kitchen to meet your particular style. Are your family and friends really into pizza? We highly suggest you consider building a wood fired pizza oven. Our stone masons are the best!
Really into grilling? A full fledged cooking station with all the bells and whistles would most likely suit you. More into an ambient location to sit and converse? How about a custom fire pit or fireplace with an inviting seating area.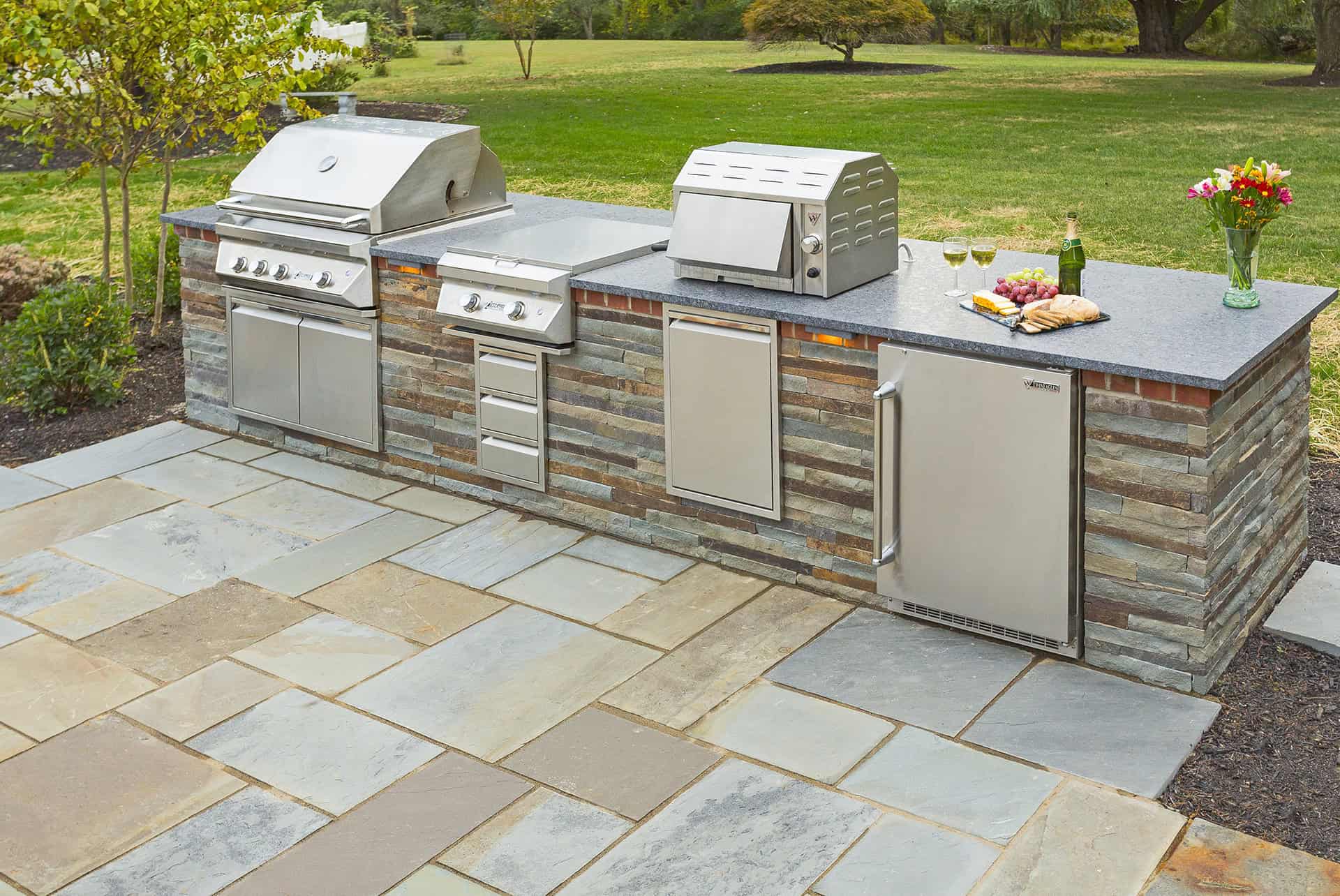 A combined pool house and kitchen is a great way to supervise children while preparing a meal and having a changing location or bathroom nearby. Framing a scenic view with a strategically constructed pergola or pavilion will enable for hours of time spent appreciating nature.
Creating an outdoor kitchen to enhance your living space should start with a professional and experienced designer. DiSabatino Landscaping creates beautiful outdoor kitchens  and has several decades of experience.
We have a well-earned reputation in Delaware and the Brandywine Valley with plenty of happy clientele to attest to our professionalism and quality of workmanship.
---
SOME RELATED ARTICLES:
---
---
302-764-0408 | DiSabatinoInc.com
---
The Landscape Experts
DiSabatino Landscaping is Delaware's #1 Hardscape and Landscape Specialist. Give us a call today! 302-764-0408