Our professional landscape team created this gorgeous outdoor living space for the DuHadaway property in Wilmington, Delaware. They removed the old slate patio, installed a new one, cleaned out stagnant pond, layered rocks to create sides & waterfall (with special features – such as LED lighting) to keep water oxygenated & fresh, built stone bridge with recessed LED lighting, mulched, planted perennials & bushes, etc ..
That's what we are good at — reinventing dated and overgrown outdoor spaces.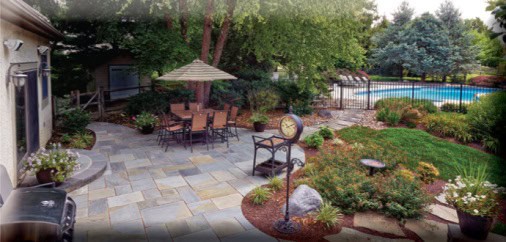 Have you invested in a stained, stamped, stenciled, exposed aggregate or integrally colored concrete outdoor surface?
Patio Care Tips: How to Clean and Maintain Decorative Concrete
When properly maintained, these decorative concrete patios, walkways, and driveways can last for many years. They are easier to care for than the more traditional brick, blacktop or concrete surfaces. However, proper care will preserve the beauty and prolong the lifespan of your decorative concrete surfaces.
It is advisable to frequently sweep or blow off your decorative concrete in order to prevent decaying leaves, twigs, buds and other debris from staining the surface. Avoid dragging furniture and other heavy objects across surfaces to eliminate unnecessary scratches.