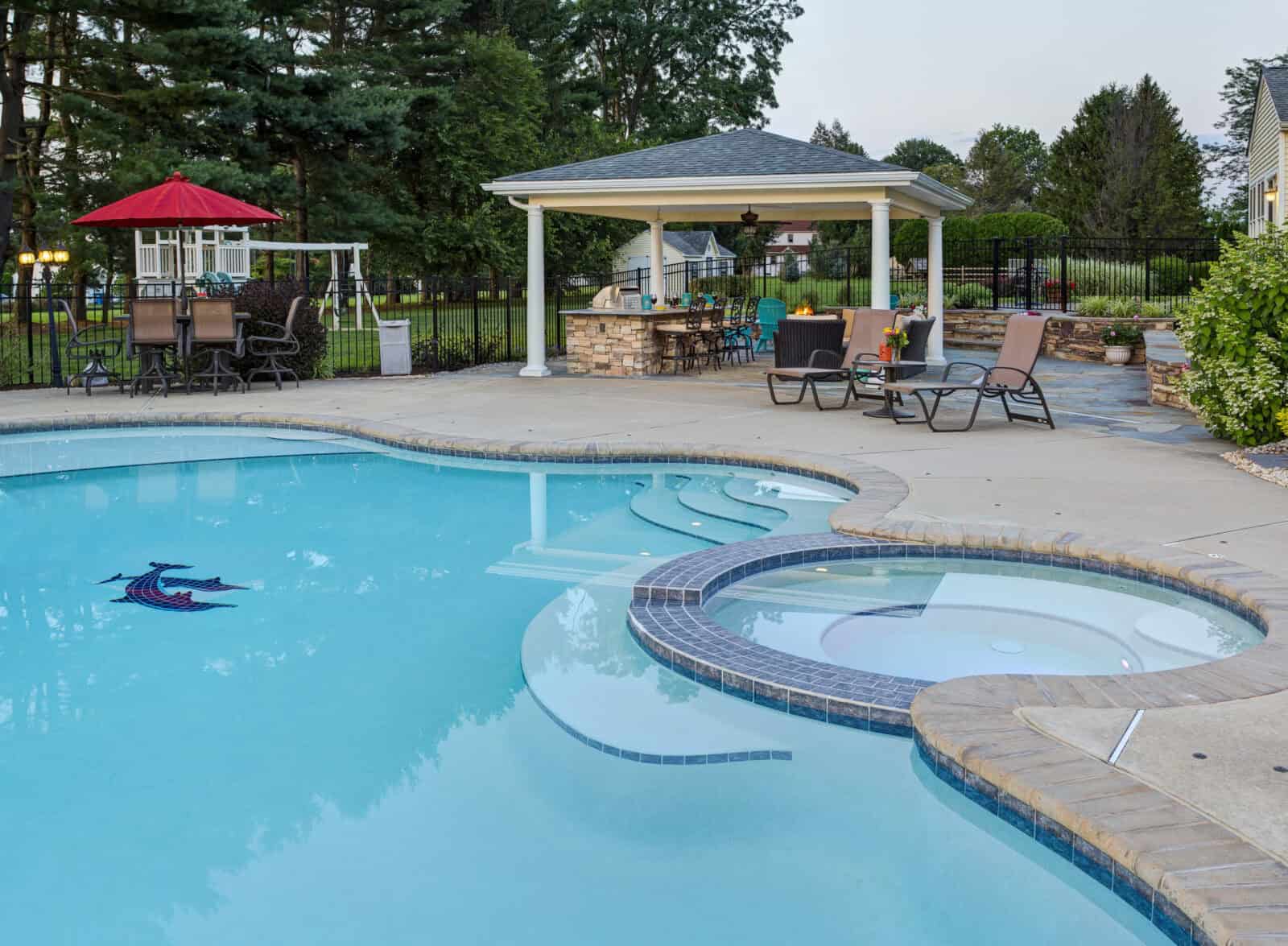 June 21, 2021
Create a perfect staycation in you outdoor living space by adding a custom outdoor swimming pool. Outdoor pools are a great way to keep entertaining simple and fun. Whether you opt for a custom gunite pool, fiberglass pool or vinyl liner pool, there are many great features to add for further enjoyment.
DiSabatino Landscaping specializes in adding beautiful custom pools and we like to share the many pool upgrade options available for inground pool designs. Once you get a feel for the custom features you'd like, compare the costs of each feature to their budget and prioritize the ones you really want.
8 Great Additional Features to Upgrade an Outdoor Pool:
1) Hot tub: Hot tubs or spillover spas that are raised above the pool level are therapeutic and a great additon to custom swimming pools.
2) Pool Bar: Make adult entertaining super imbibing cocktails while relaxing in a pool, a swim up pool bar might be a nice feature to add to your pool.
3) Waterfall: Built with Real or Faux Boulders, cascading waterfalls add a naturalistic element to custom swimming pools and one of the most popular water features around. These too are great aerators to keep water temperatures cooler.
4) Grotto: A cave or grotto is a great way to find protection from the glaring sun or the crowd. A peaceful meditation spot is a very popular water feature in custom pool designs.
5) Fountain: A cascading water fountain adds a peaceful ambience to custom swimming pools that are not only therapeutic but a great aerators that will keep the water cool.
6) Rain Curtain: Young and old alike enjoy the cooling curtains of water falling into the pool from a pergola roof or some other overhang.
7) Pool House: Want to keep everyone comfortable and close to all the amenities? Consider a pool house with changing and bathroom, refrigerator full of everyone's favorite beverages and maybe even a comfortable sitting area to shelter from inclement weather.
8) Pool Slide: A custom pool slide will make your home the most popular in the neighborhood, adding life to any special occasion or just for a regular day of relaxation. There are a wide variety of custom designed pool slides available with different sized flumes.
---
SOME RELATED ARTICLES:
---
---
302-764-0408 | DiSabatinoInc.com
---
The Landscape Experts
DiSabatino Landscaping is Delaware's #1 Hardscape and Landscape Specialist. Give us a call today! 302-764-0408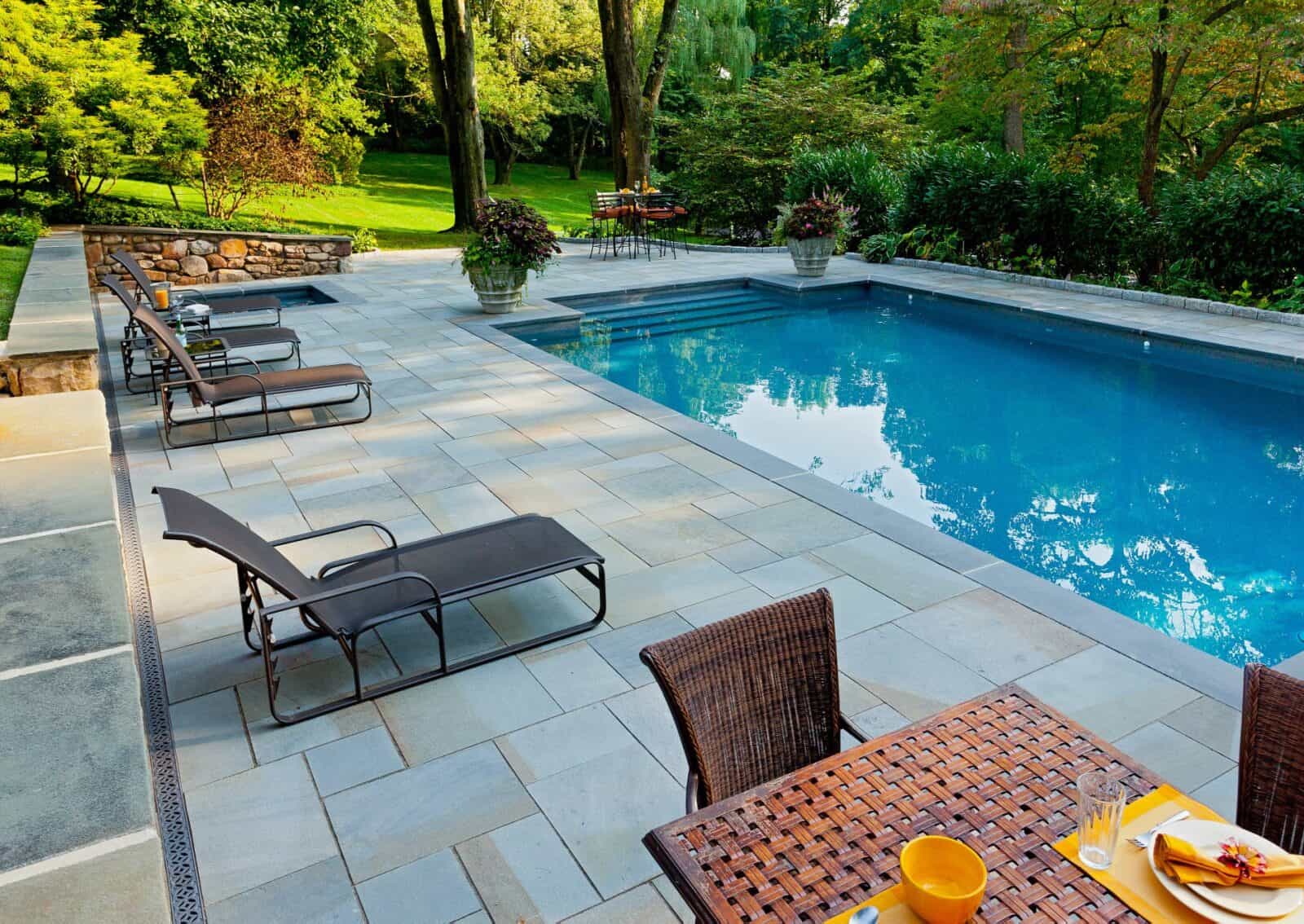 June 9, 2021
Gunite Pools Are the Best Choice for an In-ground Pool Installation
Gunite pools add value for a lifetime within any home for those thinking of installing an inground pool to their outdoor living area, . The superb look and design versatility will be a lasting upgrade to your property.
Gunite pools are extremely durable, stand up to all types of climate and can be style in a variety of free flowing shapes tailored to the landscape's configuration. This gives a full spectrum of options for a pool design. A gunite pool can be installed anywhere, no matter the terrain.
Gunite is Versatile
A gunite pool can have full curves, square angled corners or a combination of both. A pool can begin at beach entry level and graduate to any depth desired when made with gunite. Most commercial and many residential pools are gunite. This is because gunite pools are built to last.
What is a Gunite Pool?
Gunite is a concrete blend of cement, sand and water that applied through a high-pressure hose to a structure fabricated of rebar. Once dry, gunite becomes a rock hard solid structure with a thickness that adds a tensile strength a fiberglass or vinyl liner pool will never come close to matching.
Adding Style to Match Your Taste
Once the gunite cures, a plaster application made from cement and marble becomes the final waterproof coating. Some opt for a colored quartz aggregate added to the plaster in order to increase durability and aesthetics.
Create contrast – add a pebbled or tiled finish to create a high-end look. Waterfalls, custom stairs, adjoining hot tub or spa added to the gunite pool design can meet the desired look.
Why Gunite?
A gunite pool adds the most value and durability when it comes to in-ground pools. The gunite shell handles all types of conditions due to its ability to contract and expand. No matter the soil changes that occur from season or climate, such as freezing and thawing, a gunite pool is best suited to endure.
The resilience and versatility of a gunite pool makes for a custom pool with free flowing shapes tailored to your backyard a reality.  Whether you are looking to incorporate a trickling spillway, rock waterfall, fountain shelf or elevated spa, a gunite pool makes it easy.
---
SOME RELATED ARTICLES:
---
---
302-764-0408 | DiSabatinoInc.com
---
The Landscape Experts
DiSabatino Landscaping is Delaware's #1 Hardscape and Landscape Specialist. Give us a call today! 302-764-0408