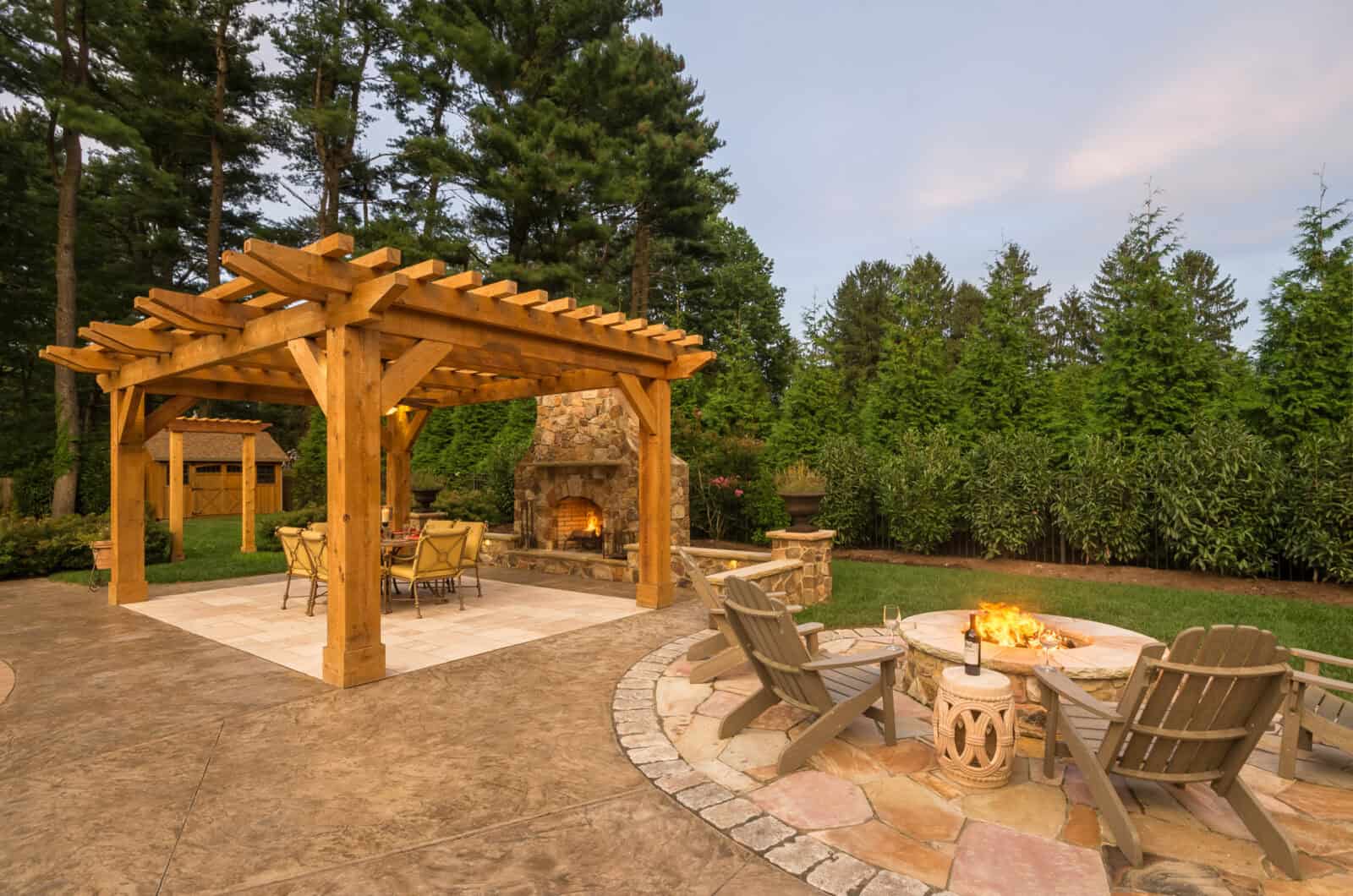 July 21, 2020
If you are considering adding a walkway, driveway or patio to your outdoor area, decorative stamped concrete might be a good solution. It can resemble higher end materials, such as brick or paver stones and even weathered lumber, at a fraction of the cost.
That is why we thought we would bring it to your attention. A stamped concrete patio or driveway gives homeowners many benefits over other traditional materials, such as pavers or bricks. See a list of benefits to opting for a stamped or decorative concrete installation.
5 Benefits of Stamped or Decorative Concrete:
1) Quick & Easy Installation
Perhaps one of the biggest advantages of concrete is the ease of installation. Decorative stamped concrete requires a lot less manual labor than a brick or paver installation. Installing stamped concrete is faster than setting natural stone or pavers.
2) Variety of Options
Decorative Concrete is an old concept that has benefited from new install techniques in the past couple of decades.  Options range from brushed finish (typical sidewalks) and exposed aggregate (tiny pebbles) to stamped concrete with synthetic designs printed onto them.
Thanks to the ease of installation and the technological advances in manipulating concrete to mimic a variety of materials. The possibilities are limitless.
3) Durability & Low Maintenance
Stamped concrete can last for decades without a ton of maintenance. Unlike pavers or natural stone that need ongoing maintenance to keeping the joints filled with sand and preventing weeds from growing between them.
Although stamped concrete looks like the real deal, it only needs resealed every other year to keep it from chipping or cracking. Sealing also helps to preserve the color. Other than resealing, just sweep it to keep it free from debris and dirt.
4) Safety Factor
Concrete holds up extremely well and remains level avoiding tripping hazards or awkwardly placed furnishings. It is slip resistant when treated with a non-skid additive.
5) Ease of Customization
The ease of installing stamped concrete makes it simple to mold it to your preferences and shapes. Concrete has wide berth of coloring options to match the exterior of a home, existing hardscaping or landscaping.
Stamped concrete is customizable when it comes to color, textures and patterns. It can replicate stone, slate, flagstone, marble, bricks, pavers and even weathered lumber.
At the end of the day, your patio must fit your family's needs.  That is a bit easier to do with stamped concrete. Poured concrete works beautifully when creating curves and other unique designs that fit nicely into existing landscaping.
If you are considering a stamped concrete or decorative concrete installation, talk with one of our landscaped design specialist at DiSabatino Landscaping. We can quickly and expertly install a stamped concrete walkway, patio or driveway that will enhance your outdoor living area for years to come.
---
SOME RELATED ARTICLES:
---
---
302-764-0408 | DiSabatinoInc.com
---
The Landscape Experts
DiSabatino Landscaping is Delaware's #1 Hardscape and Landscape Specialist. Give us a call today! 302-764-0408
Custom outdoor swimming pools are a terrific way to have staycations throughout the spring and summer, sometimes into the fall months. Whether our clients opt for custom gunite pools, fiberglass pools or vinyl liner pools, they always ask us what added features are best.
While the answer to this question will vary depending on a client's preferences and needs, we find that laying out all the options help focus on inground pool designs to reflect their vision. Once they get a feel for the custom features that they want, they will need to compare the costs of such features to their budget and prioritize the ones they really want.
With the summer in full swing, parents are facing unique challenges this year. We thought sharing a few features of our inground pool designs that can help keep your kids at home safe, healthy and more importantly, happy!
12 Features to Consider With Your Custom Swimming Pool Installation:
1) Pool Slide: A custom pool slide can add a little life to any inground swimming pool and make your custom pool the envy of the neighborhood. There are a wide variety of custom designed pool slides available with different sized flumes that will reflect your style and wishes.
2) Diving Board or Diving Rock: Diving boards can serve as an enjoyable recreational feature to your custom swimming pool provided your pool design is deep enough. If you have energetic pool goers that would enjoy doing somersaults and backflips, this might be a feature you should add to your pool.
3) Hot tub: Hot tubs or spillover spas that are raised above the pool level serves a duel purpose; that of being therapeutic and an added water feature to custom swimming pools.
4) Grotto: Adding a cave or grotto as a place to retreat from the glaring sun or the crowd to peacefully meditate is becoming a very popular water feature in many custom pool designs.
5) Pool Bar: If you're planning on entertaining an adult audience that appreciate imbibing cocktails while relaxing in a pool, a swim up pool bar might be a nice feature to add to your pool.
6) Fountain: A cascading water fountain adds a peaceful ambience to custom swimming pools that are not only therapeutic but a great aerators that will keep the water cool.
7) Waterfall: Built with Real or Faux Boulders, cascading waterfalls add a naturalistic element to custom swimming pools and one of the most popular water features around. These too are great aerators to keep water temperatures cooler.
8) Rain Curtain: Young and old alike enjoy the cooling curtains of water falling into the pool from a pergola roof or some other overhang.
9) Bubblers: Small jets set in the floor of a shallow end of a custom swimming pool shoot streams of water that gurgle or bubble up to the surface.
10) Deck Jets: Thin arching streams of water shooting from the pool decking into the pool can be illuminated with color changing LED lights to make any night swim a fun event.
11) Mist Curtains: Having a  fog or misting system around the pool can greatly reduce the air temperature making for a much more comfortable pool side nap.
12) Pool House: Want to keep everyone comfortable and close to all the amenities? Consider a pool house with changing and bathroom, refrigerator full of everyone's favorite beverages and maybe even a comfortable sitting area to shelter from inclement weather.
Make summer at home this year full of fond memories of how your family chose to focus on what really matters in life, quality time with those you love in your very own custom swimming pool.
---
SOME RELATED ARTICLES:
---
---
302-764-0408 | DiSabatinoInc.com
---
The Landscape Experts
DiSabatino Landscaping is Delaware's #1 Hardscape and Landscape Specialist. Give us a call today! 302-764-0408