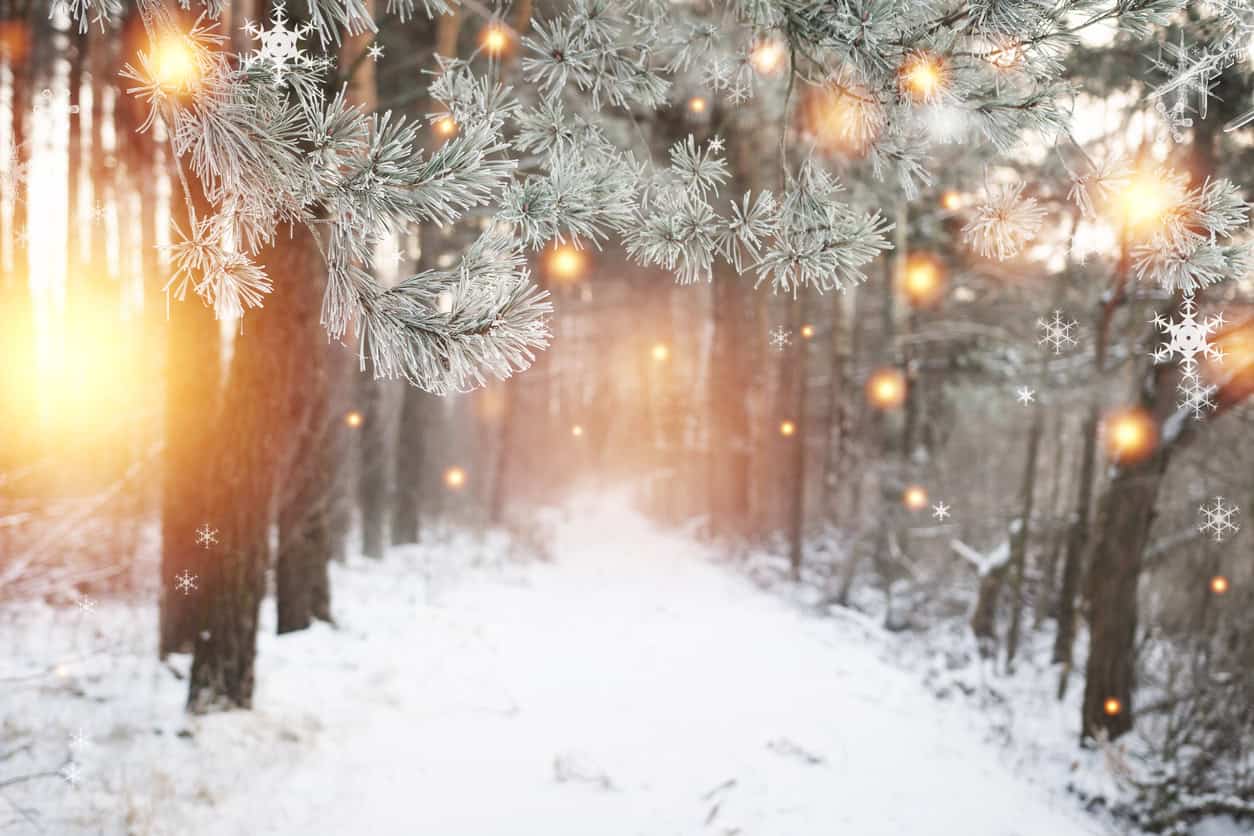 December 15, 2020
As the brisk weather and shorter daylights start encroaching this winter, do not let dark winter nights dampen your spirit. Outdoor landscape lighting can help. Sure, the month of December is full of bright seasonal lighting that brings about holiday cheer. However, those lights soon disappears after the New Year.
Low levels of natural light during the winter contribute to the winter blues. The remaining winter months do not have to be all doom and gloom. Not when there are varieties of subtle approaches homeowners can take to incorporate landscape lighting to lift their spirits.
Consider spotlighting, backlighting or up-lighting certain trees in your yard to add a stunning effect of shadows and silhouettes. Light reflecting off snow or water features makes for a softer ambient form of lighting. Colored lighting, such as yellows and reds, will create a coziness. While blue and purple lighting will add to a more natural lighting effect.
Do not forget to light up pathways and outdoor living areas for safety, as well as extending outdoor living into the darker hours.
DiSabatino Landscaping creates beautiful custom-designed outdoor lighting for residents in Delaware and the surrounding area. If you would like to find out what we can create for you, please get in touch
302-764-0408 | DiSabatinoInc.com
RELATED ARTICLES:
Outdoor Lighting Ideas for Your Home
Our Outdoor Lighting Portfolio
Check Out Our Portfolio of Fireplaces & Fire Pits
---


DiSabatino Landscaping is Delaware's #1 Hardscape and Landscape Specialist. We can help advise you what is best way to create outdoor fireplaces & fire pits  Give us a call today! 302-764-0408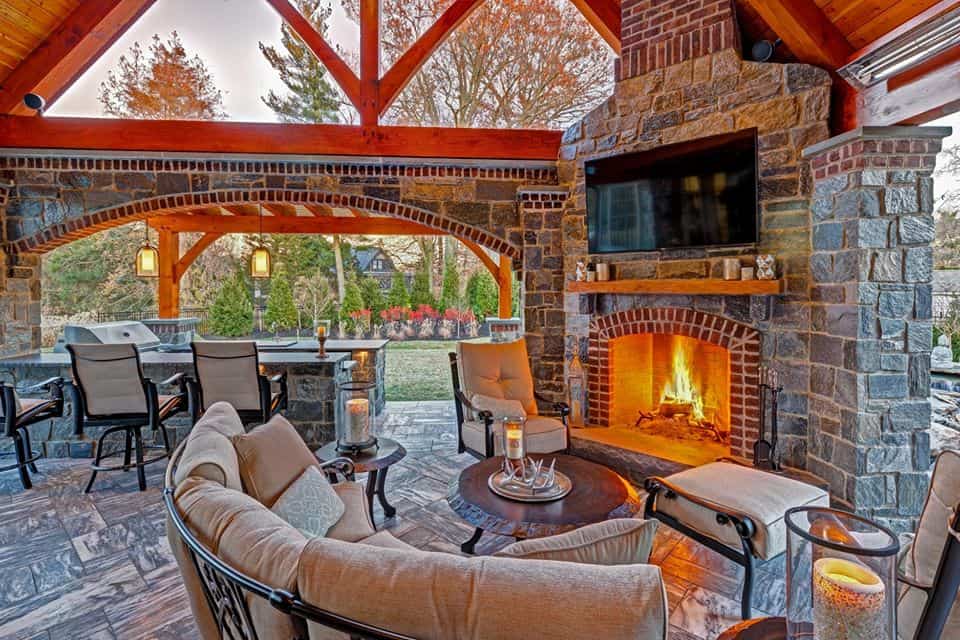 December 3, 2020
Maximize your outdoor living spaces by adding features that will extend them for use year round. Try adding features, such as patio heaters, overhead coverage, wind blockers and comfortable seating. Entertaining or relaxing outdoors should not end when temperatures start to drop.
Because entertaining and getting social is a bit different this year, many homeowners are enhancing their outdoor living spaces so they can safely gather while social distancing and minimizing risk. Sure, it is getting cold out. Luckily, there are many ways to stay warm in outdoor living spaces.
Adding sources of heat and lighting will make it possible to stay cozy and warm. Use soft pillows and warm blankets to increase the comfort of guests. Play a game of charades or watch a football game while a roaring fire keeps you comfortable.
A fully stocked outdoor kitchen alleviates the need for several trips back indoors and streamlines entertaining. Be sure to install plenty of lighting to extend gatherings into the evening hours. Safely light pathways and patios to avoid falls and injuries. Some of our clients have even gone as far as installing radiant heating systems that will melt snow as it lands and keep ice from forming.
DiSabatino Landscaping, along with Esposito Masonry, has been quite busy helping Brandywine Valley homeowners create year round 'safe' outdoor living areas. Outdoor spaces with features, such as pavilions, gazebos and screened outdoor rooms.
Adding space heaters, fire pits, fireplaces, fire pit tables, outdoor kitchens, retractable screens and ambient lighting to extend outdoor living spaces for all seasons. We are even creating outdoor media and game rooms.
This might be a perfect time for you to consider extending the use of your outdoor living space. Fresh air could be just what the doctor ordered!
Installing heaters and retractable screens can create an outdoor living space for all types of weather! With the addition of lighting, this space can easily extend any party through the evening hours! Give us a call today to see how you can change your patio into the extra space you have been dreaming of!
DiSabatino Landscaping creates beautiful custom-designed outdoor living spaces for residents in Delaware and the surrounding area. If you would like to find out what we can create for you, please get in touch
302-764-0408 | DiSabatinoInc.com
RELATED ARTICLES:
A Guide to Outdoor Fireplaces or Fire Pits
7 Reasons to Install a Fire Pit this Winter
Check Out Our Portfolio of Fireplaces & Fire Pits
---


DiSabatino Landscaping is Delaware's #1 Hardscape and Landscape Specialist. We can help advise you what is best way to create outdoor fireplaces & fire pits  Give us a call today! 302-764-0408