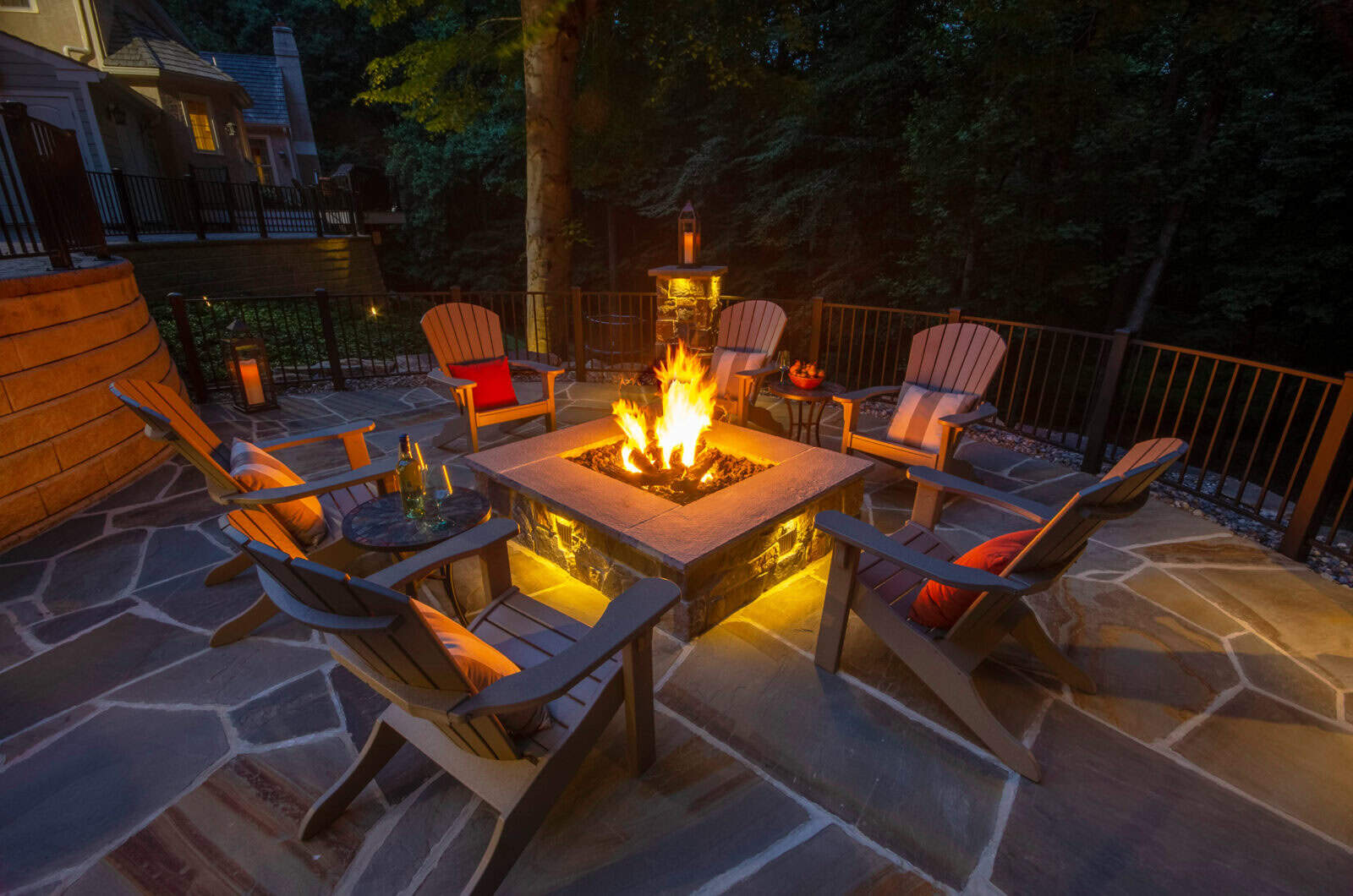 January 19, 2021
Believe it or not, a custom fire pit can be used any time of the year. In fact, the cooler months of winter and spring are the most optimal time for installing a fire pit in your backyard. Most of us would not think winter as an opportune time to install a fire pit, yet they can be easily installed on a crushed compact base any time of the year.
In truth, a custom designed fire pit can be installed anytime temperatures are above freezing. Many below freezing days are ahead of us, so consider adding a fire pit to your outdoor entertainment space soon.
The benefits of fire pits are many –they make the outdoors a year round gathering spot. The winter night sky offers some of the best star gazing and the warmth of a roaring fire can make this past-time possible.
7 Reasons to Install a Custom Fire Pit:
Expand Social Entertainment Space:  Many may not be able to expand the square footage of their home. Don't let your foundation dictate your entertainment space. Creating an outdoor living space with a fire pit will extend your entertainment options for years to come!
Affordable: Custom fire Pits are affordable and can be installed much quicker than any home addition.
Creating Ambiance in your Backyard: Whether you are entertaining guest or sneaking out back for a little private time, a fire pit is a great option to add warmth and comfort to any occasion.
Warmth: A fire pit can make staying comfortable outside in colder weather possible, as they are an excellent heat source.
Romantic: Sitting around a fire having drinks, dinner and a conversation can be very romantic.  Keep away from the modern distractions by disconnecting from electronics and reconnecting with your sweetheart.
Outdoor Cooking: Roasting marshmallows, shish kebobs, hot dogs,  and foil dinners is a great way to catch up with the family members at the end of a long day.
Value: Finally, fire pits add value to your home when it comes time to sell it.
If you want to extend your entertainment space and utilize the outdoors by installing a custom fire pit, give DiSabatino Landscaping a call today. Our team will help you make all the right choices for your custom made fire pit. 
302-764-0408 | DiSabatinoInc.com
RELATED ARTICLES:
Create a Focal Point with a Custom Fire Pit
A Guide to Outdoor Fireplaces or Fire Pits
Check Out Our Portfolio of Fireplaces & Fire Pits
---


DiSabatino Landscaping is Delaware's #1 Hardscape and Landscape Specialist. We can help advise you what is best way to create outdoor fireplaces & fire pits  Give us a call today! 302-764-0408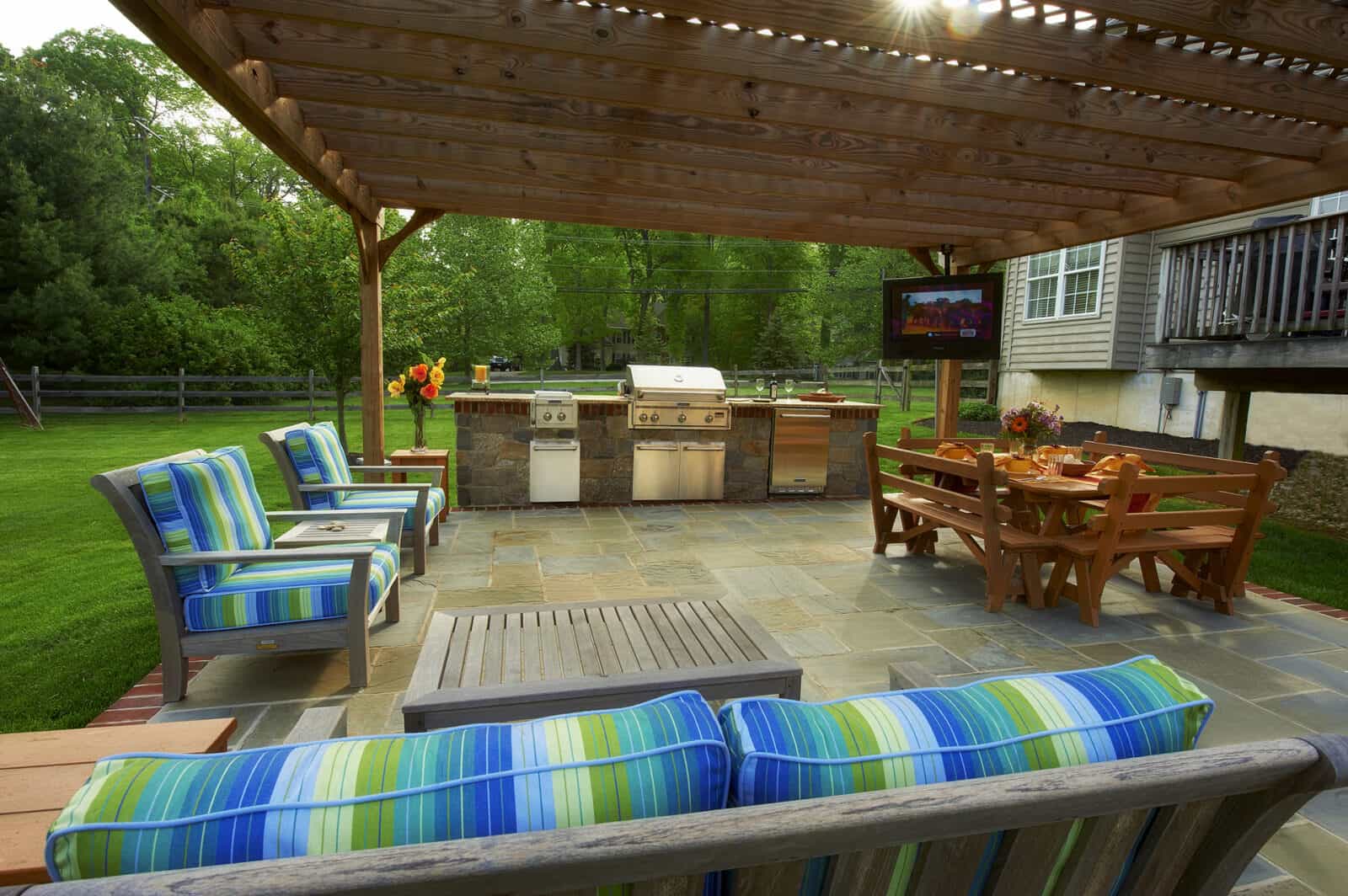 January 7, 2021
Make 2021 the year you create a custom outdoor living area you are proud of and that will give you pleasure for many years to come! Now is a good time to start planning for improvements to outdoor living space and outdoor kitchen areas. Cooking outdoors has become all the rage and is a great way to entertain, stay safe and in the thick of things when entertaining.
A host or hostess without an outdoor kitchen misses much of the party when it moves to the patio or outdoor sitting area. If they are stuck inside cooking and plating up food, they really can be part of the conversation.
Save time, stay safe and make entertaining outdoors easy by having a full-service outdoor kitchen and living area installed this year. That way everyone can join in the party! Outdoor kitchen designs have so many options available and have a great ROI on the value of your home. Here are a few to consider.
7 Great Ways to Add Value to Your Outdoor Kitchen
Pavilion: Keep your dining area comfortable and dry with a pavilion
Pergola: Add ambience, shade and privacy with a vine-covered pergola
Pool: Custom in ground pools and hot tubs are refreshing touches that keep dinner guests hanging out for desert!
Ambient Lighting: Special features such as path lights, string lighting or post lights add to every outdoor evening occasion without attracting pesky insects
Water Features: Ponds, waterfalls and other water features, such as a fountain is great way to add character to your landscaping
Alone Space: Create peaceful location away from the crowd to allow for relaxation or meditation
Bedroom Deck: A deck off the master bedroom – connect with nature any time of day
Outdoor Space: Utilize the front, side and back of house to add a custom made deck with gazebo, gorgeous pergola, pavilion or sun room
DiSabatino Landscaping creates beautiful custom-designed outdoor kitchens for residents in Delaware and the surrounding area. If you would like to find out what we can create for you, please get in touch
302-764-0408 | DiSabatinoInc.com
RELATED ARTICLES:
---


DiSabatino Landscaping is Delaware's #1 Hardscape and Landscape Specialist. We can help advise you what is best way to create outdoor kitchens  Give us a call today! 302-764-0408