WARNING: This year is going to be a year of plant pest and diseases running rampant, as temperatures and moisture are ideal for breeding and spreading them.  Add to that the fact that the past mild winter also allowed for carry over of insect populations and diseases from the previous growing season.
Whether it is plants, shrubs, trees or sod – all of your landscape could be at risk for insect or disease infestations that could lead to costly consequences. Landscaping is an investment and regular maintenance is necessary to protect that investment.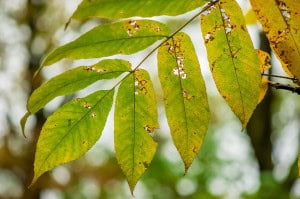 That is why those of us at DiSabatino Landscaping strongly suggest homeowners perform a regular scouting expedition of their landscaping to identify any potential issues with their plantings before they become an irreversible problem. It is an important component of any insect or disease management regimen to directly observe and identify insect or disease infestations as soon as possible.
Part of being able to identify potential infestations is to be familiar with your vegetation's healthy appearance and the history of previous pest or pathogen problems on your property.  As alluded to earlier, many fungal pathogens and pests may overwinter in soil or debris. Nursery plants may also introduce unwanted organisms to your soil.