Patio Care Tips From DiSabatino Landscaping
May 9, 2017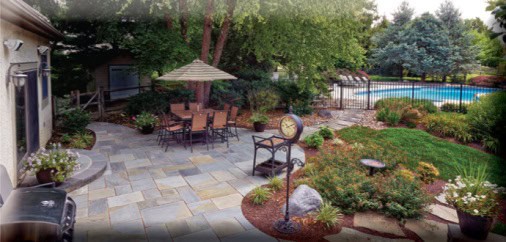 Have you invested in a stained, stamped, stenciled, exposed aggregate or integrally colored concrete outdoor surface?
Patio Care Tips: How to Clean and Maintain Decorative Concrete
When properly maintained, these decorative concrete patios, walkways, and driveways can last for many years. They are easier to care for than the more traditional brick, blacktop or concrete surfaces. However, proper care will preserve the beauty and prolong the lifespan of your decorative concrete surfaces.
It is advisable to frequently sweep or blow off your decorative concrete in order to prevent decaying leaves, twigs, buds and other debris from staining the surface. Avoid dragging furniture and other heavy objects across surfaces to eliminate unnecessary scratches.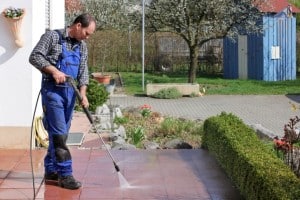 Cleaning decorative concrete when dirt and grime builds up will not only enhance its appearance, but increase durability. There are multiple methods that can be used depending on the type of surface you are cleaning, most concrete services can be cleaned using a little soap and a power washer.*
Contractors typically apply several coats of protective sealer to decorative concrete to inhibit the penetration of grease and oil, dirt, deicing chemicals and other substances. This makes the concrete easier to clean, enhances the color and prevents fading from UV exposure.
It is recommended to reseal every few years. What type of sealant you use will depend on the composite of your decorative concrete, sun exposure and slippage concerns. Watch this video below for more details:
Finally, avoid using caustic substances on your decorative concrete, such as ice-melt products, bleaches and potent cleaners when possible. This will eliminate the need to reseal more often or from permanent damage to the concrete surface.
*Please note that power washing a decorative concrete patio can do permanent damage to the surface if done incorrectly.
---

DiSabatino Landscaping is Delaware's #1 Hardscape and Landscape Specialist. We can design an outdoor living environment that will add quality to your life and value to your home. Give us a call today! 302-764-0480
Related Articles