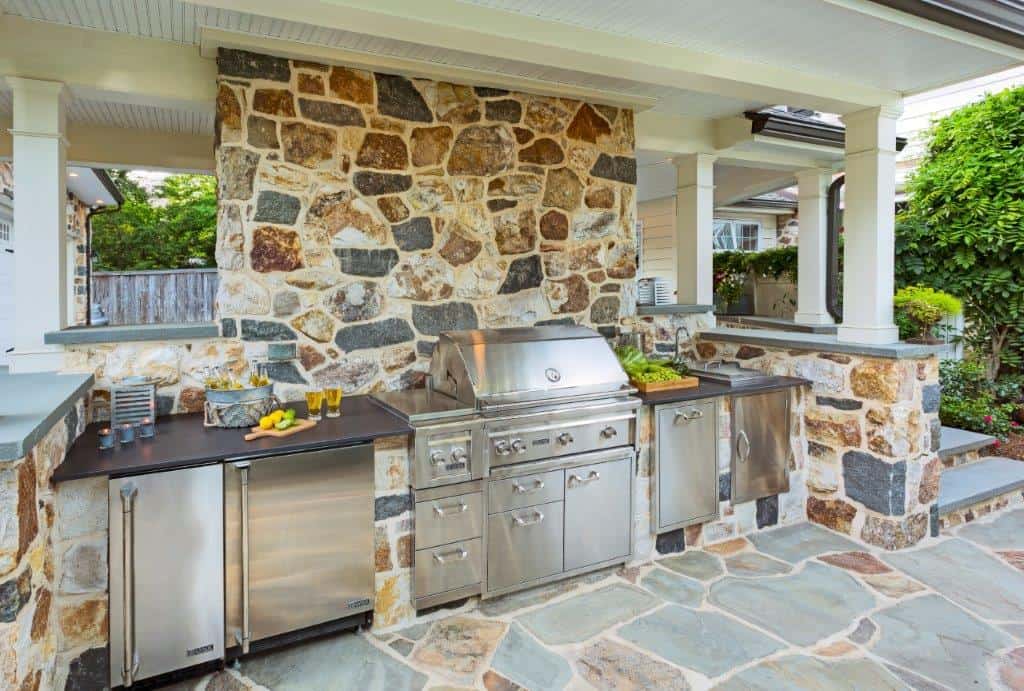 February 25, 2020
With spring arriving early this year, now is the time to plan improvements for your outdoor living space and outdoor kitchen areas. Cooking outdoors is a great way to entertain and stay in the thick of things.
If there is no outdoor cooking space when the party moves outdoors, the hostess misses a good portion of the excitement as they are stuck inside cooking. Not to mention the many trips back and forth.
Save time, make entertaining outdoors easy and join in the party by having a full-service outdoor kitchen. There are many options available when planning an outdoor kitchen living area . Here are a few to consider.
7 Great Ways to Add Value to Your Outdoor Kitchen
Pavilion: Keep your dining area comfortable and dry with a pavilion
Pergola: Add ambience, shade and privacy with a vine-covered pergola
Pool: Custom in ground pools and hot tubs are refreshing touches that keep dinner guests hanging out for desert!
Ambient Lighting: Special features such as path lights, string lighting or post lights add to every outdoor evening occasion without attracting pesky insects
Water Features: Ponds, waterfalls and other water features, such as a fountain is great way to add character to your landscaping
Alone Space: Create peaceful location away from the crowd to allow for relaxation or meditation
Bedroom Deck: A deck off the master bedroom – connect with nature any time of day
Outdoor Space: Utilize the front, side and back of house to add a custom made deck with gazebo, gorgeous pergola, pavilion or sun room
---
RELATED ARTICLES:
---
---
---
Have you always wanted to create an outdoor living area to entertain family and friends in style?
Check out this recent transformation of an aged and worn backyard patio. DiSabatino Landscaping created an inviting conversation area with fire pit, outdoor cooking area, ambient lighting and cascading steps.
Notice how creatively the hardscape and landscaping is tied together to create a stunning outdoor living area that will not only makes the outdoors more enticing, but adds a true value to the home and property. If your interested in finding out how DiSabatino Landscaping can transform your backyard, get in touch today!
Our professional landscape team created this gorgeous outdoor living space for the DuHadaway property in Wilmington, Delaware. They removed the old slate patio, installed a new one, cleaned out stagnant pond, layered rocks to create sides & waterfall (with special features – such as LED lighting) to keep water oxygenated & fresh, built stone bridge with recessed LED lighting, mulched, planted perennials & bushes, etc ..
That's what we are good at — reinventing dated and overgrown outdoor spaces.