Tag: outdoor living space
May 15, 2018
Spring is the time our customers start thinking about installing a new deck or patio. A patio or outdoor living area is becoming a popular element for extending a home's square footage and makes for spectacular entertaining.
Before starting a hardscaping project, it is wise to research the various options and materials available. It is best to look for materials that are safe and blend or contrast nicely with your home and surrounding landscape.
There is a wide variety of materials to choose from, and each has their own benefit.  Some of the considerations to make when choosing your material are longevity, aesthetics, install method, maintenance, and cost.  Our customers come to us with a variety of different needs and we wish to make the choices as clear and simple as possible:
Natural stone (typically referred to as flagstone or slate) is a very attractive material that holds up well to the elements.  The color does not fade as much as many manufactured products and has a unique appeal.  Someone who values a classic or rustic aesthetic might choose this product.  It can be installed both with cement and polymeric sand joints.  Versatility and looks make this material a great selection for any property.
Keep in mind that natural stone typically costs more because it has to be trucked in from a quarry. It can also take more time to install, hence upping your labor cost.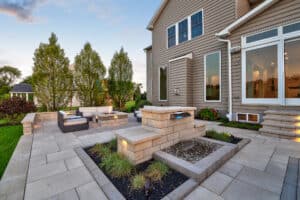 Concrete Pavers are the most popular recent addition to our material pallet.  They are more cost effective than natural stone, yet still offer a similar aesthetic.  There are a vast number of shapes, sizes, and colors available.  It is important to do your research when determining which paver you will install in your yard.  Not all manufacturers are alike.
While the material itself if more cost effective, the install is also easier due to their uniformity & therefore are more wallet friendly.  This does not come without drawbacks however.  You will need to be more mindful in terms of maintenance if you want your patio to keep its original luster if you choose this material.  Polymeric sand joints need repaired every 3-5 years so that weeds do not grow in, and sealers can help to reduce the fading that occurs over time.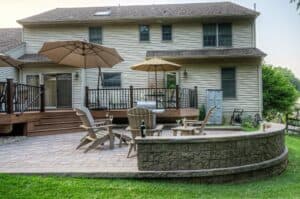 Decorative Concrete is an old concept that has benefited from new install techniques in the past couple of decades.  Options range from brushed finish (typical sidewalks) and exposed aggregate (tiny pebbles) to stamped concrete with synthetic designs printed onto them.
If you are not in love with man-made looking products this may not be for you.  However, it is a highly durable and cost effective option that does not need a ton of maintenance.
At the end of the day, your patio must fit your family's needs.  It is important you know what you are committing to with whichever material or method you decide to go with and that you have a reputable installer to assist you with the process.
---


DiSabatino Landscaping is Delaware's #1 Hardscape and Landscape Specialist. We can design an outdoor living environment that will add quality to your life and value to your home. Give us a call today! 302-764-0480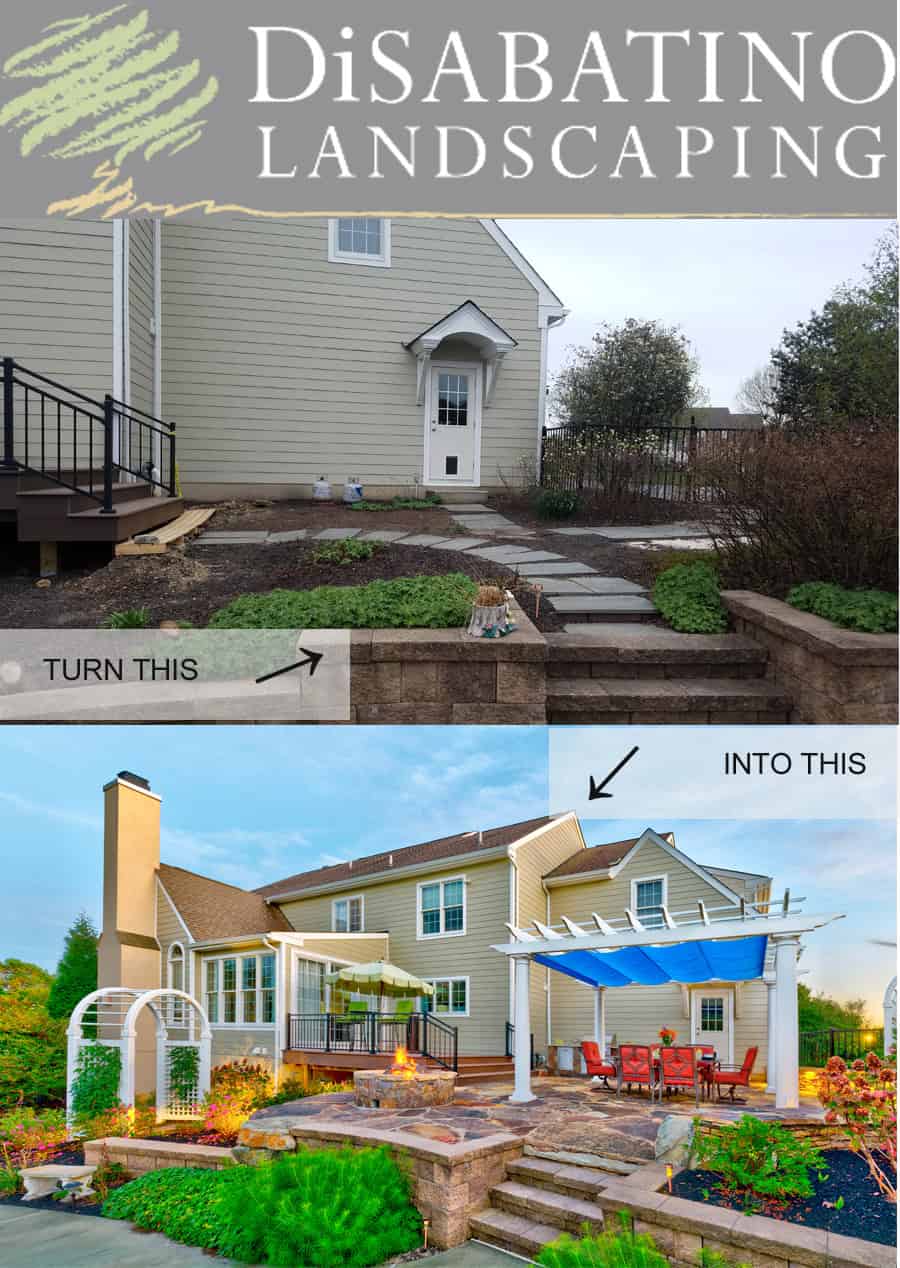 DiSabatino Landscaping builds beautiful pergolas integrated expertly with custom designed patios and decks.A pergola can provide protection from direct sunlight, yet allow for air to circulate freely. This makes them a welcome respite from the harsh rays of the afternoon sun. Making them a perfect feature of an outdoor living space.
Check out this charming outdoor space that DiSabatino's creative hardscape architects designed and installed for the Heald Property in Kennett Square, Pennsylvania. Notice the various gathering places, such as the awesome fire pit adjacent to the Italian Renaissance style pergola. Perfect for outdoor entertainment and enjoyment. Continue reading →
If your pool area has become worn cracked and overall uninviting, it might be time for a full makeover!
Let DiSabatino transform your pool area into an inviting oasis that can make your backyard the envy of the neighborhood. Fall is a perfect time to remodel the hardscaping and landscaping surrounding your pool area, making your next pool season a huge success!
Check out this transformation we did on the Walsh property. Notice how we installed a beautiful slip proof decking, stone walls and waterfall with ambient lighting. Not only is this pool side  more inviting, it's a lot safer than the previous cement and wood decking conducive to slippage and other mishaps.