Is Your Landscape Ready for Winter?
December 6, 2016
The cold season has arrived and winter weather is on the horizon. You've spent a lot of money making your landscape beautiful.  Now, be sure to protect that investment by making sure your property is ready for winter.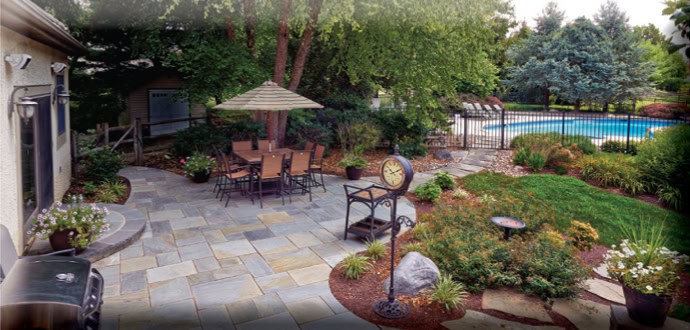 The cold temperatures, drying winds and snow cover of winter can all cause all kinds of problems to your landscape. Plants can get windburned or suffer broken branches from heavy snow loads, while patios and driveways may sustain damage from plows or corrosive deicing products. Replacing lost plantings is costly and time-consuming. Save yourself the time and trouble by winterizing your property now.
One of the most crucial steps you can make is to to ensure your plants are well protected from the harsh winter elements. Some trees and shrubs, such as  broadleaf evergreens and arborvitaes, require special attention, while others are naturally equipped to survive harsh elements. It's important to consult with a  professional to see which plants or trees requires winter help and which ones are fine on their own.
One of our recent articles focused on the importance of using dormant oils and anti-desiccants to protect your woody plants. While this is important, there are a number of other ways you can make sure that your landscape is ready for the frigid months ahead.
Top Winter Prep Tips
DiSabatino Landscaping recommends homeowners take the following measures before winter months:
Cover Plants: One of the most effective ways to protect plants in freezing temperatures is to install stakes and burlap. This protects them from high winds that whisk away moisture in the leaves and heavy snow fall that can cause breakage. It is important to remove the burlap when temperatures are consistently over 40 degrees.
Mulch Installation: Mulch helps contain moisture and nutrients that are quickly lost in colder temperatures. Mulch should be installed at about two inches deep; however, be sure to keep it about an inch away from the trunk of the tree or shrub to prevent suffocation.
Containers: Store container plants indoors during the winter months and continue regular watering.
Hardscaping: To protect your hardscaping, fill cracks in asphalt and seal pavers, stone or concrete to protect these surfaces from the freeze/ thaw cycle, in addition to deicing products.
Wood Surfaces: Keep all wooden structures in the landscape painted or sealed. This extends their life and increases the safety of any wood you may have to walk on.
Irrigation System: Do a full blowout of your irrigation system to get all of the water out of your irrigation pipes. This prevents damage to the pipes and the moving parts in your system.
Ponds, Faucets and Water Pipes: This is also the time to partially drain aboveground ponds and pools. You may also need to winterize pipes such as those in the outdoor kitchen.
Patio Furniture: Bring patio furniture indoors, or use specially-designed covers to protect your furniture over the winter.
Winterizing your property does not need to be difficult. Most of the chores required are common sense and will contribute to a healthy, vibrant landscape. Simplify your landscape design to minimize your maintenance efforts and give your property year-round functionality.
DiSabatino Landscaping offers winter preparation services in many areas including Greenville, Hockessin, Kennett Square and West Chester. Their team of experts, including a plant health care specialist and a certified arborist, ensure your property is taken care of through winter in order to bloom to its fullest potential in spring.
Call DiSabatino Landscaping at (302) 764-0408 to create the landscape and outdoor living space of your dreams. You can visit them online at www.DiSabatinoInc.com.
DiSabatino Landscaping also offers additional services including landscape design and installation, hardscaping, masonry, tree care, outdoor kitchens, fire pits and outdoor fireplaces.
Related Articles