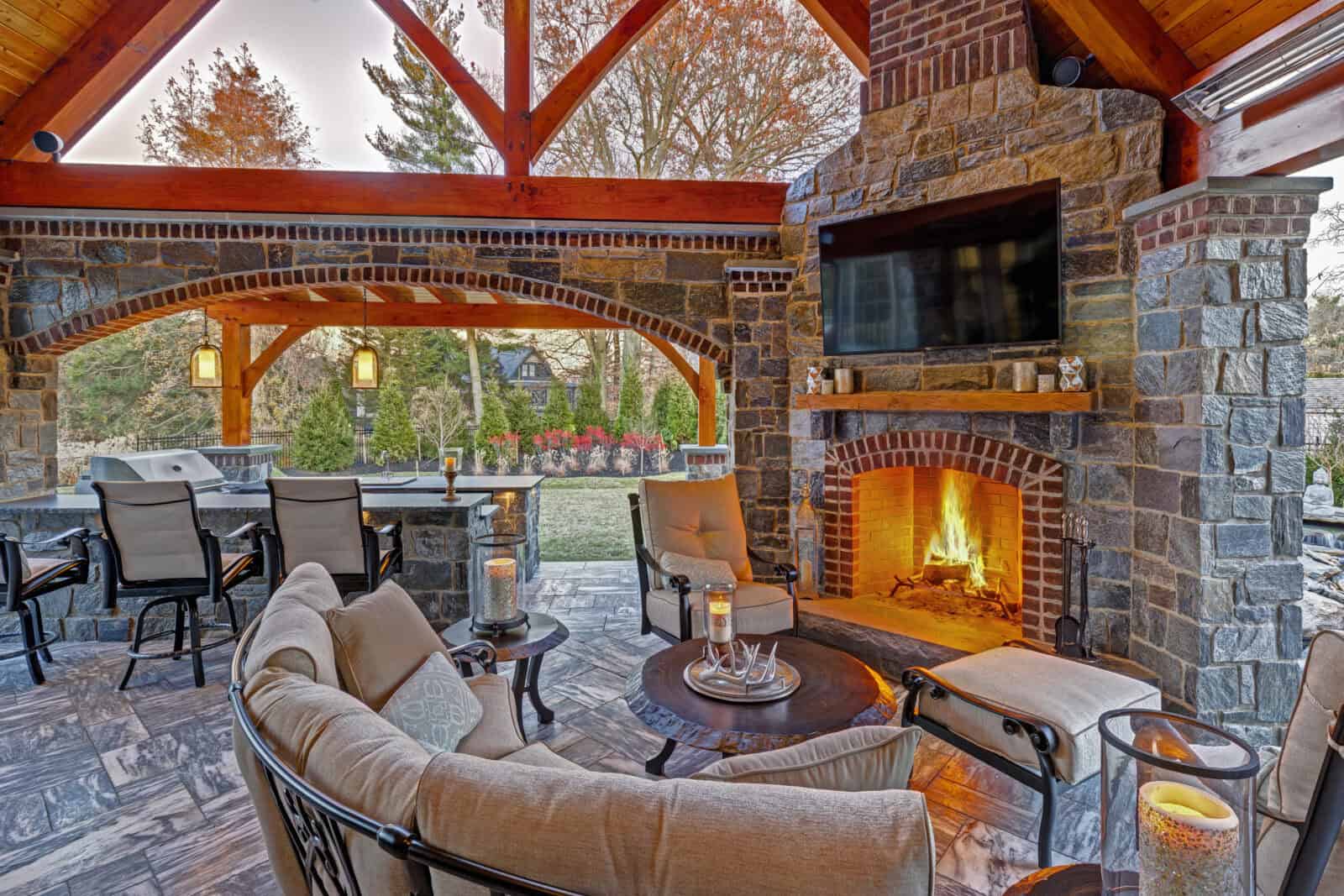 A Guide to Outdoor Fireplaces or Fire Pits
November 10, 2020
As fire pits and outdoor fireplaces start to light up the dark yards across our area to add a bit of warmth to the cool evenings. Gathering around an outdoor fire roasting marshmallows, sipping a favorite beverage  and talking about the events of the day is a favorite fall pastime of mine.
Safety should be front and center when using outdoor fire pits and fireplaces. That is why those of us a DiSabatino Landscaping thought these tips might come in handy this time of year.
7 Safety Tips for Outdoor Fireplaces or Fire Pits
1) A New Fireplace or Fire Pit Installations Needs a Little Extra Care
A newly installed fireplace or fire pits need a little bit of extra care in the beginning. We advise waiting thirty days before the first fire to let your outdoor fire pit or fireplace to cure. After thirty days, keep the fire small for the next fifteen days. Wait a full forty-five days before igniting a normal sized fire.
2) Flames at Should be kept at a Safe Height
The smaller the flame, the less likely it is the fire will get out of hand. Containing  flames inside  the fireplace or as high as the fire pit capping is always suggested. Common issues, such as back drafts or sudden gusts of wind can be hard to predict. Sparks and embers might go somewhere you do not want. 
3) Avoid Using Water to Extinguish the Fire
Never use water to put out a fire with water unless it is an emergency. Bank the fire by burying flaming logs and smoldering embers with ashes. While this will not completely extinguish the fire, it  will safely cause it to die out slowly.
4) Be Sure to Use Materials With a High Heating Rating
Build your fireplace or fire pit with materials suited to stand up to high temperatures.  Don't make the mistakes of using concrete block, stones or boulders found around the yard. These materials can crack, splinter or even explode.
5) Clean Out a Fireplace or Fire Pit After Each Use
Clean off any debris around the area. Use a clean cloth to keep the igniter and burner holes clear. Logs should be cleaned using a soft brush.
6) Check for Gas Leaks
If your fire pit or fireplace is gas run, systematically check for gas leaks. If you smell gas, turn off the gas supply. Contact your gas company for service. Have igniters and burners serviced by a gas company at least every two years.
7) Protect Your Fire Pit
Use the manufacturers cover or use one that allows moisture to escape. This will protect your fire pit from the elements and prolong its lifespan.
DiSabatino Landscaping teamed up with Esposito Masonry creates beautiful custom-designed fireplaces and fire pits for residences in Delaware and the surrounding area. If you would like to find out what we can create for you, please get in touch
302-764-0408 | DiSabatinoInc.com
RELATED ARTICLES:
Fall is Great Time for Fire Pits!
7 Reasons to Install a Fire Pit this Winter
Check Out Our Portfolio of Fireplaces & Fire Pits
---


DiSabatino Landscaping is Delaware's #1 Hardscape and Landscape Specialist. We can help advise you what is best way to create outdoor fireplaces & fire pits  Give us a call today! 302-764-0408
Related Articles