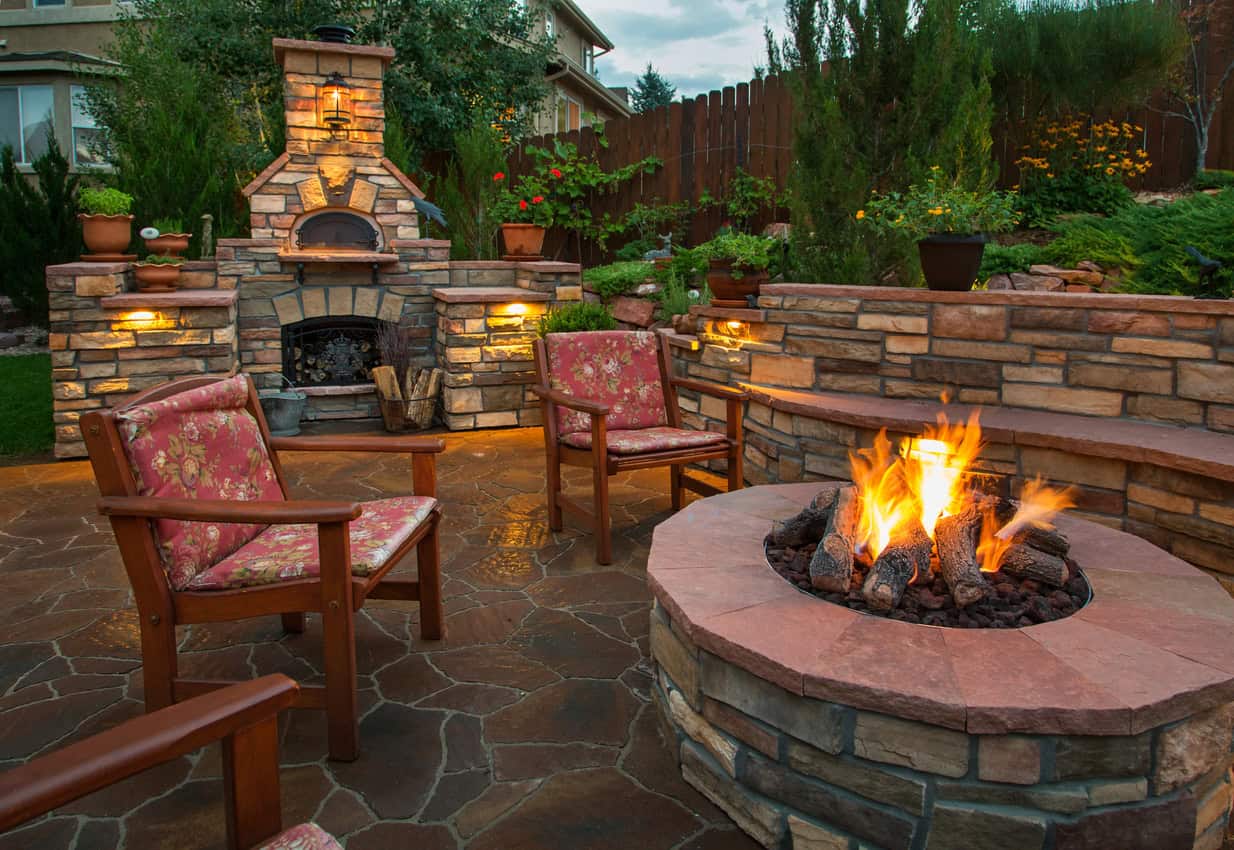 October 22, 2019
Fall is the time the fire pits and outdoor fireplaces start to light up the yards across our area as the evenings begin to cool. Sitting around an outdoor fire sipping a favorite beverage, roasting s'mores and quietly conversing is a favorite fall pastime.
We thought sharing a few ways to keep your fire burning for outdoor fireplaces or your fire pits would be helpful for our treasured clients and readers.
1) New Fireplace or Fire Pit Installations Need Extra Care
New installs need a little bit of extra care in the beginning. Wait thirty days before the first fire. After thirty days, keep the fire small for the next fifteen days. That makes it a total of forty-five days before a normal sized fire should be built.
2) Keep Flames at a Safe Height
The flames height should be contained within the fireplace or as high as the fire pit capping. Back drafts or sudden gusts of wind are common and hard to predict. Sparks and embers might go somewhere you do not want. The smaller the flame, the less likely it is the fire will get out of hand.
3) Don't Use Water to Extinguish the Fire
Unless it is an emergency, never use water to put out a fire. Instead, bank the fire by burying flaming logs and smoldering embers with ashes. This will not completely extinguish the fire but it will cause it to die out slowly.
4) Select Materials Suited to Stand Up to High Temperatures
Build your fireplace or fire pit with materials with a high heating rating. One of the biggest mistakes in fire pit construction is when it is built with concrete block, stones or boulders found around the yard. If not meant to heat up, these materials can crack, splinter or even explode.
5) Keep Fireplace or Fire Pit Clean
A little maintenance always helps. This is true for your fireplace or fire pit. Clean off any debris around the area. Use a clean cloth to keep the igniter and burner holes clear. Logs should be cleaned using a soft brush.
6) Inspect and Check for Gas Leaks
Always check for gas leaks. If you smell gas, turn off the gas supply. Contact your gas company for service. You should also have the igniters and burner serviced by a gas company a minimum of every two years.
7) Protect Your Fire Pit
Use the manufacturers cover or use one that allows moisture to escape. This will protect your fire pit from the elements and prolong its lifespan.
Okay, so there is a little work to keeping your flames burning but it's well worth it!
DiSabatino Landscaping teamed up with Esposito Masonry creates beautiful custom-designed fireplaces and fire pits for residences in Delaware and the surrounding area. If you would like to find out what we can create for you, please get in touch
302-764-0408 | DiSabatinoInc.com
RELATED ARTICLES:
Fall is Great Time for Fire Pits!
7 Reasons to Install a Fire Pit this Winter
Check Out Our Portfolio of Fireplaces & Fire Pits
---


DiSabatino Landscaping is Delaware's #1 Hardscape and Landscape Specialist. We can help advise you what is best way to create outdoor fireplaces & fire pits  Give us a call today! 302-764-0408
September 17, 2019
Fall is almost here. It's time to roast some marshmallows and enjoy the cooler evenings by getting the fire pit roaring and creating some great memories.
Add a Custom Made Outdoor Fire Pit to Your Outdoor Living Space
This is the perfect time to upgrade your outdoor living area with a custom made masonry fire pit. A fire pit will increase the value and usability of your backyard space. Activities such as foil meals, sunset cocktails,
A custom made fire pit will make your backyard a gathering place all year long. Sitting around a fire is a great bonding experience for family and friends. Warming oneself by a roaring fire while sharing a drink or meal and gazing at the night sky can be invigorating year round.
Why Add an Outdoor Fire Pit to Your Outdoor Living Space? Here are 7 Reasons:
A Fire Pit Extends Your Entertainment Space
A Fire Pit is Easy to Build and Very Affordable
A Fire Pit is a Great Conversation Spot and Creates Ambiance in Your Backyard
A Fire Pit Makes it Possible to Enjoy the Outdoors Year 'Round
Having Drinks and Dinner Around a Fire Pit is Very Romantic
Cooking Meals Around a Fire Pit is a Great Family Bonding Activity
A Fire Pit Adds Value to Your Home When it Comes Time to Sell
Whether you are enjoying the warmth as you listen to the crackling of the fire, sipping your favorite beverage, or roasting marshmallows with the kids, there's nothing like relaxing in the comfort of your own backyard.
DiSabatino Landscaping can transform your home with a custom made fire pit. If you want a beautiful custom made fire pit added to your outdoor living area created just for you, get in touch with DiSabatino Landscaping and Esposito Masonry. We create unique outdoor living areas and patios!
302-764-0408 | DiSabatinoInc.com
RELATED ARTICLES:
The History Behind Our Outdoor Spaces
Three Ways to Transform Your Yard Into an Outdoor Room
---


DiSabatino Landscaping is Delaware's #1 Hardscape and Landscape Specialist. We can help advise you what is best way to create your outdoor living space  Give us a call today! 302-764-0408
August 14, 2019
Want to enjoy the outdoors anytime of the year by creating a beautiful outdoor living area?
Then consider adding a fireplace or fire pit to your outdoor living space. Don't forget to get the kids involve by letting them cook their own food. There are plenty of campfire recipes to try. Of course there has to be s'mores!
Do you have pizza lovers? Consider adding a wood fired brick oven to make authentic pizza for a hungry crowd. Did you know brick ovens cook quickly and efficiently? Better yet, they are a great way to cook desserts, meats, veggies and more!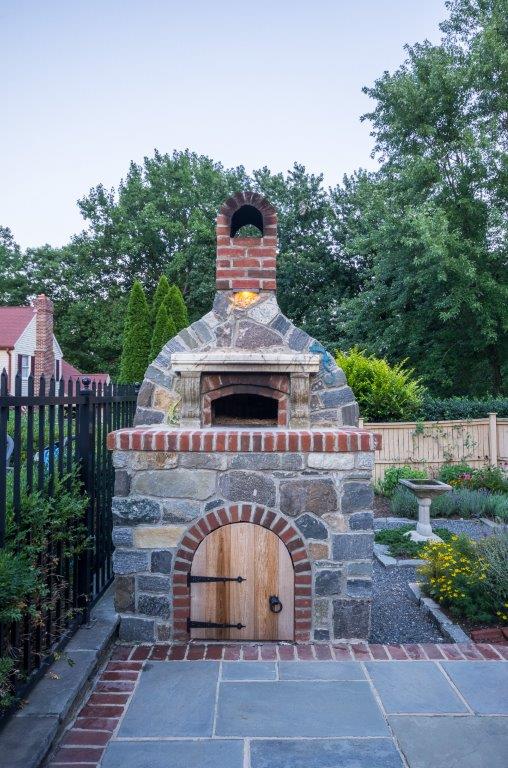 How about a full outdoor kitchen? An outdoor kitchen allows you enjoy an outdoor party while you cook! In addition, it makes you more efficient and  lessens the need to run back and forth to the house. That is why we encourage clients to consider some sort of cooking options for their outdoor living area.
Check out some of our luxurious outdoor kitchens that will make your home the preferred party location. Likewise, be sure to create comfortable seating areas that will have you looking for every opportunity to enjoy the outdoors.
Add one of these below unique features for creating an even better outdoor living space that will extend the usable square footage of your home. Not only will it increase your home's value, it will give REAL value to your home life. Also consider the savings from staycations, a great way to bond with family without spending tons of cash!
7 Great Ideas for Creating a Beautiful Outdoor Living Area:
A pavilion to keep your seating area comfortable and dry
A pergola is a great way to add shade, privacy and ambience
Custom in ground pools and hot tubs are refreshing touches. Add special features such as waterfalls and ambient lighting
Ponds and other water features, such as a fountain is great way to add character to your landscaping
Create peaceful locations to relax and meditate
A deck off the master bedroom – connect with nature any time of day.
Utilize the front, side and back of house to add a custom made deck with gazebo, gorgeous pergola, pavilion or sun room
The possibilities are endless!
If you want a beautiful custom made outdoor living area created just for you, get in touch with DiSabatino Landscaping and Esposito Masonry. We create unique outdoor rooms and patios!
302-764-0408 | DiSabatinoInc.com
RELATED ARTICLES:
The History Behind Our Outdoor Spaces
Three Ways to Transform Your Yard Into an Outdoor Room
---


DiSabatino Landscaping is Delaware's #1 Hardscape and Landscape Specialist. We can help advise you what is best way to create your outdoor living space  Give us a call today! 302-764-0408