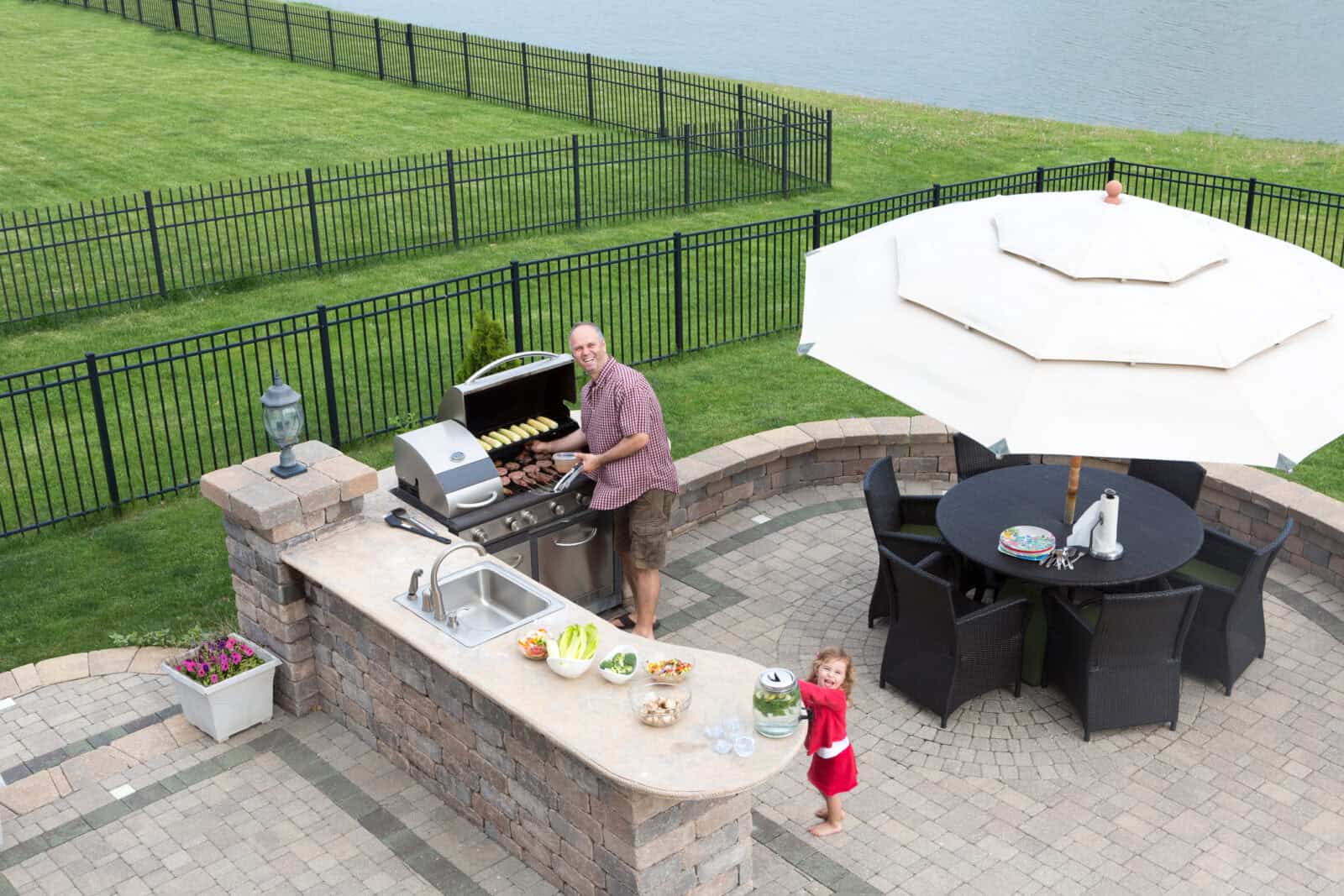 Stone Patio Maintenance Tips You Need to Read Before Summer
April 16, 2019
How to Clean and Seal Your Stone Patio
Installing a stone patio can add value to your home as well as beauty to your outdoor landscaping. Stone is much lower maintenance than wooden decking and can add more visual interest than concrete, all while providing you a place to barbecue or simply relax away from the heat of the day. While low maintenance, there is some work to do to ensure your patio stays beautiful and functional for years to come.
Cleaning Your Stone Patio
Because your stone patio is susceptible to everyday dirt and natural grime, it is important to clean it periodically.
Keeping your patio free of loose dirt and plant debris can help prevent scuffing and buildup. Remove all patio furniture and potted plants before sweeping the entire patio in one direction, then the opposite. This method ensures you remove any material trapped between the stones.
Use clean water from a hose to spray surface dirt and dried-on debris from your patio. If necessary, use a stiff brush to loosen any resistant patches, and repeat spraying to wash away residue.
Greasy stains near patio tables, grills, and barbecue areas can be treated with a solution of dish soap and water. Use a stiff brush to work the solution into the stain and rinse away with a hose. If there is remaining residue, clear the area of the soap solution and treat with an ammonia solution – ½ cup to one gallon of warm water. Ensure to rinse all the ammonia solution away before proceeding.
Treat any biological stains, such as mold and mildew, with a solution of ½ cup of bleach to one gallon of warm water. Scrub the affected areas with a stiff brush and remove any excess solution with rags or towels before rinsing with a hose. Allow stone to dry adequately before replacing furniture and plants.
Sealing Your Stone Patio
Most stone patios should be sealed to prevent water stains and excess absorption of grease or biological stains. After you've thoroughly cleaned your patio, wait at least one day to allow your stone to fully dry before proceeding to seal.
Use an acrylic, water-based matte sealer designed for porous outdoor stone.
Choose a hot, dry day to ensure rapid drying of your stone.
Ensure your area is free of loose dirt, clean, and dry by following the steps outlined above.
Using a clean paint roller, roll the sealant on in large, generous strokes. Roll over each stone only once to avoid streaking.
Allow the sealer to dry for one hour – it should be dry to the touch before reapplying.
Repeat with another coat.
Allow the sealer to dry for 48 hours before walking on the surface or replacing patio furniture.
For more information regarding care and maintenance of your stone patio, contact DiSabatino Landscaping today.
---


DiSabatino Landscaping is Delaware's #1 Hardscape and Landscape Specialist. We can help build an outdoor living area that will have you enjoying the great outdoors in style! Give us a call today! 302-764-0408
Related Articles