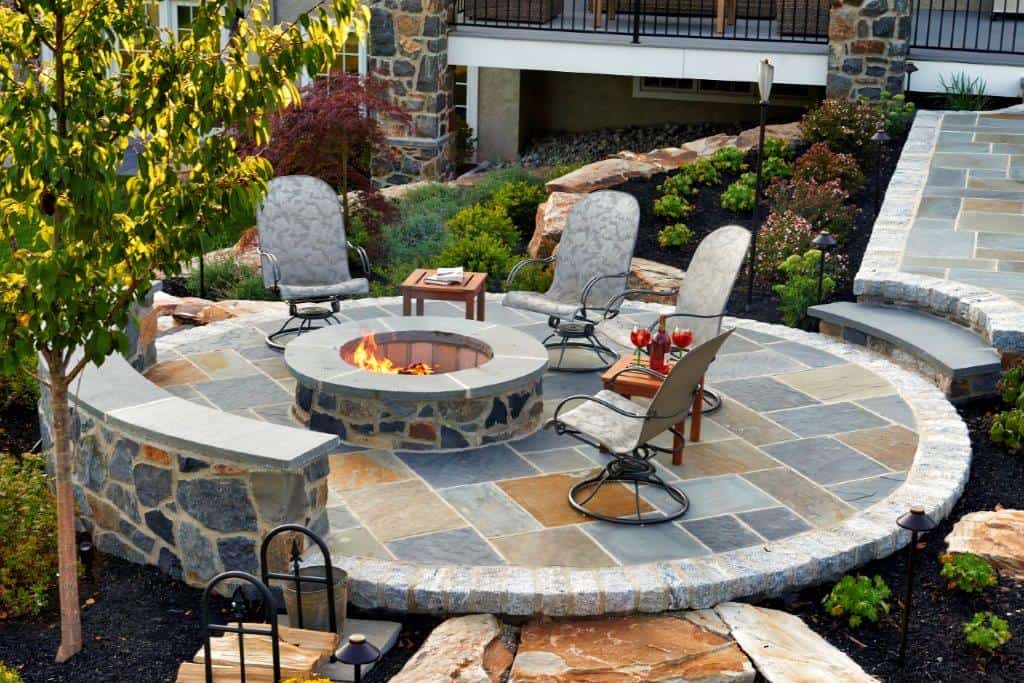 August 25, 2020
With the summer days waning and the cooler fall weather waxing (hopefully soon), now is the perfect time to create that outdoor living space you have always wanted. Outdoor living makes for a healthy lifestyle.
Think about how enjoyable these soon to arrive cool evenings with family and friends around a roaring fire will be. A comfortable outdoor living space that enables relaxation, as well as socializing distancing, is just what the doctor ordered for these challenging times.
Investing in some new outdoor living features allow homeowners to create an outdoor atmosphere that makes every day feel like a vacation. The best place to start when creating an outdoor living area is to determine your unique needs. Create a well-thought out custom design to reflect your style and taste.
Take a look at some of the following options when creating your own unique outdoor living space.
7 Outdoor Living Space Options to Consider:
1) Comfortable Seating Area
First, create a comfortable seating area for family and friends to relax and enjoy the ambient sounds and nature. More than likely, you will want some sort of cover to protect your outdoor living space from the elements.
2) Protection from the Elements
Consider adding a large umbrella, pergola or pavilion that will enable enjoyment no matter what the weather conditions may be. Perhaps you would prefer a privacy wall or trellis to add a little 'old world' flair. Maybe you would like to add a little nautical theme by hanging a few colorful canvas shade sails. Whatever floats your boat, some sort of protection from the elements is essential to creating an outdoor living area.
3) Safety Lighting and Ambiance
When designing your outdoor living area, do not forget the lighting.  Navigating a dark pathway is a safety issue.  Landscape lighting such as Path lighting and soft ambient lighting will enhance your outdoor oasis and extend your enjoyment into the evening hours.
4) Fire Feature
An outdoor fireplace or fire pit not only adds to the ambiance of your outdoor living space, it extends it usability into the cooler weather. On top of that, it can serve as a cooking option. Campsite meals and roasting marshmallows are a great way to create happy memories and enhance family bonds. Many homeowners are going the modern route, by installing beautifully designed fire pit tables. Whatever your style, a fire feature in your outdoor living space is highly advisable.
5) Outdoor Kitchen or Bar
Entertaining outdoors is a lot easier if you have the amenities nearby. That is why we usually advise some sort of cooking and refrigeration appliance close to your outdoor living area. A bar set up with everyone's favorite beverage or an outdoor kitchen with all the cooking and serving utensils makes for easy entertaining. It eliminates the need to make several trips inside to access food and drinks.
6) Entertainment Center
An entertainment center set up with television, stereo and possibly even a karaoke machine will be a great enticement for family and friends to hang out in the backyard. A disco ball and dance floor might not be a back choice either!
7) Water Feature
Whether you go for the whole shebang … in ground pool with cascading waterfall and Jacuzzi or a simple bubbling urn fountain, a water feature in your outdoor living space will add the soothing sound of running water.
Many homeowners are seeing the value of creating outdoor living areas and in doing so are using all types of unique water features to enhance their space. Likewise, these water features, such as a rain curtain or deck jets with LED lighting add a special ambiance in the darker hours of the day.
With outdoor entertainment being in high demand, adding one or more of these water features to your outdoor living area can make for many memorable occasions in your own backyard. Don't forget to explore the lighting options to enhance any water feature you install.
If you are considering creating an outdoor living space, talk with one of our landscaped design specialist at DiSabatino Landscaping. We can quickly and expertly install a customized outdoor living area  that will enhance your life for years to come.
---
SOME RELATED ARTICLES:
---
---
302-764-0408 | DiSabatinoInc.com
---
The Landscape Experts
DiSabatino Landscaping is Delaware's #1 Hardscape and Landscape Specialist. Give us a call today! 302-764-0408