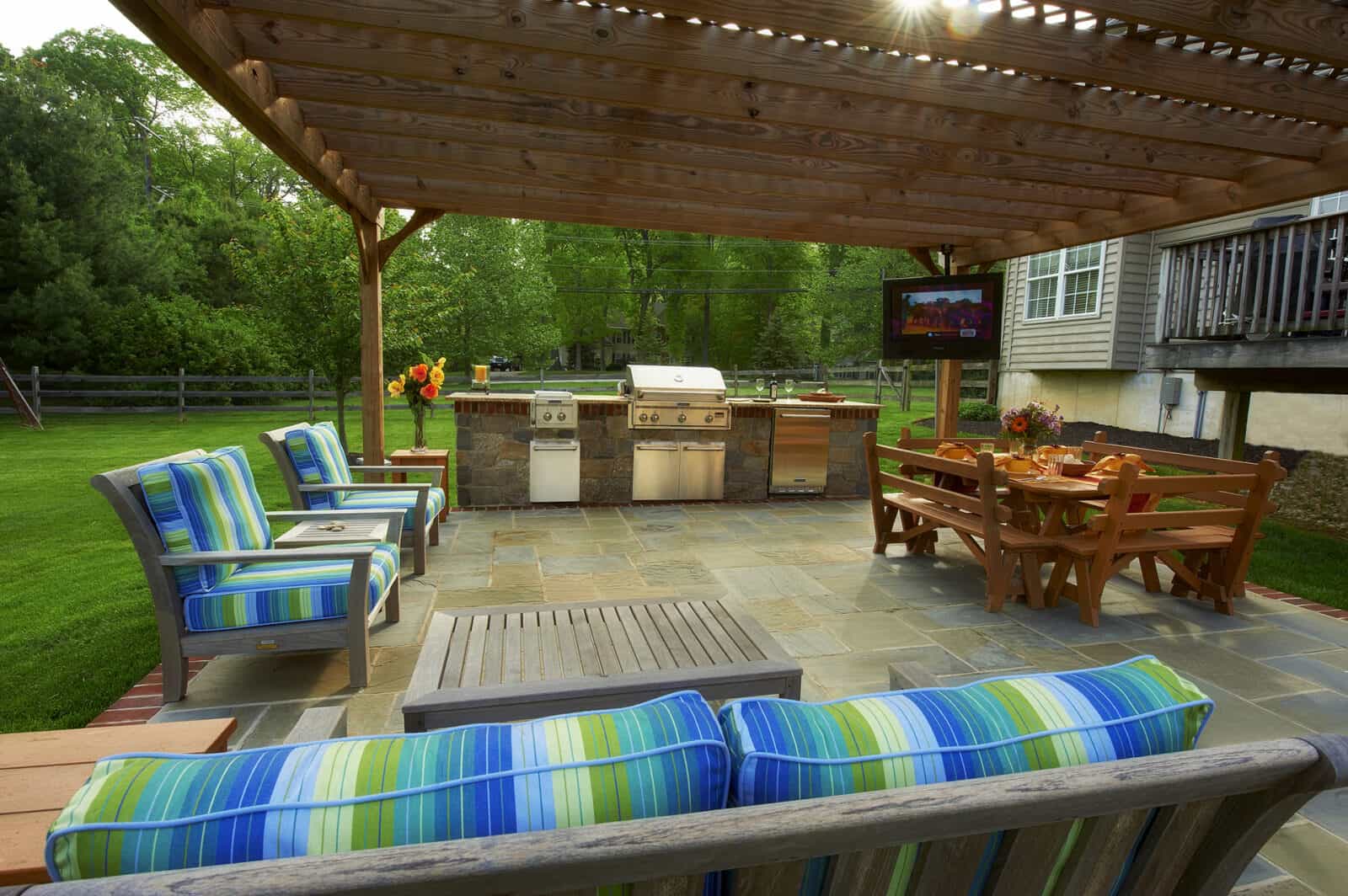 Make This The Year You Create a Custom Outdoor Living Area for Your Home
January 7, 2021
Make 2021 the year you create a custom outdoor living area you are proud of and that will give you pleasure for many years to come! Now is a good time to start planning for improvements to outdoor living space and outdoor kitchen areas. Cooking outdoors has become all the rage and is a great way to entertain, stay safe and in the thick of things when entertaining.
A host or hostess without an outdoor kitchen misses much of the party when it moves to the patio or outdoor sitting area. If they are stuck inside cooking and plating up food, they really can be part of the conversation.
Save time, stay safe and make entertaining outdoors easy by having a full-service outdoor kitchen and living area installed this year. That way everyone can join in the party! Outdoor kitchen designs have so many options available and have a great ROI on the value of your home. Here are a few to consider.
7 Great Ways to Add Value to Your Outdoor Kitchen
Pavilion: Keep your dining area comfortable and dry with a pavilion
Pergola: Add ambience, shade and privacy with a vine-covered pergola
Pool: Custom in ground pools and hot tubs are refreshing touches that keep dinner guests hanging out for desert!
Ambient Lighting: Special features such as path lights, string lighting or post lights add to every outdoor evening occasion without attracting pesky insects
Water Features: Ponds, waterfalls and other water features, such as a fountain is great way to add character to your landscaping
Alone Space: Create peaceful location away from the crowd to allow for relaxation or meditation
Bedroom Deck: A deck off the master bedroom – connect with nature any time of day
Outdoor Space: Utilize the front, side and back of house to add a custom made deck with gazebo, gorgeous pergola, pavilion or sun room
DiSabatino Landscaping creates beautiful custom-designed outdoor kitchens for residents in Delaware and the surrounding area. If you would like to find out what we can create for you, please get in touch
302-764-0408 | DiSabatinoInc.com
RELATED ARTICLES:
---


DiSabatino Landscaping is Delaware's #1 Hardscape and Landscape Specialist. We can help advise you what is best way to create outdoor kitchens  Give us a call today! 302-764-0408
Related Articles