Check Out This Brick Edged Slate Patio Design by DiSabatino Landscaping in Delaware
November 21, 2017

DiSabatino Landscaping of Delaware has built a stellar reputation for quality custom hardscape designs in the Delaware area. This example above shows how we can convert a aged and stained brick patio can be converted to a beautiful slate patio edged superbly with red brick.
Check Out This Brick Edged Slate Patio Design by DiSabatino Landscaping in Delaware
Note the excellent use of space and the professional way in which the designers meld this outdoor space to reflect the nature of the home's design. Creating an outdoor living space increases the square footage of your home and increase its value and curb appeal.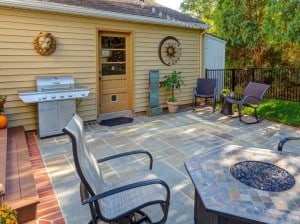 Check out our portfolio to see the quality of our work. We proudly serve Delaware and the Tri-state area with professional landscaping and hardscaping. We have lots of happy customers!
Interested in finding out how DiSabatino can get you the outdoor living space of your dreams? Give us a call at (302) 764-0408 or fill out our contact form for a free consultation today!

DiSabatino Landscaping is Delaware's #1 Hardscape and Landscape Specialist. We can design an outdoor living environment that will add quality to your life and value to your home. Give us a call today! 302-764-0480
Related Articles