Fall Means Fire Pits
November 2, 2016
Outdoor living is one of the most popular trends in home design. Many homeowners are extending the square footage with an inviting outdoor escape. And the options to choose from are endless. These hardscaped and landscaped combinations of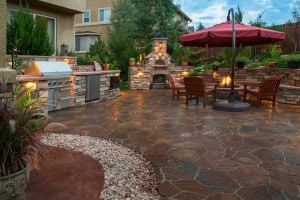 patios, water features, outdoor kitchens, fire places and fire pits provide a perfect ambience the perfect environment for embracing nature and enjoying the outdoors.
As family life has increasingly become a stressful time of rushing from one event to another, many are opting to make the most of their time spent together at home. Building an outdoor living spaces allows you to escape the stress of the day and enjoy nature without the distractions of television, phones and video games.
An outdoor living area offers the opportunity to spend quality time talking and sharing stories with family and friends. There's something very soothing about gathering around a nocturnal fire as the light fades and the stars appear. Make the investment in your home now and see the benefits it brings to your family.
How to Get Started with a Fire: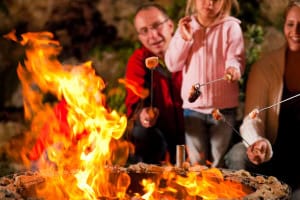 One of the biggest benefits of adding a fireplace or fire pit to your backyard is extending your outdoor entertaining through fall and winter. Nothing beats staring into the flames of a roaring fire, telling ghost stories, sharing laughter and roasting marshmallows to the perfect level of brown.
Fire pits are a great way to allow everyone to cook delicious foods and come up with new recipes while diverting the kids from their electronics. Your family can enjoy an "old fashioned" family-style dinner where everyone's invited.
It's no wonder fire pits are trending. The endless variety of designs and offer a multitude of uses. Some pits include tabletop surrounds, seats and other extras. They're a long way from the simple chimneys or steel bowls that used to serve as a backyard blaze.
There are a  number of factors involved in finding the right type and style for your family: Budget, permanent vs. portable, safety, local regulations, burning permits and type of burning fuel. Contact a professional to learn more about what kind of fire pit is right for you.
Winter Maintenance for Your Gas Fire Pit: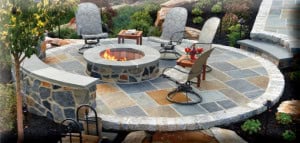 Although you may use your gas fire pit well into the cooler months, this is the time to perform annual maintenance. Proper storage and cleaning will ensure that your fire pit stays safe and in good working condition for years to come.
As the leader in landscape design and custom installation, DiSabatino Landscaping has a few tips for getting your fire pit ready before winter:
Close the gas valve on the base of your fire pit
Remove the propane tank from the base
Brush off any leaves, dirt, or ash from the burner
Remove any accessories & store indoors, cover the fire burner
Use a moist cloth to wipe down the top of the fire pit & burner
Cover the entire fire pit with A plastic or vinyl cover
Let DiSabatino Landscaping help you design the ultimate outdoor retreat. From unique landscaping ideas to spacious outdoor kitchens, the masonry artists at DiSabatino Landscaping will transform the space around your home. Their team's mission is to help you create lasting memories with family and friends in your custom outdoor living space.
DiSabatino Landscaping serves areas throughout Pennsylvania and Delaware, including West Chester, Kennett Square, Malvern, Wilmington, Claymont and Hockessin. For the best in landscape design and installation, call (302) 764-0408 or visit them on the web at www.DiSabatinoInc.com. Give them a call to start creating your dream pool, deck, patio, or outdoor fire pit today.
Related Articles