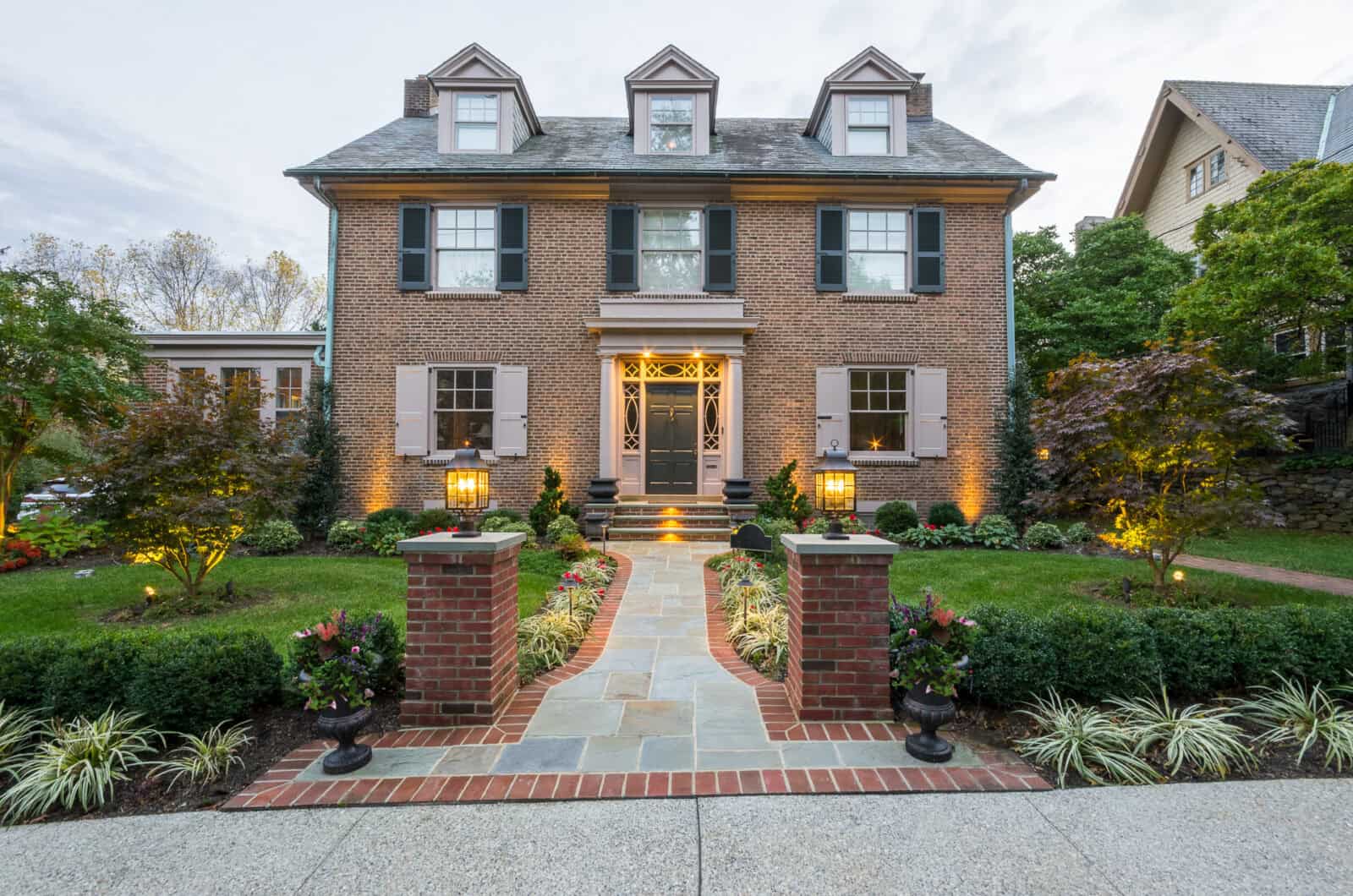 August 2, 2022
Top Tips to Make the Process Smoother
Before beginning a large home renovation and remodeling project, there are a few things you can do to streamline the project for your family and the people working on your home.
DiSabatino's landscape and design professionals put together the following tips to prep your property:
Clear Out Your Yard
You don't need to move anything bulky or heavy, but putting away unnecessary clutter such as children's toys, bikes or unnecessary items will help the installation crew get started quicker. If you know there are some things in your backyard that you won't use after the project is completed, now is the time to sell or donate them.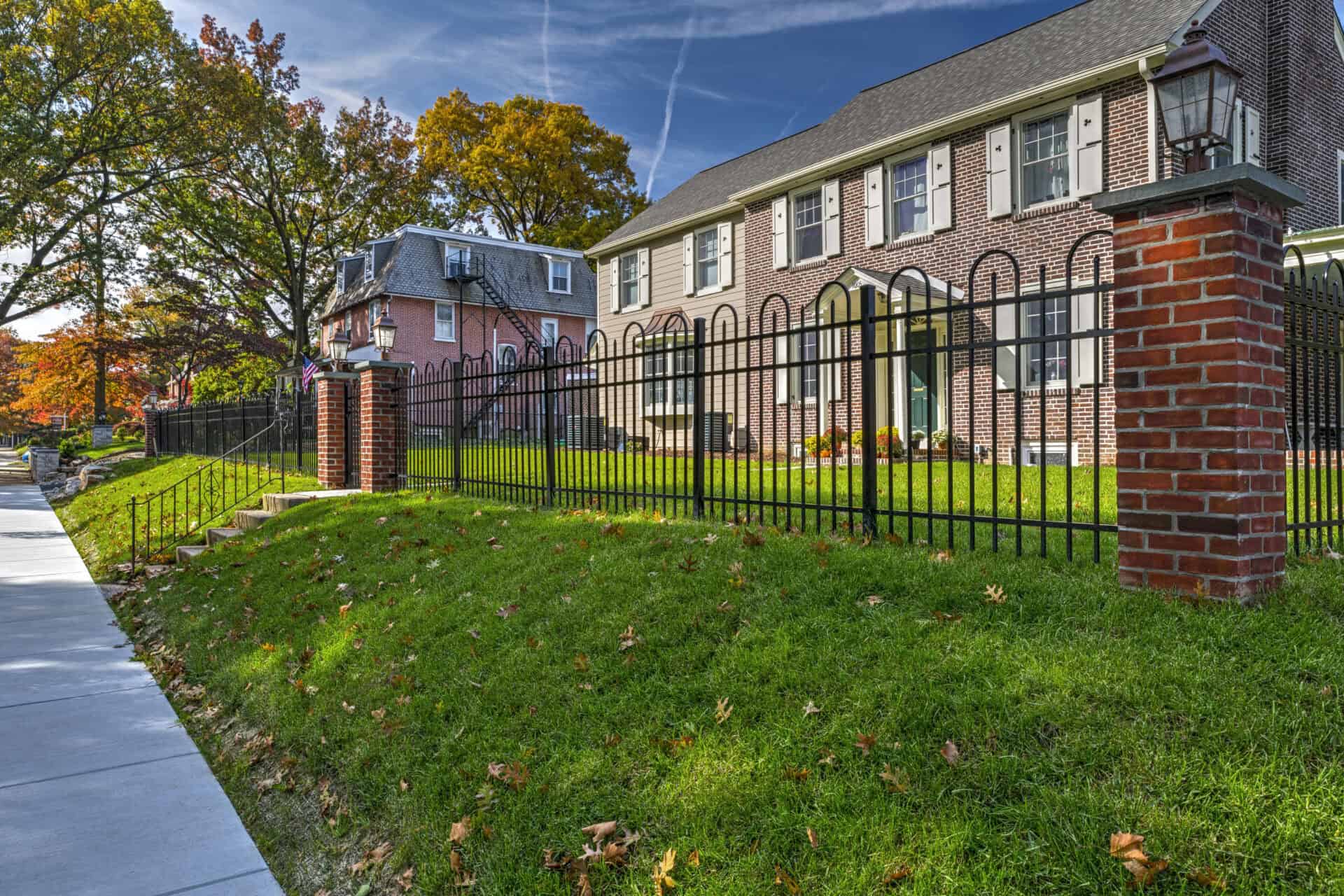 Evaluate Any Safety Issues
Children and pets are less likely to realize the dangers of home renovations. For instance, if an existing deck is being demo'd, there may be a large drop off from your sliding door. Install gates, make sure doors are deadbolted, and place safety cones to keep visitors, young children and furry companions safe from construction areas.
Assign a Work Staging Area
Landscaping and construction materials can be heavy, large and cumbersome. Designate a drop off and storage area ahead of delivery to ensure the project materials aren't blocking the driveway or entrances. You also want to ensure the area is dry, so puddles don't form around the piles of stone, brick or wood.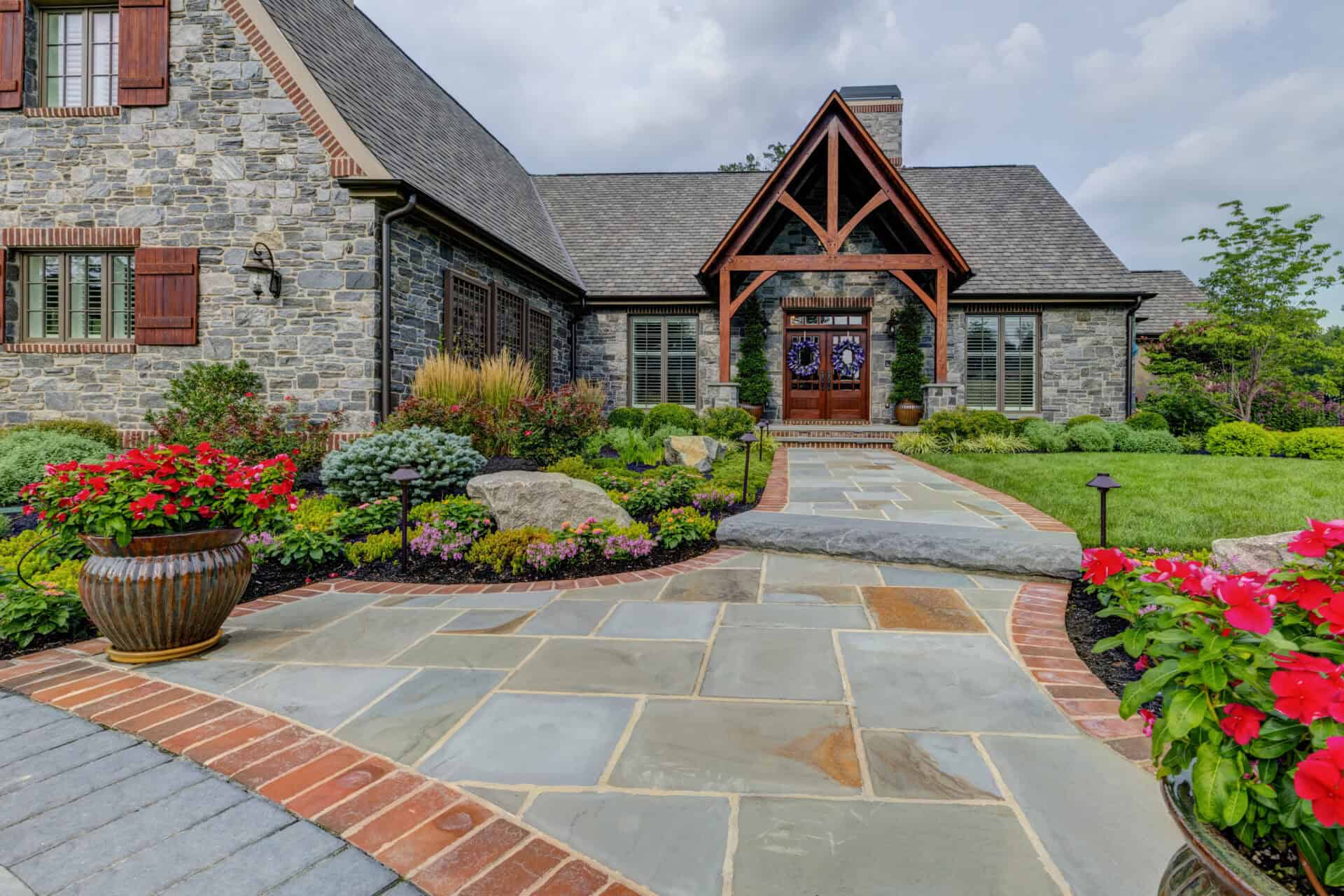 Establish a Timeline
Are you planning on using your new patio or outdoor living space for an upcoming event? Make sure your landscape design firm is aware of any drop-dead dates before the project begins. There's nothing worse than rescheduling a big event because the project took longer than expected.
Anticipate Delays
In line with the previous point, prepare for reasonable delays. Landscaping firms can't control the weather, and some points of the project may need to be delayed to ensure the quality of work is maintained. Make sure you build in a week or so in any project timeline.
Following the tips above will help move your next remodeling or renovation project along, so you can begin enjoying your new outdoor space as soon as possible.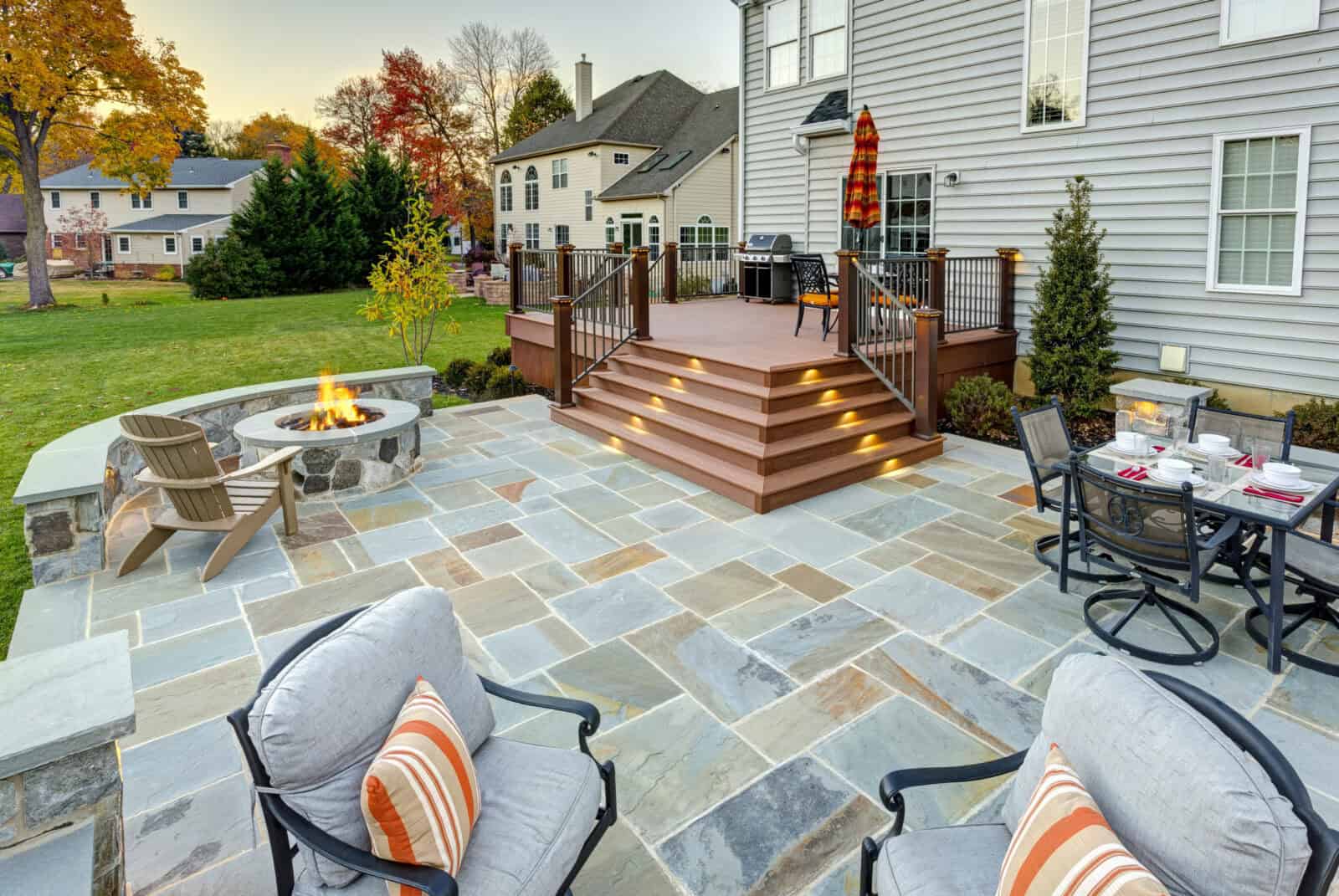 May 18, 2021
If you are considering installing a new deck or patio installation, you will want to explore your options. Natural Stone, Decorative Concrete or Pavers are some of the top options of types of material available to create you outdoor living area. All have benefits and drawbacks. Some are more expensive, but last longer. While others are lower maintenance and easier to install.
Before starting a hardscaping project, it is wise to research the various options and materials available. Consider materials that are safe and blend or contrast nicely with your home and surrounding landscape.
When choosing your material, educate yourself on its longevity, aesthetics, install method, maintenance, and cost. An experience hardscaping contractor will be able access your unique needs and help you make the choices as clear and simple as possible:
NATURAL STONE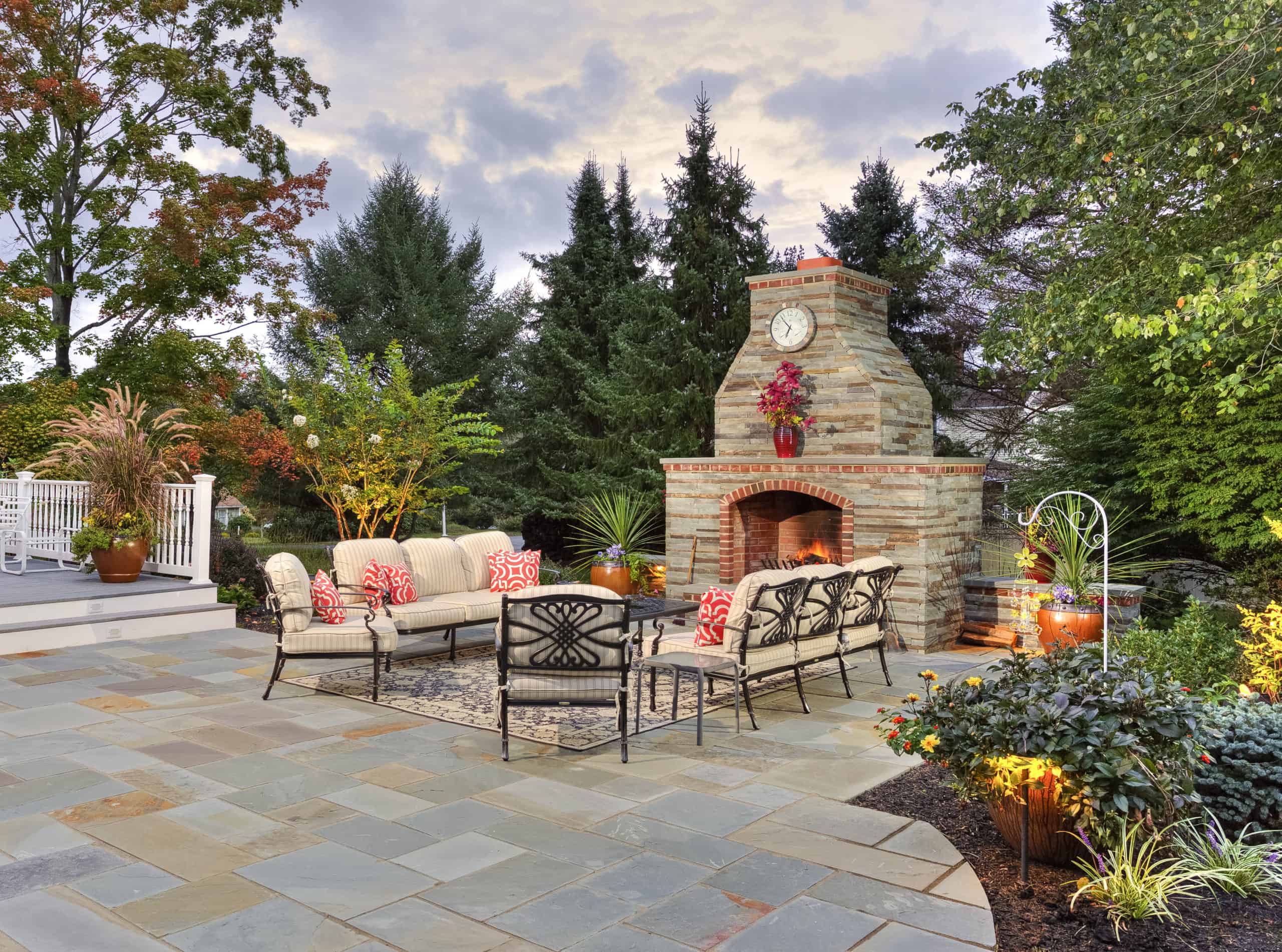 Natural stones, such as flagstone or slate are rich looking, attractive material that holds up well to the elements. Natural stone holds color better than most manufactured products and has a unique appeal. Slate and flagstone offers a classic or rustic aesthetic that would probably be well-suited to an older or traditionally styled home. It can be installed both with cement and polymeric sand joints. Versatility and looks make this material a great selection for any property.
Natural stone typically costs more because it has to be trucked in from a quarry. It can also take more time and effort to install, increasing labor cost.
CONCRETE PAVERS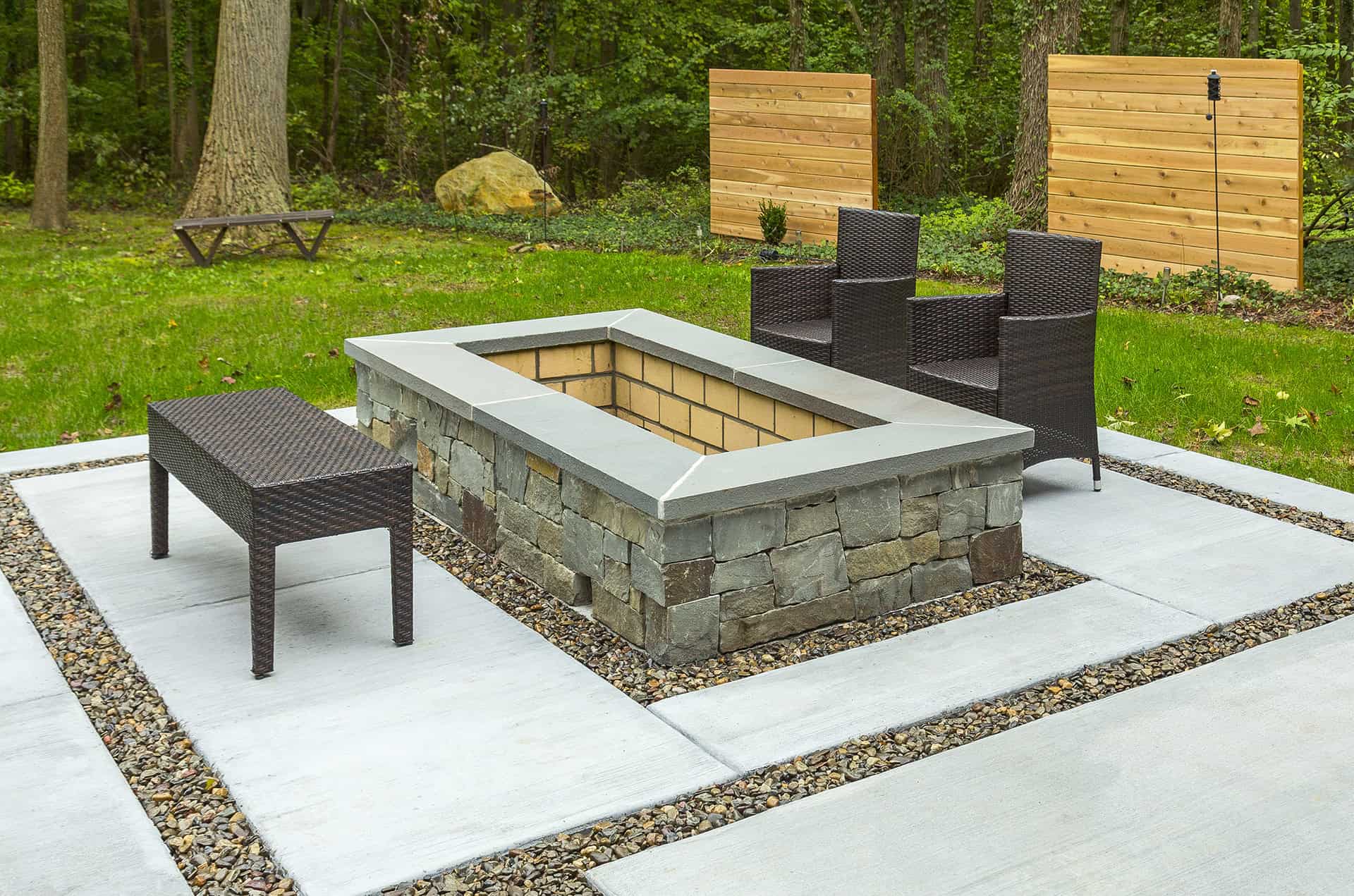 Concrete Pavers have a more modern look and offer a more uniform pattern and coloring. They are typical lest costly than natural stone, yet still offer a similar aesthetic. There are a vast number of shapes, sizes, and colors available. Do your research when selecting pavers as not all manufacturers offer the same quality.
Installing concrete pavers are simpler that natural stone because of their uniformity & therefore are more wallet friendly. This does not come without drawbacks however. You will need to be more mindful in terms of maintenance if you want your patio to keep its original luster if you choose this material. Polymeric sand joints need repaired every 3-5 years so that weeds do not grow in, and sealers can help to reduce the fading that occurs over time.
DECORATIVE CONCRETE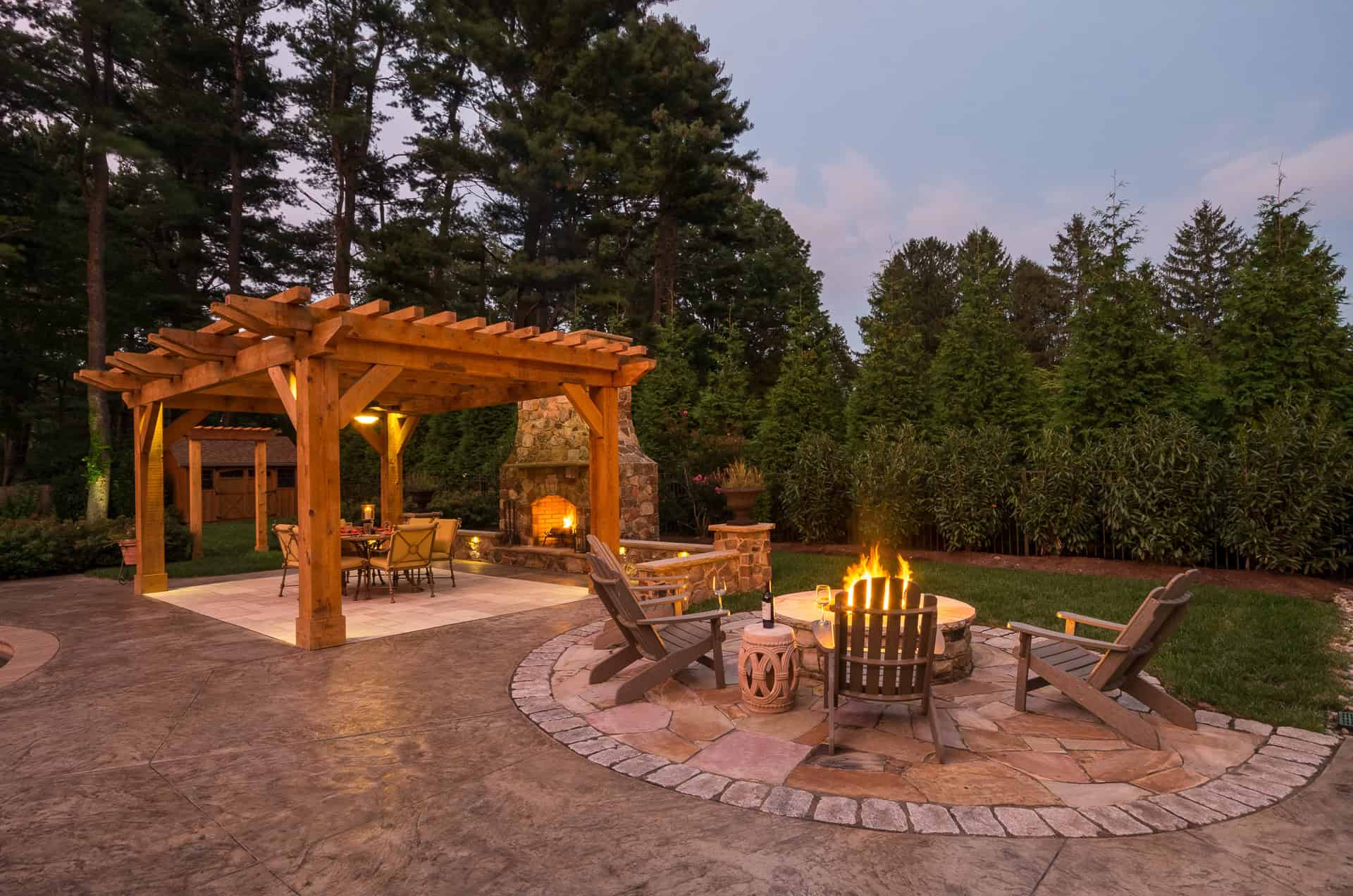 Decorative Concrete is an old concept that has benefited from new install techniques in the past couple of decades. Options range from brushed finish (typical sidewalks) and exposed aggregate (tiny pebbles) to stamped concrete with synthetic designs printed onto them.
If you want a traditional or authentic feel, this look may not be for you. One big benefit of decorative concrete is its durability and cost effectiveness. This option does not need as much maintenance as the other two options listed here.
At the end of the day, your patio must fit your style preferences and needs. No matter the type of material or method you decide on, be sure to have a reputable installer assist you with the process.
---
SOME RELATED ARTICLES:
---
---
302-764-0408 | DiSabatinoInc.com
---
The Landscape Experts
DiSabatino Landscaping is Delaware's #1 Hardscape and Landscape Specialist. Give us a call today! 302-764-0408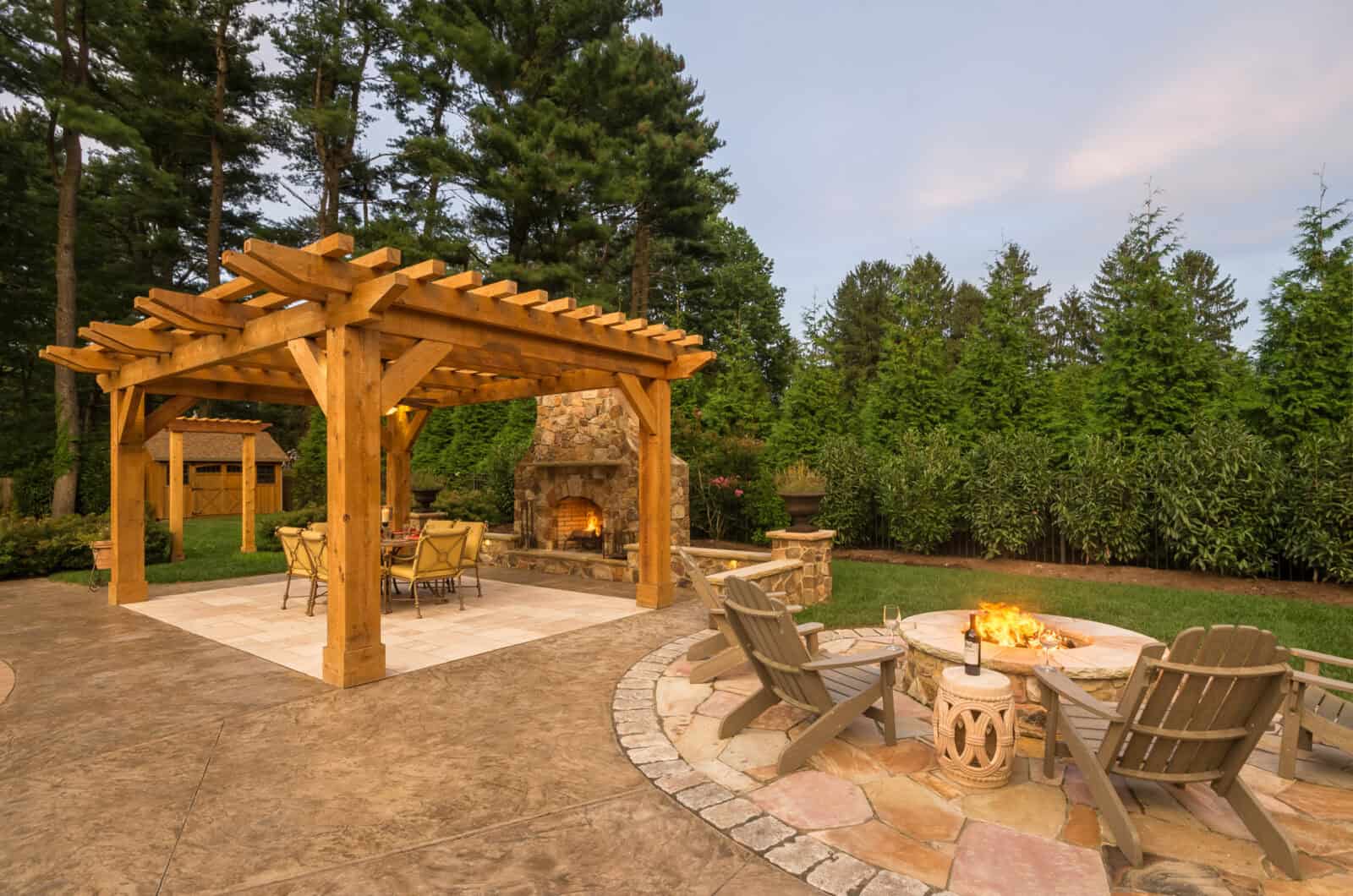 July 21, 2020
If you are considering adding a walkway, driveway or patio to your outdoor area, decorative stamped concrete might be a good solution. It can resemble higher end materials, such as brick or paver stones and even weathered lumber, at a fraction of the cost.
That is why we thought we would bring it to your attention. A stamped concrete patio or driveway gives homeowners many benefits over other traditional materials, such as pavers or bricks. See a list of benefits to opting for a stamped or decorative concrete installation.
5 Benefits of Stamped or Decorative Concrete:
1) Quick & Easy Installation
Perhaps one of the biggest advantages of concrete is the ease of installation. Decorative stamped concrete requires a lot less manual labor than a brick or paver installation. Installing stamped concrete is faster than setting natural stone or pavers.
2) Variety of Options
Decorative Concrete is an old concept that has benefited from new install techniques in the past couple of decades.  Options range from brushed finish (typical sidewalks) and exposed aggregate (tiny pebbles) to stamped concrete with synthetic designs printed onto them.
Thanks to the ease of installation and the technological advances in manipulating concrete to mimic a variety of materials. The possibilities are limitless.
3) Durability & Low Maintenance
Stamped concrete can last for decades without a ton of maintenance. Unlike pavers or natural stone that need ongoing maintenance to keeping the joints filled with sand and preventing weeds from growing between them.
Although stamped concrete looks like the real deal, it only needs resealed every other year to keep it from chipping or cracking. Sealing also helps to preserve the color. Other than resealing, just sweep it to keep it free from debris and dirt.
4) Safety Factor
Concrete holds up extremely well and remains level avoiding tripping hazards or awkwardly placed furnishings. It is slip resistant when treated with a non-skid additive.
5) Ease of Customization
The ease of installing stamped concrete makes it simple to mold it to your preferences and shapes. Concrete has wide berth of coloring options to match the exterior of a home, existing hardscaping or landscaping.
Stamped concrete is customizable when it comes to color, textures and patterns. It can replicate stone, slate, flagstone, marble, bricks, pavers and even weathered lumber.
At the end of the day, your patio must fit your family's needs.  That is a bit easier to do with stamped concrete. Poured concrete works beautifully when creating curves and other unique designs that fit nicely into existing landscaping.
If you are considering a stamped concrete or decorative concrete installation, talk with one of our landscaped design specialist at DiSabatino Landscaping. We can quickly and expertly install a stamped concrete walkway, patio or driveway that will enhance your outdoor living area for years to come.
---
SOME RELATED ARTICLES:
---
---
302-764-0408 | DiSabatinoInc.com
---
The Landscape Experts
DiSabatino Landscaping is Delaware's #1 Hardscape and Landscape Specialist. Give us a call today! 302-764-0408