All Season Sunrooms Designed
 

by DiSabatino Landscaping Delaware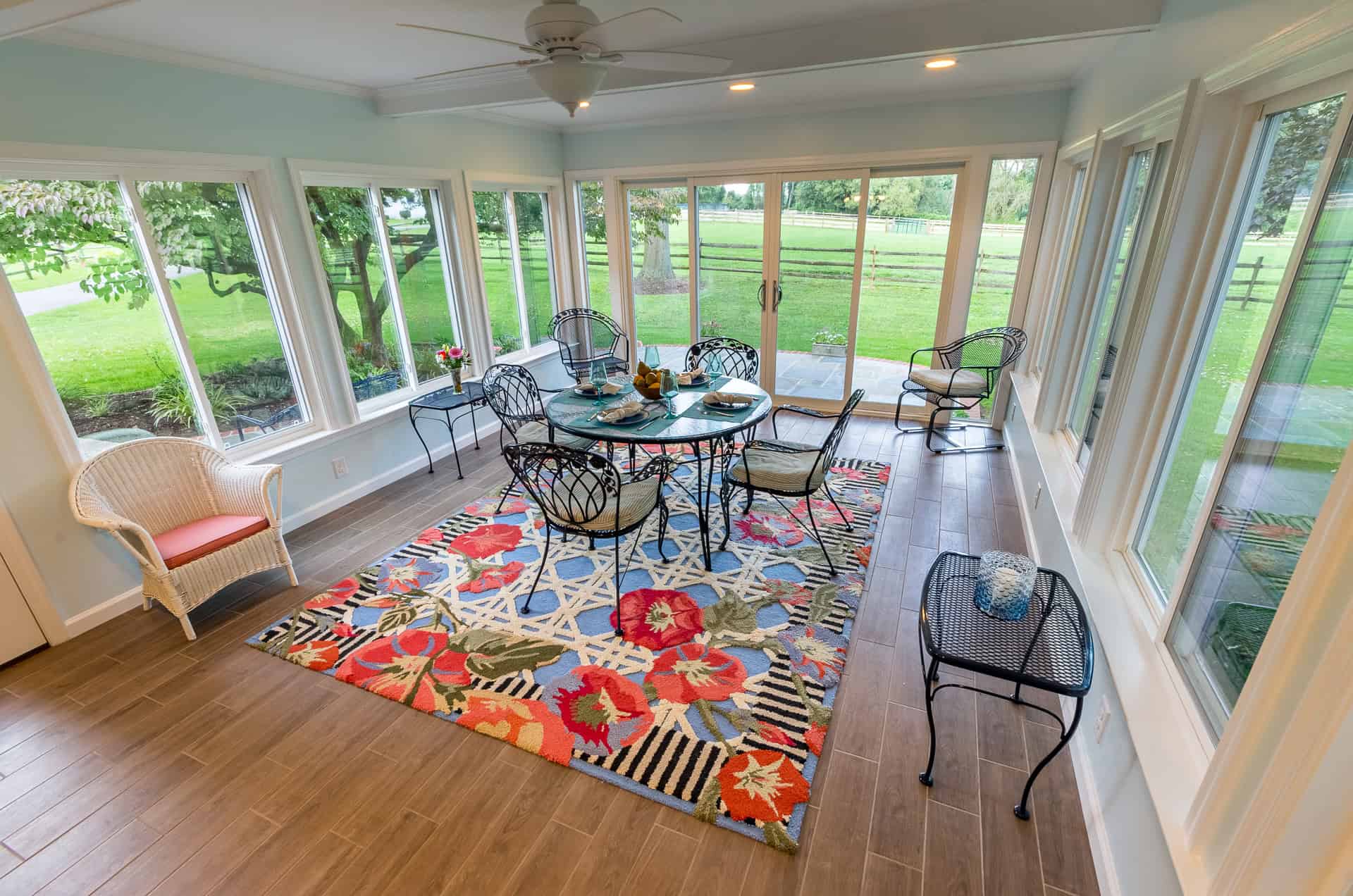 All season sunrooms are a great solution for adding value, space and functionality to your home. This affordable option to growing your home's square footage is more cost effective than other traditional home additions. Sunrooms add value to a home and the numerous options available can meet any needs or budget.
If you find yourself craving natural light and more space to enjoy the simple pleasures of life, all season sunrooms might be the answer. When your office or den becomes cluttered or crowded and there seems to be no space in the house for you to escape, an addition will give you that extra room you crave.
ALL SEASON SUNROOMS ENHANCE YOUR MOOD
A Sunroom is a great way to create that perfect space to encourage your favorite hobbies, whether it be bird watching, knitting, reading or dabbling in horticulture. The natural light that all season sunrooms provide enhances mood, invigorates and encourages plant growth. There are many benefits to having indoor plants, such as improved air quality, reduced stress and increase the feeling of well being
DiSabatino Landscaping offers expert sunroom, three season and four season room designs and installation to homeowners in Delaware and the tristate area. Our design architects use the latest 3D modeling software to custom design a sunroom to meet your needs.
A sunroom is a great way to indulge yourself with a little added luxury. Sunrooms are a wonderful addition to any home that all can enjoy. It serves as perfect gathering place for entertaining or unwinding after a long day. A sunroom can be therapeutic and will help with Seasonal Affective Disorder that many struggle with during the winter months when sunlight is less accessible.
INCREASE EXPOSURE TO SUNLIGHT TO LOWER CHOLESTEROL AND BLOOD PRESSURE
A sunroom addition will increase your regular exposure to sunlight, which can lower cholesterol and blood pressure. It will also increase your immune system and boost your vitamin D levels. Thes all play a major part in keeping your bones strong and supports cardiovascular health.
Working from home offers many challenges, distractions can interrupt workflow and make it hard to have conference meetings if others are making noise. A sunroom office just might be the inspiration you need to keep you productive, separated from household activities and make those long hours at a desk more enjoyable.
THREE OR FOUR SEASON SUN ROOMS
Whatever the reason you are considering a sunroom addition, consulting with a design expert to get all the functionality and value from your investment is imperative. At DiSabatino Landscaping, we create custom sunrooms of wood or fiberglass materials to reflect your home's style. Our metal, shingle or cedar roofing options will further enhance your addition.
INCREASE THE VALUE OF YOUR HOME
Aesthetics are important to us. We look for the best way to beautify your home, while meeting your functional needs. If you intend to put your home on the market, a sunroom is a great way to ensure market value. Many homebuyers consider the value an addition add to their property in their decision-making process.
When our architects begin the custom sunroom design, they consult with you to determine your needs and preferences. Features, such as cathedral or coffered ceilings, integrated in the design will make your sunroom addition more valuable.
ENERGY EFFICIENCY CONSIDERATIONS
We discuss your options of quality energy efficient windows and doors or screening. Some of the heating choices include radiant floor heat, duct or portable units. We go over all the ceiling fan and lighting options. As well as those final touches that will make your sunroom enjoyable.
No matter the purpose of your sunroom addition, the many great features we offer will make your sunroom addition unique and impressive. Whether you live in Delaware, Pennsylvania or Maryland, you can depend on our family-owned business to expertly design and install your custom sunroom. Get in touch with DiSabatino Landscaping to find out more.