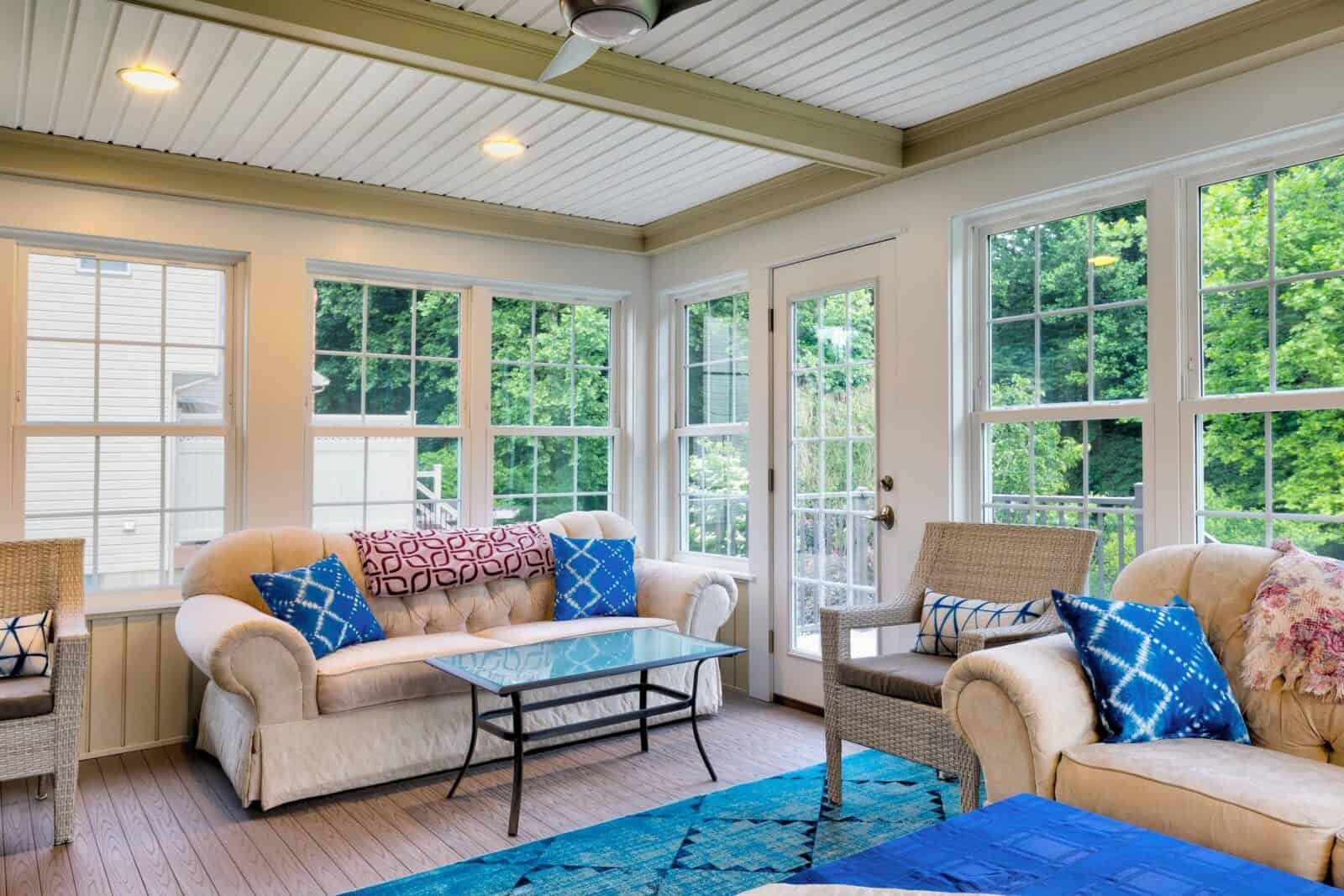 February 4, 2021
Four season sunrooms or all season sunrooms are a great way to bring the outdoors in all year round. They help you enjoy the benefits of natural light, which clinical studies show to improve physical and emotional well-being.
Sunrooms add space and utility to any home. All season rooms are likely to become one of the more popular spots for entertaining or relaxing. The thin veil between the outdoors and indoors make them a perfect location to grow herbs and prized plantings.
Sunrooms are a perfect option for homeowners that are looking to add a space offering that offers a variety of functionality. For example, a perfect breakfast nook use to start the day off right. Especially when the sun is shining.
All season sunrooms can double up on usability. They can be an office during working hours and a gathering space during the evening hours. A great spot for cocktail hour or casual dining.
Sunrooms can serve as craft room or playroom to keep the clutter and chaos away from the main areas of your home.
If your square footage is limited, a sunroom with privacy blinds, could serve as a temporary guest room.
Adding a four season room to your home allows you to bring all the best elements of the outdoors inside the home and leave the worst outside. Unlike a three season sunroom, an all season room can be used year-round.
Do not be fooled by the name 'sunroom'. This space can be used all year long and with any weather conditions. DiSabatino Landscaping can design a room that caters to all of your needs, and then some!
Imagine looking out your windows as the snow falls to the ground in your backyard. Give us a call at 302-764-0408 to start your process!
10 Uses for an All Season Sunrooms:
Breakfast Nook
Home Office
Greenhouse
Entertainment Center
Craft Room
Playroom
Guest Room
Work out Room
Game Room
Library
If you want to extend the square footage of your home with an all season sunroom, give DiSabatino Landscaping a call today. Our team will help you make all the right choices for your home addition. 
302-764-0408 | DiSabatinoInc.com
RELATED ARTICLES:
Check Out Our Portfolio of Fireplaces & Fire Pits
---


DiSabatino Landscaping is Delaware's #1 Hardscape and Landscape Specialist. We can help advise you what is best way to create All Season Sunrooms  Give us a call today! 302-764-0408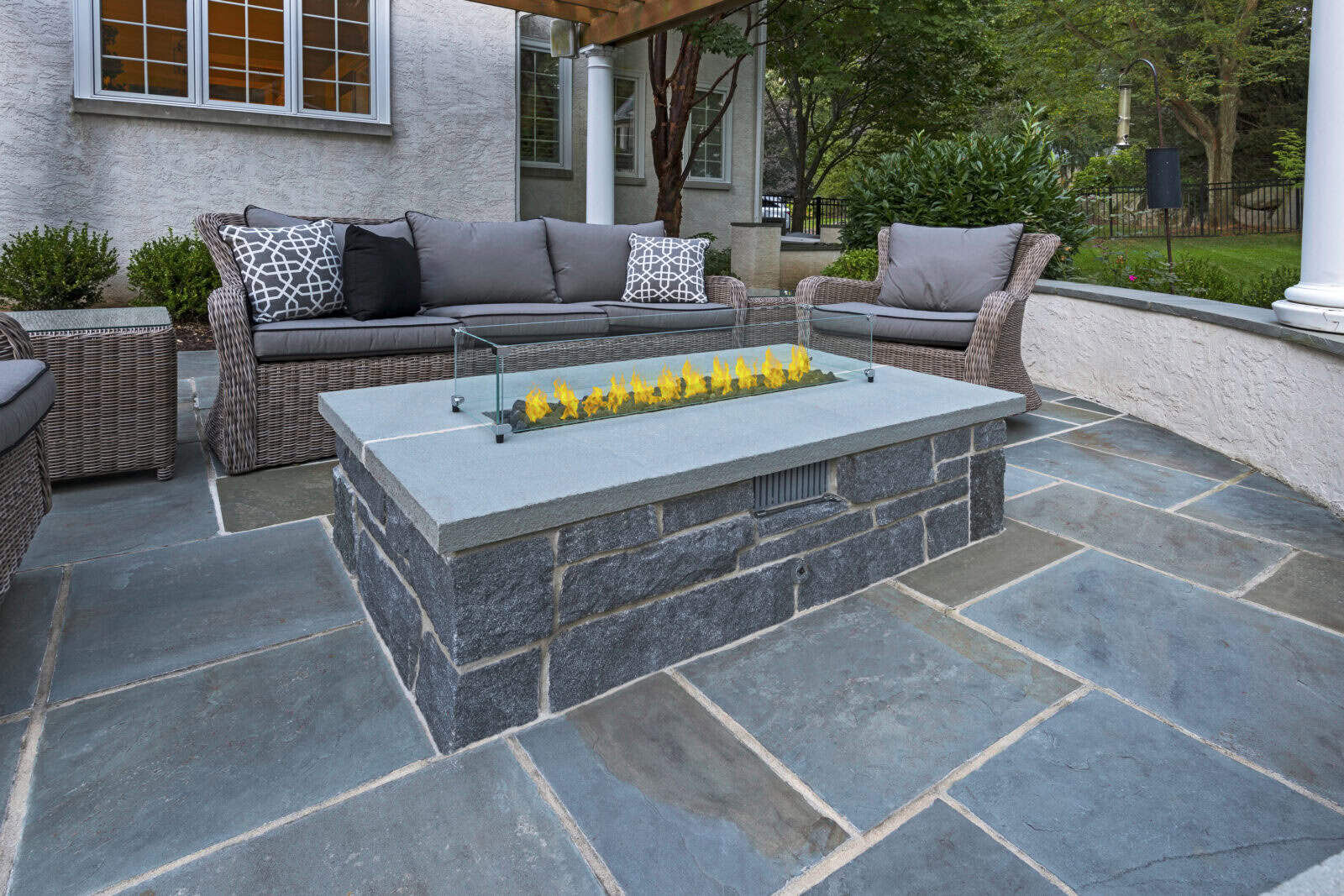 August 14, 2019
Want to enjoy the outdoors anytime of the year by creating a beautiful outdoor living area?
Then consider adding a fireplace or fire pit to your outdoor living space. Don't forget to get the kids involve by letting them cook their own food. There are plenty of campfire recipes to try. Of course there has to be s'mores!
Do you have pizza lovers? Consider adding a wood fired brick oven to make authentic pizza for a hungry crowd. Did you know brick ovens cook quickly and efficiently? Better yet, they are a great way to cook desserts, meats, veggies and more!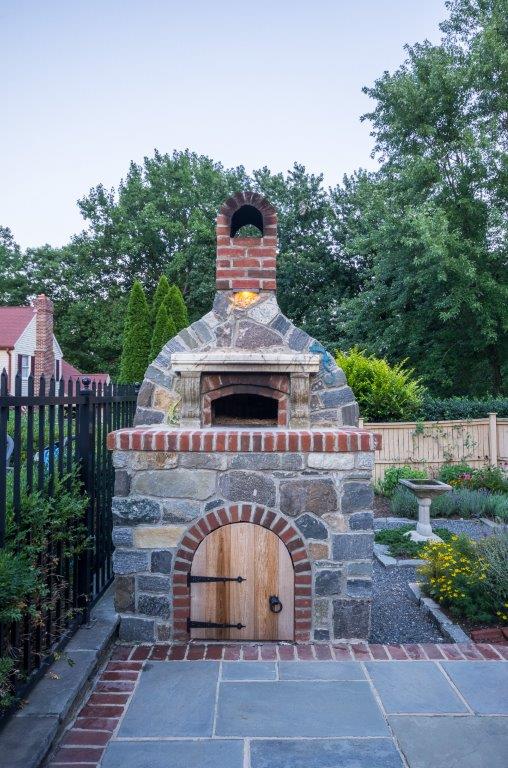 How about a full outdoor kitchen? An outdoor kitchen allows you enjoy an outdoor party while you cook! In addition, it makes you more efficient and  lessens the need to run back and forth to the house. That is why we encourage clients to consider some sort of cooking options for their outdoor living area.
Check out some of our luxurious outdoor kitchens that will make your home the preferred party location. Likewise, be sure to create comfortable seating areas that will have you looking for every opportunity to enjoy the outdoors.
Add one of these below unique features for creating an even better outdoor living space that will extend the usable square footage of your home. Not only will it increase your home's value, it will give REAL value to your home life. Also consider the savings from staycations, a great way to bond with family without spending tons of cash!
7 Great Ideas for Creating a Beautiful Outdoor Living Area:
A pavilion to keep your seating area comfortable and dry
A pergola is a great way to add shade, privacy and ambience
Custom in ground pools and hot tubs are refreshing touches. Add special features such as waterfalls and ambient lighting
Ponds and other water features, such as a fountain is great way to add character to your landscaping
Create peaceful locations to relax and meditate
A deck off the master bedroom – connect with nature any time of day.
Utilize the front, side and back of house to add a custom made deck with gazebo, gorgeous pergola, pavilion or sun room
The possibilities are endless!
If you want a beautiful custom made outdoor living area created just for you, get in touch with DiSabatino Landscaping and Esposito Masonry. We create unique outdoor rooms and patios!
302-764-0408 | DiSabatinoInc.com
RELATED ARTICLES:
The History Behind Our Outdoor Spaces
Three Ways to Transform Your Yard Into an Outdoor Room
---


DiSabatino Landscaping is Delaware's #1 Hardscape and Landscape Specialist. We can help advise you what is best way to create your outdoor living space  Give us a call today! 302-764-0408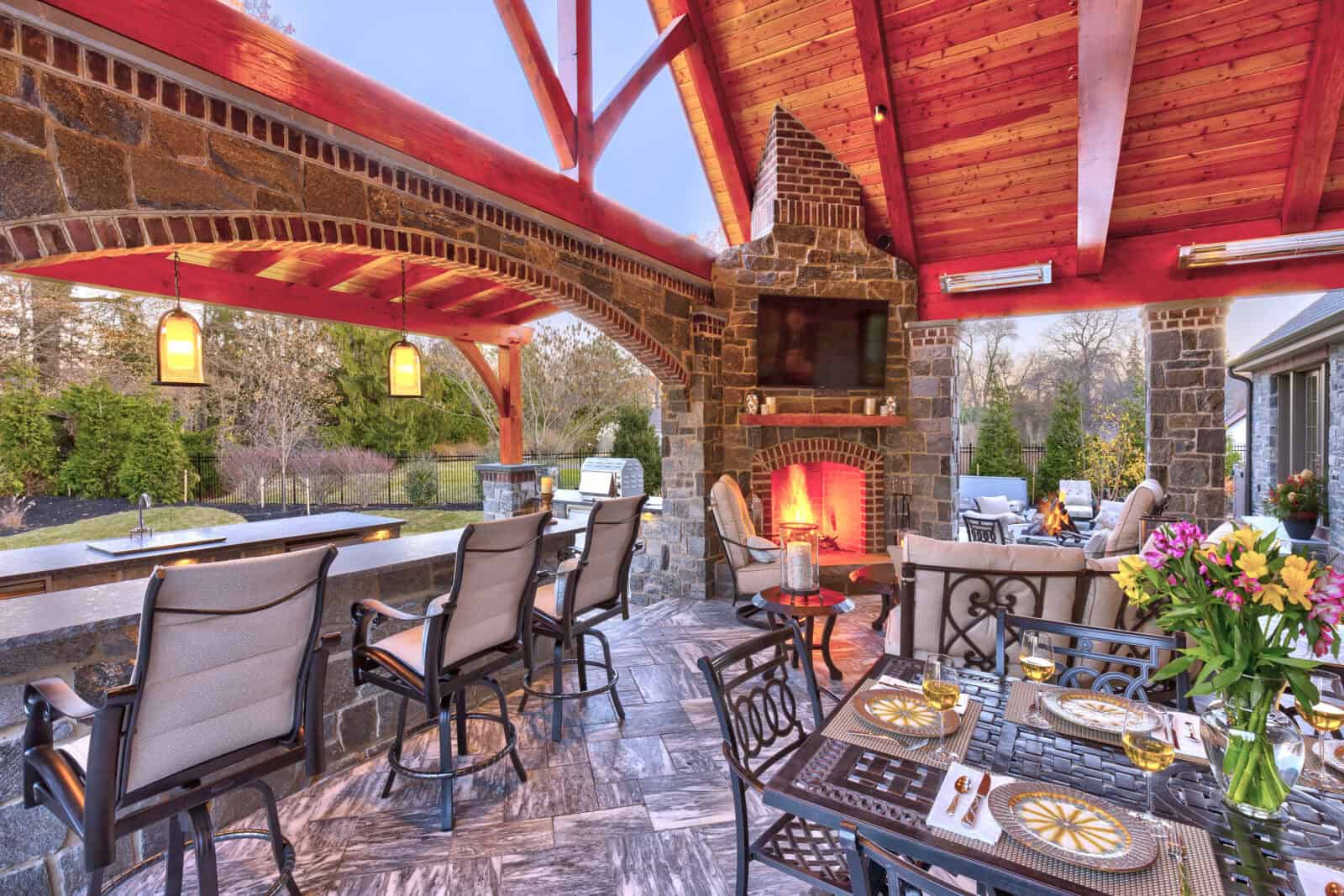 March 22, 2018
3 Ways to Enjoy Your Backyard With Protection From the Elements:
I am sure many are skeptical that spring will arrive to Delaware any time soon. With a fourth nor'easter ushering in the season of rebirth, it is hard to imagine warm days and nights spent enjoying the outdoors.
Yet, as sure as the sun rises and sets each day, the warm weather will be here soon. Make this the year that you enhance your backyard with a Pergola, sunroom or a beautiful outdoor living space installed by Delaware's #1 hardscape experts, DiSabatino Landscaping.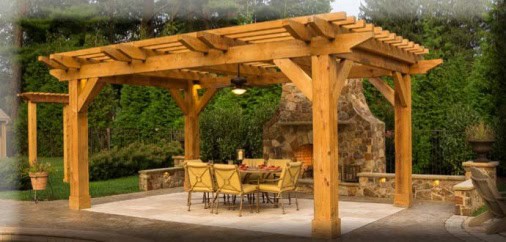 1) A Pergola can provide a beautiful accent to your rear yard. The structure alone can produce a comfortable amount of shade. Enhance that shade with a retractable canopy or overhead lattice work.


2) An Open Rear Porch is a wonderful way to enjoy the outdoors in any weather. The roof will provide protection from the sun and the rain. Add retractable screens for protection from insects. Add heaters to warm the area for all season entertaining.


3) A Sunroom is another wonderful way to enjoy the outdoors. Add wide open screen windows or a grand wall of doors that slide open to let fresh air in. Sunrooms can also have heat and air conditioning for yearlong enjoyment.
Don't forget the accents like an outdoor kitchen, fireplace, television or sound system to create your total outdoor living experience.
Entertainment can be a breeze with an outdoor living space full of all the luxuries that one would expect to have to go indoors to enjoy. Get family and friends together for some fresh air, great conversation and superb entertainment that will sooth and rejuvenate the soul.
If you're looking to extend your home's living space to the outdoors, get in touch with DiSabatino Landscaping – 302-764-0408