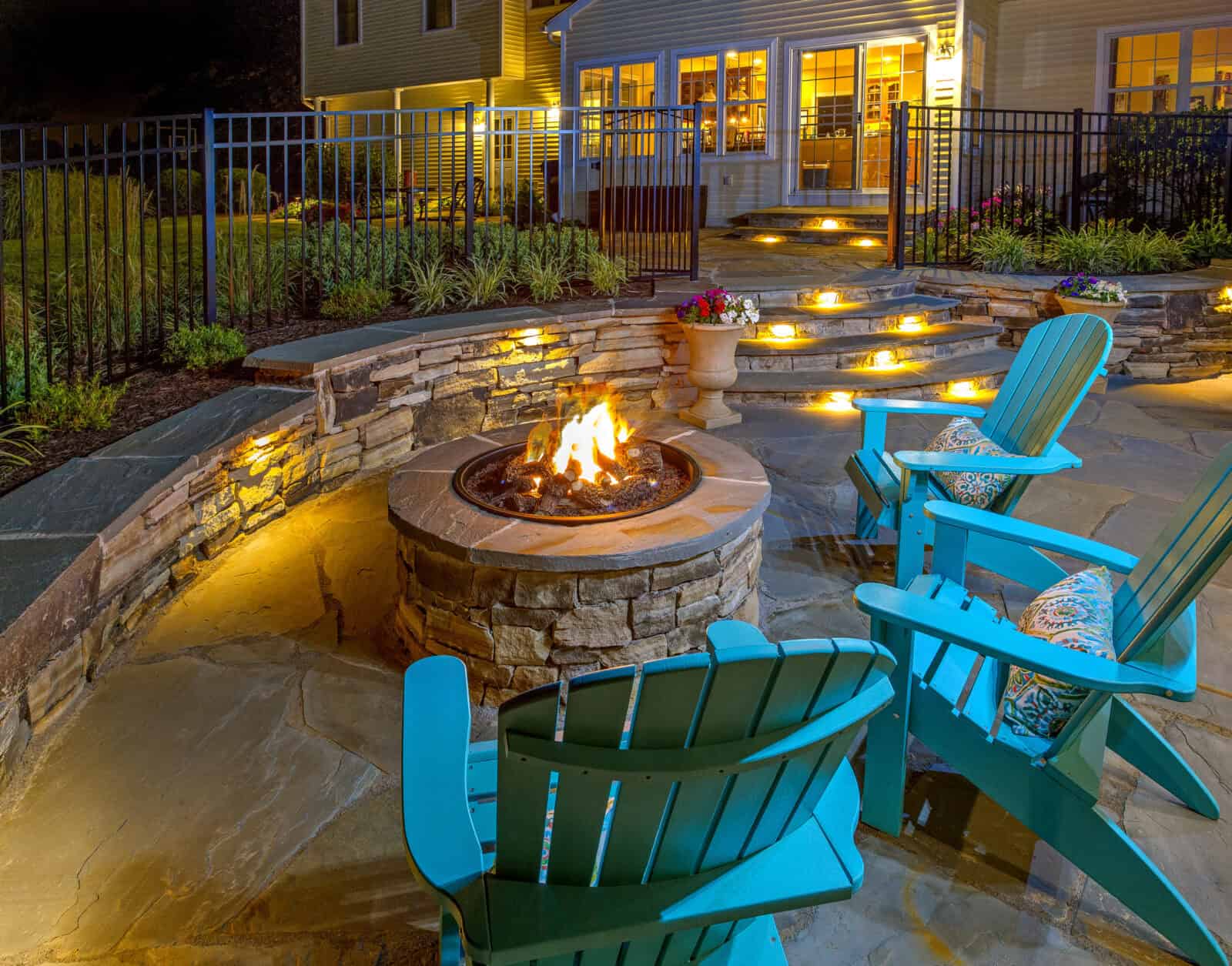 June 3, 2022
An exterior lighting system is one of the smartest and quickest ways to upgrade your property.
The practical advantages of outdoor lighting are tremendous, including visibility, safety and security. They extend your home's curb appeal, help visitors find their way out without tripping or falling, and enhance the privacy and protection of your property.
DiSabatino Landscaping recommends the following tips before beginning an outdoor lighting project:
Consider Your Goal
What is the main reason you're interested in an outdoor lighting package? If it's for style, consider globe lights, lanterns or garden feature illumination. These types of lighting are elegant and will make your property the nicest house on the block. If it's for entertaining, consider string lighting, pathway sconces or bollard lights. To increase security, retaining wall and overhead lights are great choices.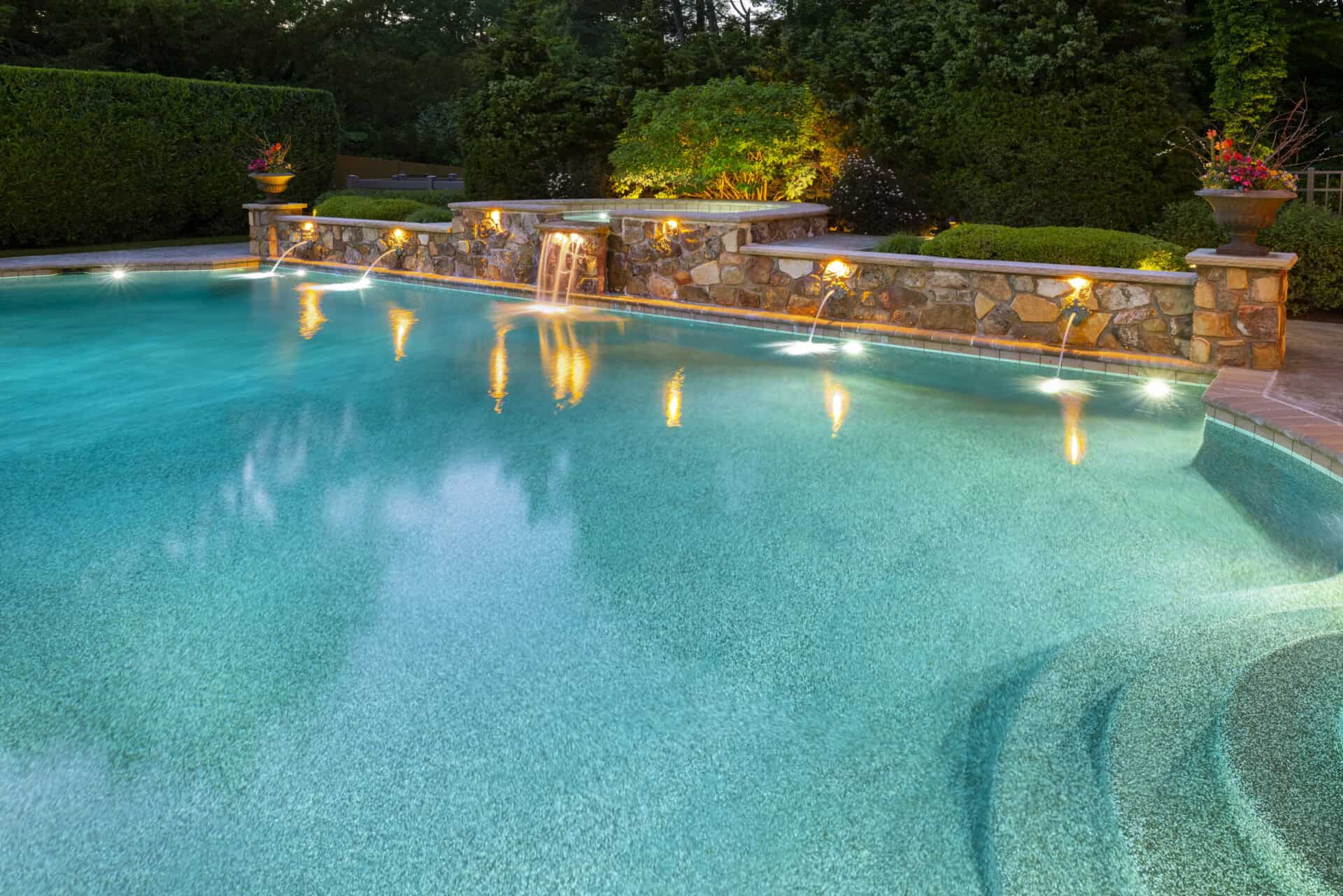 Outline Any Potential Problems
If you have a yard with poor drainage, unusual property features, or a particularly dark lot, you need to take these into consideration while planning your lighting. An Ingress Protection (IP) rating lets clients know how well lights can work with water or soil particles. Make sure your lighting can access electricity to the right places as well.
Accent the Best Features of Your Home
Do you have a gorgeous outdoor living space? Large trees? A custom pool? Identify and accentuate these features for the best impact. You can even light behind shrubs and trees for a backlit effect.  
Choose Outdoor Quality Fittings
In our region, garden lighting is subject to snow, hail, ice and heavy rain. Plan accordingly. You'll need quality lighting fixtures that stand up to the harsh Northeastern elements. LED lights are also the most popular outdoor lighting choices due to their dependability and durability.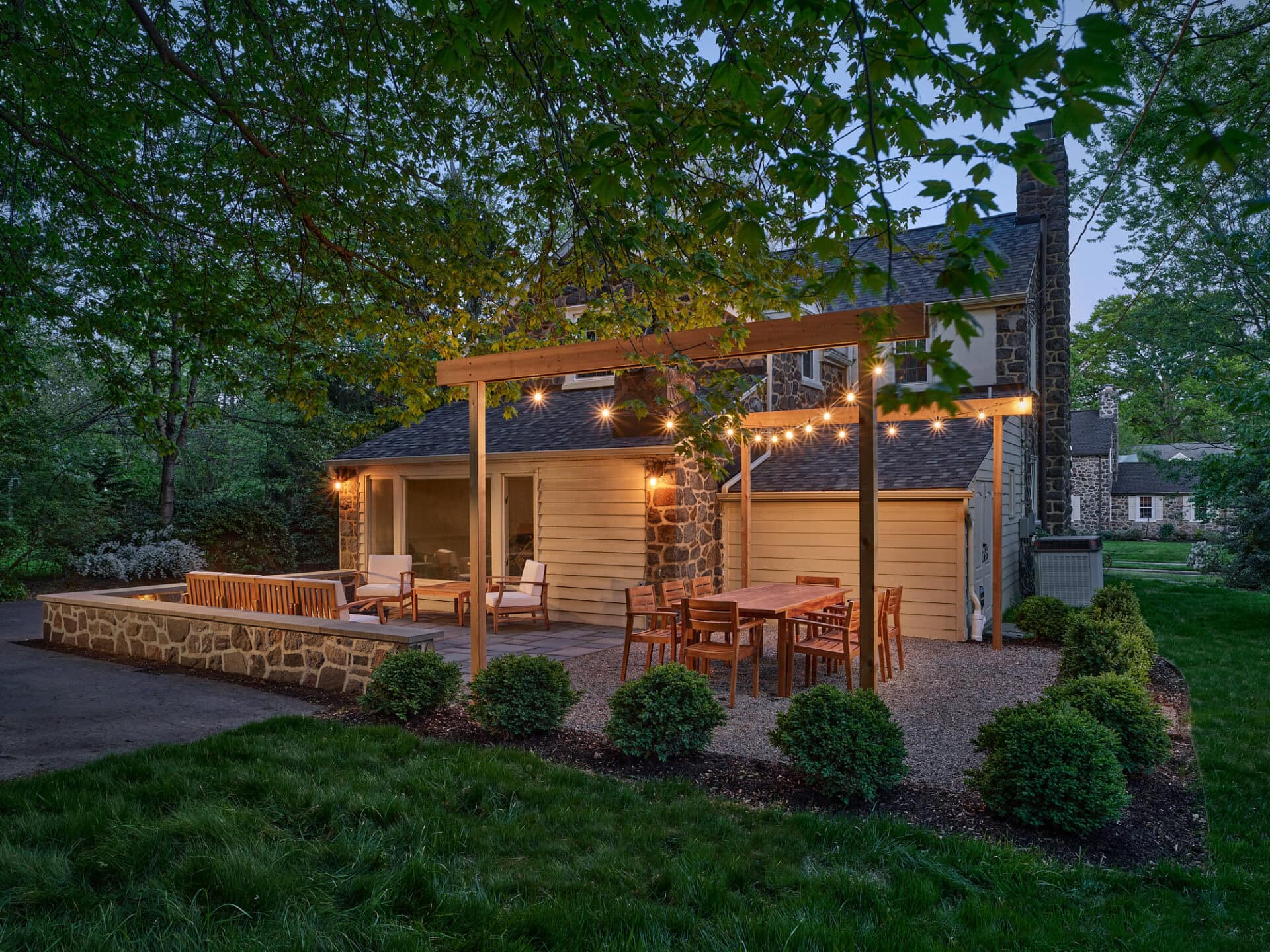 Consult with a Professional
Experienced designers design outdoor lighting that highlights your landscape in an artistic way, accentuating your property's best features at nighttime while offering a lighted entranceway for guests. They can also help homeowners from overdoing lighting, a common mistake many first-time planners make.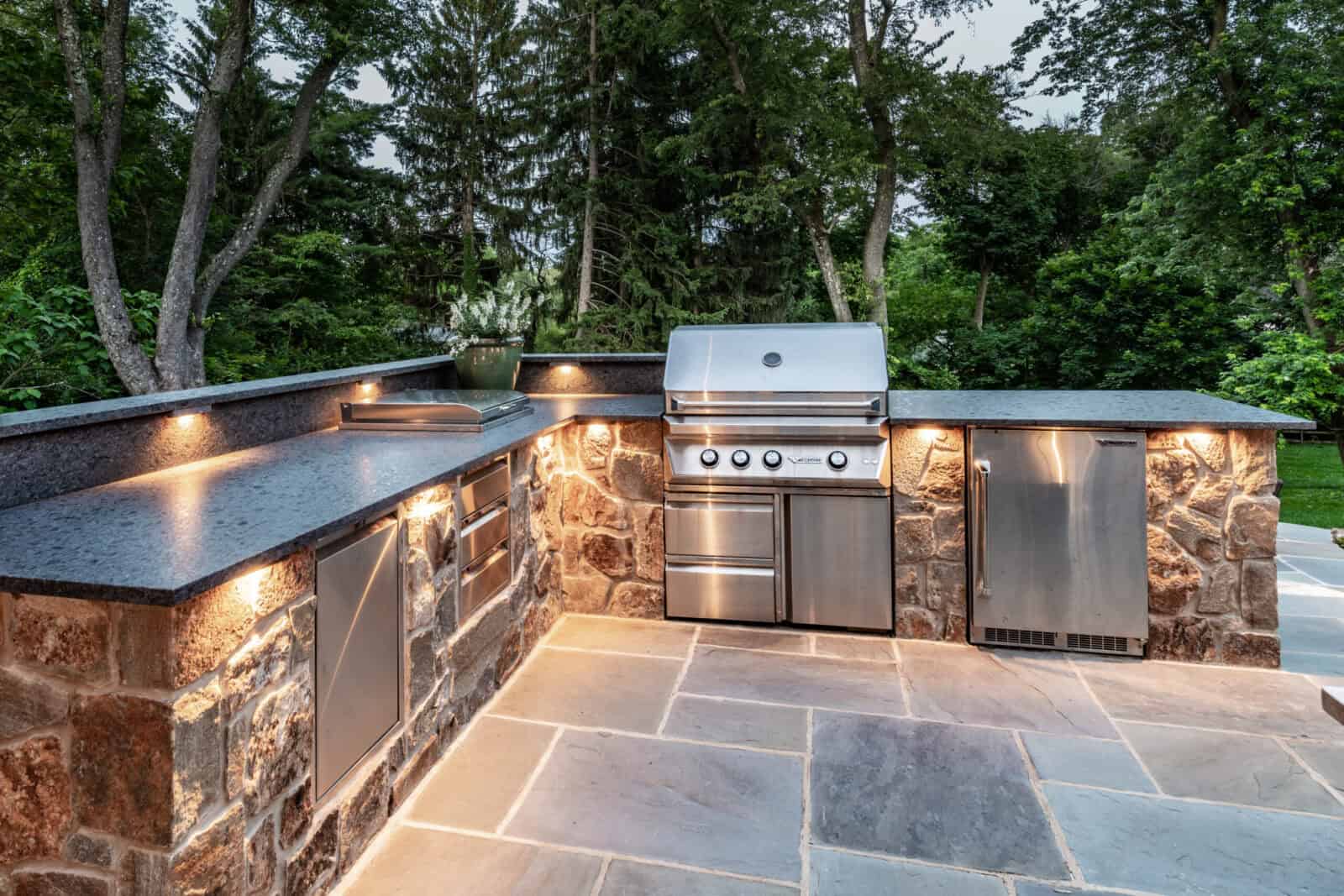 April 5, 2022
Showcase Your Home with Landscape Design
If your backyard is uninspired, it's time to rethink your landscape. Today's exterior design professionals are recreating the field of landscaping, generating designs that are more sophisticated yet more accessible for everyone. And this time of year is the perfect time to get started.
Unlock the potential of your backyard with a full-service landscape firm. A team of designers, installers and architects will customize a landscape that highlights your home while maximizing your space. Here's how.
Custom Plantings 
Carefully selected flowers, trees and greenery create backyard drama. Drawing from a wealth of training and experience, landscape designers understand which plants thrive in this region's climate, exposure and soil. They evaluate your personal style in conjunction with your property's sun exposure and changes in elevation. The result is an eye-catching display of gorgeous, native plants that flourish in your landscape.
Natural Stone and Water Features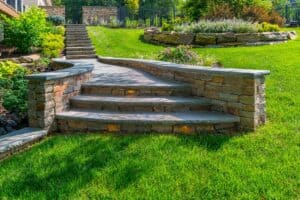 While plants and trees are major players, hardscape options enhance the production. Natural stone is one of the most popular landscaping features today. From elegant stone terraces and seating areas to waterfalls and artistically placed boulders, natural stone features are an ideal choice for almost any landscape.
Add more elaborate features such as a state-of-the-art outdoor kitchen, fire pit and pergola. Complete the story with cascading water. Custom masonry designs increase the value of your home, adding visual appeal and increasing the entertaining space for decades to come.
LED Lighting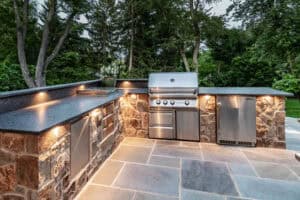 Showcase your new surroundings with an exterior lighting system. The practical advantages of outdoor lighting are tremendous. Installing a system enhances home security and increases both property value and curb appeal. True landscape lighting design experts plan your system with artistic flair, employing the latest LED fixtures to highlight your property's best features.
Professional Design and Installation
A full-service firm will not only create the perfect design, they will ensure its continued beauty by developing a maintenance program that's tailored to your property's exact needs. Look for a company that will back their work with a solid warranty and a plant health care program to guarantee year round health.
The Brandywine Valley's premier landscape design firm, DiSabatino Landscaping, will help you realize the full potential of your property. For over 20 years, DiSabatino has been creating lasting relationships through exceptional customer service. They offer unmatched quality and customer service and are skilled in all areas of hardscaping, landscaping, masonry and tree care.
DiSabatino Landscaping will create a seamless, worry-free experience from start to finish. Explore their website at DiSabatinoinc.com and start your redesign today.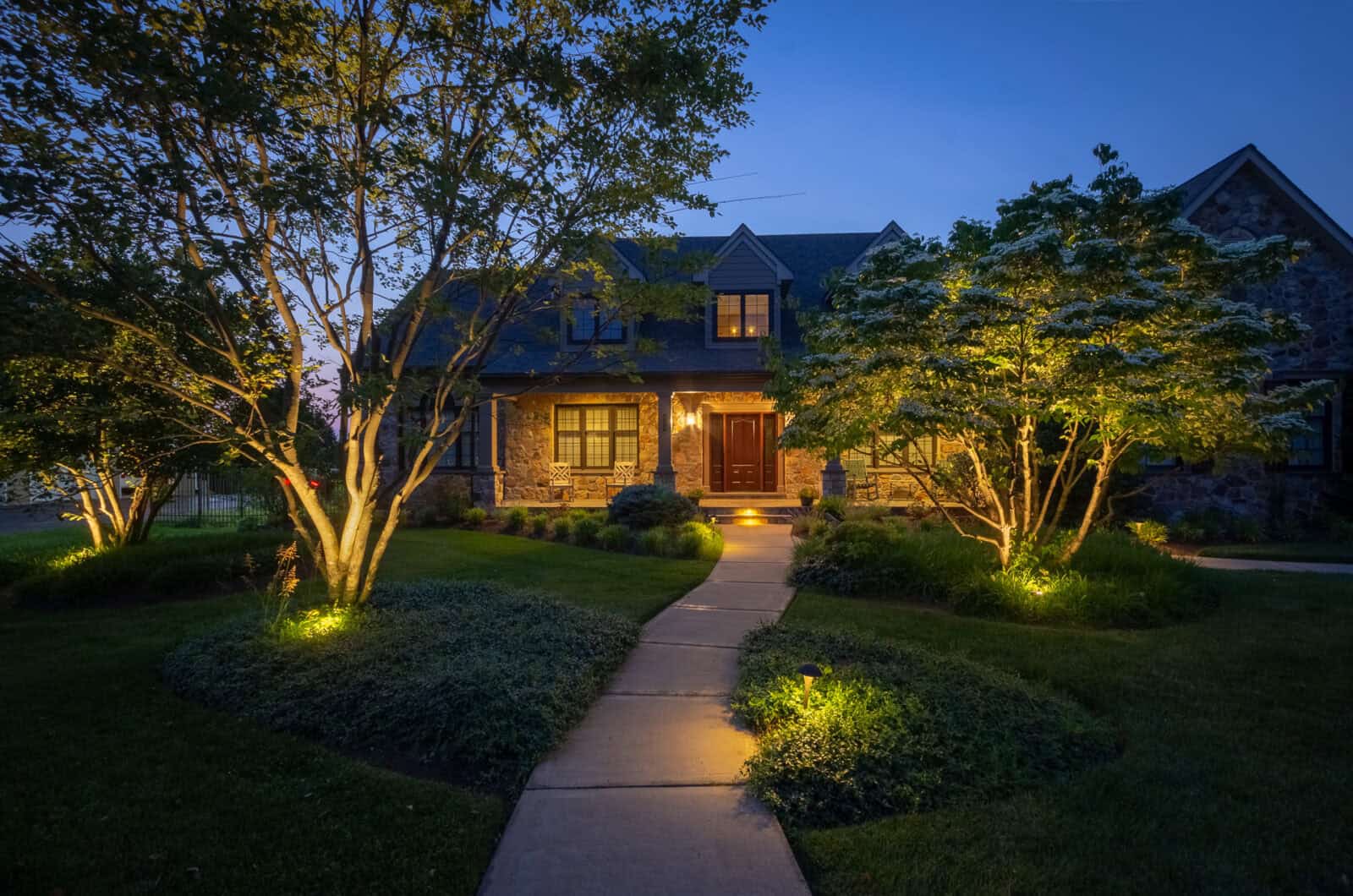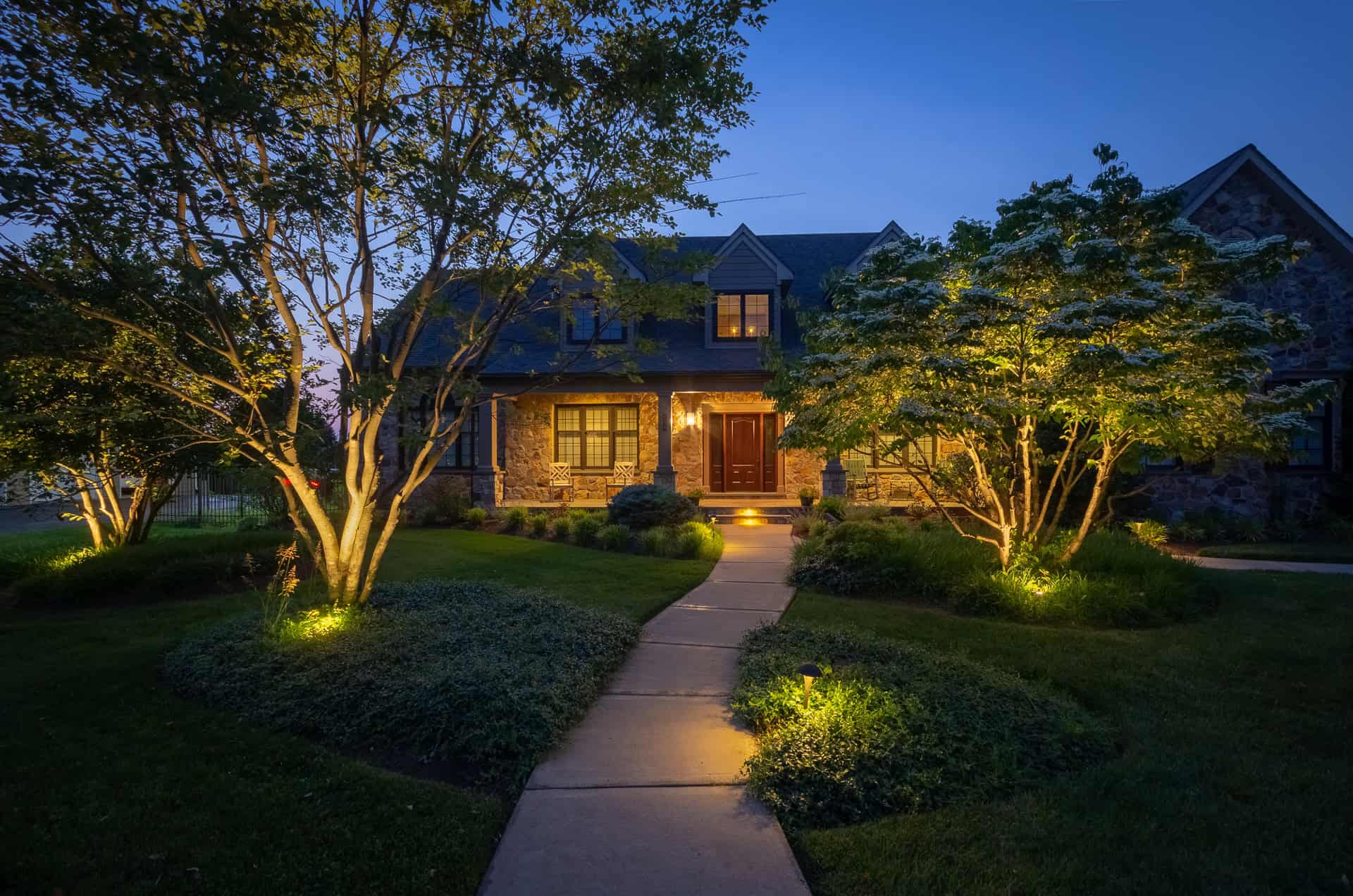 April 28, 2020
As more and more homes are incorporating outdoor living areas into their homes, outdoor lighting has become more sophisticated. It has also become in high demand to extend the usability of the outdoor space. After all, who wants to have an outdoor party with guests awkwardly navigating dark pathways?
Why is Outdoor Landscape Lighting Necessary?
For one, it is a safety issue. One cannot have elder family members or friends take a nasty spill because they could see where they were going. Lighted pathways help guide visitors and family members to where the action is.
Another reason for landscape lighting is to provide security. Well-lit properties deter criminal activity. It also will keep unwanted wildlife from going to town on your vegetation.
Finally, outdoor lighting adds curb appeal. It also gives your family an outdoor area that they can enjoy any time of the day.
What are My Outdoor Lighting Options?
As technology progresses, so do the various outdoor landscape lighting fixtures and features available. Many of which have become very affordable to homeowners nationwide. In fact, with so many options, it can be overwhelming when designing an outdoor lighting plan.
Pathway Lighting: While there are still the traditional options of pathway lighting, there are a number of ways that lighting engineers are using traditional fixtures in a novel way. Check out this article by YLighting on 'Path Lighting Ideas'.
LED Technology: LED lighting is perfect for outdoor lighting as it allows you to adjust your CCT (correlated color temperature). That way you can create the ambient lighting for one area, while creating brighter lighting for safety or security reasons. The outdoor spaces where you want to entertain could be a warmer temperature for more intimate feel, while those areas you want to light up for security reasons could be set at a cooler temperature.
Discreet Fixtures: With LED lighting technology there has come some innovative ways to light the landscape and your home's exterior. Now that the light does the work, the fixtures are smaller and no longer the focal point. This allows for a variety of effects; up lighting, silhouetting, shadowing, moonlighting, grazing, washing and path lighting.
Color Changing Lights: These are becoming popular, as color changing lights caste a full spectrum of hues. They are great for adding an accent for showcase trees or structures.
Smart Technology: Homeowners can control their outdoor lighting from anywhere there is Internet. Landscape lighting experts are capable of designing lighting plans. They can establish zones of lighting so that you can turn on, off and dim certain sections of your lighting from anywhere.
Outdoor Lighting Ideas
String Lighting: These are an easy and affordable way to add light and ambiance to your outdoor living area. Many homeowners switch up their string lights to reflect the time of year or most current holiday.
Lanterns: Lanterns are easy source for outdoor lighting and are very mobile, allowing you to change up the ambiance depending on the needs and mood of your event.
LED Strip Lighting: Strip lighting along the base of stairs or furniture is a simple way to light up areas to keep safety front and center. It is a more modern look than tradition outdoor lighting solutions.
Up lighting: Lighting tree bases, sculptures, shrubbery and focal pieces is an effective way to make your outdoor lighting more dramatic and cozy.
Orbs and Spheres: Hanging single or a series of round fixtures will create an ethereal look, adding the ambient effect many are looking to achieve.
---
---