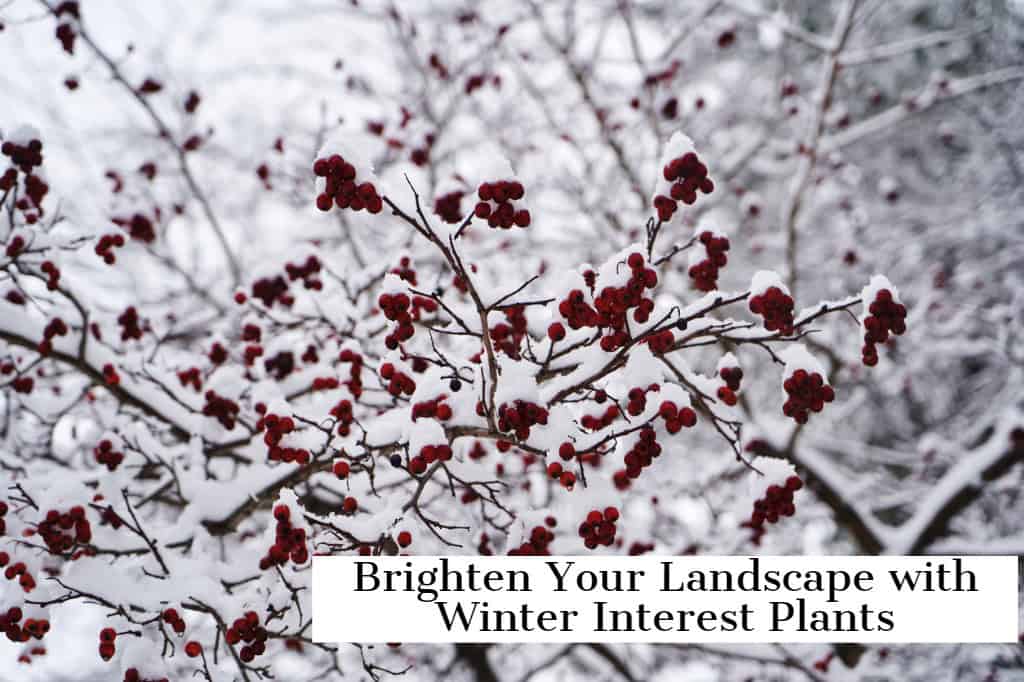 January 23, 2020
Winter landscapes tend to be drab and dreary in the northeast this time of year without winter interest plants. With Christmas lights packed away, lawns and deciduous trees dormant, a brown deadness seems to dominate the landscape. This can cause an obvious effect on mood.
There is no reason to fall prey to this deadness in your landscaping plans. Many horticulturists plant winter interest plants to add flare and brighten their landscapes during the winter months. Not only does this brighten one's mood, it offers food sources for local wildlife, which in turn adds color and movement to the landscape.
Your yard can come alive with the sound of chirping, warbling and singing birds happily consuming a yard full of strategically planted winter-persistent berries. For some inspiration, check out this article by the National Wildlife Federation on 'WINTER BERRIES FOR BIRDS'.
A variety of bright-berried shrubs and perennials with textured foliage that are at their peak in winter will add color and texture to any winter landscape.  Brightly colored stems, fragrant blooms and enticing fruits bring a wealth of interest to winter borders.
Evergreen shrubs and trees add a pleasing backdrop to colorful winter plantings, such as winterberry or deciduous holly that boasts bright red berries that sparkle and draws the eye.
Pyracantha angustifolia or Firethorn often used as a hedge, on a wall or trellis adorns your landscape with orange-red berries and greenish-brown leaves.
The colorful glow of Cornus sanguinea, or red twig dogwood stems backlit by a low winter sun is a beauty to behold. Evergreen ferns also add color and texture during the winter months. The Athyrium species, better known as the Japanese painted fern, is an excellent choice for any winter display.
Edgeworthia, aka paperbrush, offers fragrant flower buds of yellow and white clusters from December to April, silhouetted by decorative bark, as it drops its leaves mid-December. Witch Hazel blooms with yellow to red flowers sporting threadlike petals that curl up at night and open during the day to emit a lovely fragrance. These blooms last from late fall to early spring.
Winter Daphne is a variegated leaved evergreen shrub that has sweet fragrant white or pinkish star-shaped blooms in late winter to early spring. The Winter Flowering Cherry or Prunus Subhirtella Autumnalis Rosea is an excellent choice for creating a colorful winter hedge or stand-alone tree. Its star shaped, semi-double blooms in pale pink last from autumn to early spring.
While these are just a few really good choices to brighten your winter landscape, getting  a professional landscaper's opinion as to what type of winter interest plant is suitable for your particular needs is advisable. Every plant has its own particular needs and flourishes best in certain locations and soil conditions. An experienced landscaper can help guide you to get more bang for your landscaping investment.
Contact DiSabatino Landscaping if you would like to consultwith one of our specialists.
302-764-0408 | DiSabatinoInc.com
---
---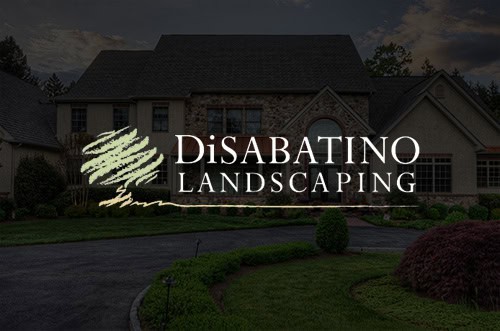 The Landscape Experts
DiSabatino Landscaping is Delaware's #1 Hardscape and Landscape Specialist. Give us a call today! 302-764-0408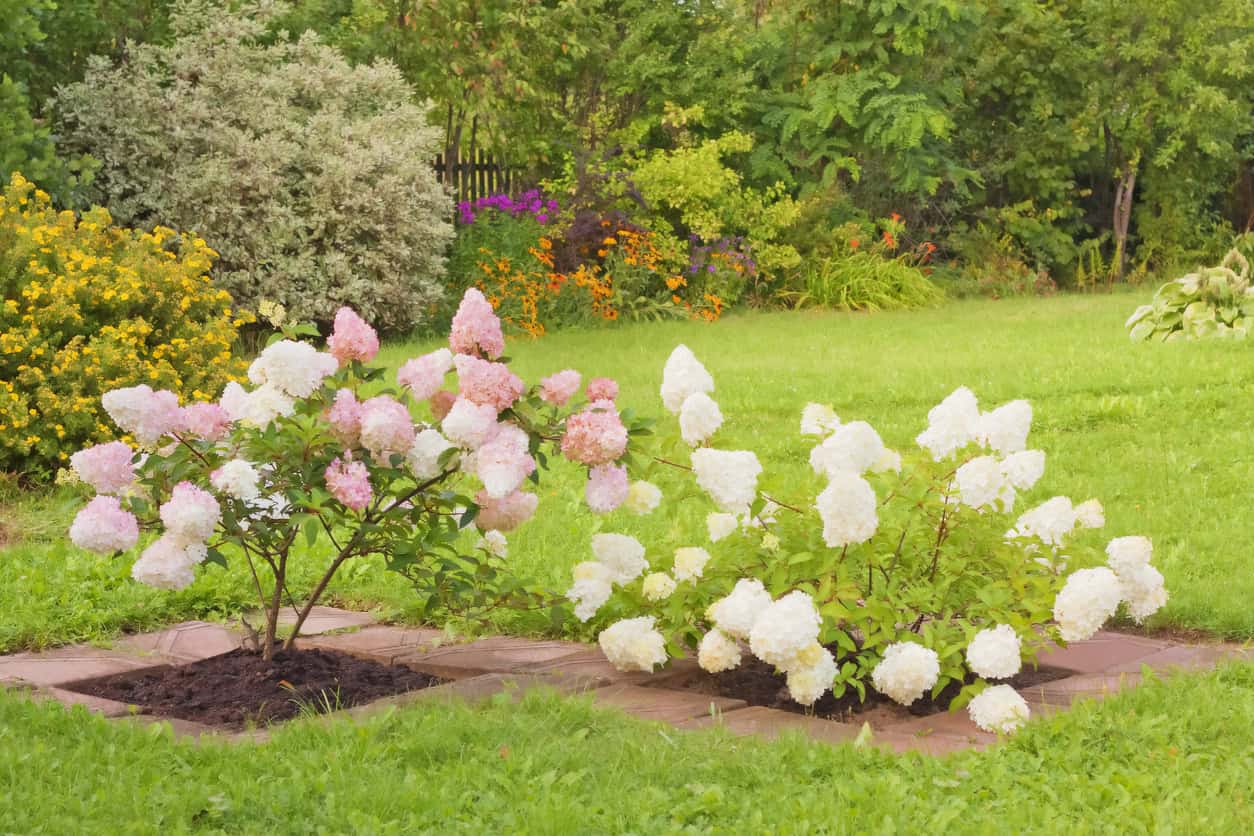 July 9, 2019
Blooming Shrubs This Summer
Looking for the best shrubs for your garden this summer? Check out these great summer shrubs to add some life to your garden!
Low Maintenance
There are many types of shrubs out there that produce flowers or attract birds and butterflies to your yard, but some of them are so high maintenance that many people tend to avoid them. Shrubs are the least of most summer concerns because it's one more thing to look after and remember to take care of.
These shrubs are low maintenance and still attractive to the eye and birds and butterflies:
Bluebeard Shrub
Butterfly Bush
Carolina Allspice
Hydrangeas
Oleander
Potentilla
Rock Rose
Rose of Sharon
Shrub Rose
Smoke Bush
Spirea
Summersweet
These shrubs all have a low-maintenance care regimen for their summer blooming, creating an easy, yet beautiful, addition to your landscaping for the summer months. Visitors and passersby can enjoy the beautiful colors of these amazing shrubs and you can be happy with the lack of effort it takes to have them.
Size
Some shrubs are larger than others and can take more room from your yard. While they are beautiful, they can take away from other plants and flowers you may want to keep. It's important to know what size a plant or shrub will be before you decide to add it to your garden.
These plants will grow to be no more than 3 feet max and will still look amazing in your garden:
"Becky" Shasta Daisy
Black-eyed Susan
Blue Mist Shrubs
Coreopsis
Daylilies
Late-blooming Astilbes
"May Night" Garden Sage
Pinks
Sedums
St. John's Wart
Yarrows
With no more than 3 feet of growth, these plants and shrubs could be your choice. Or perhaps you'd like something slightly larger, but nothing to take over your garden. Try these, as they grow no more than 6 feet:
Bee Balms
"Bonica" Rose
Foxgloves
"Knockout" Rose
"Martha's Vineyard" Rose
Michaelmas Daisies
Oriental Lilies
Purple Coneflower
Russian Sage
Summer Phloxes
If you are still seeking to go larger, these plants and shrubs can get up to a maximum of 10 feet:
Butterfly Bushes
Hollyhocks
Hydrangeas
Rose of Sharons
There are so many others out there that could provide the color and style your garden seeks. Be sure you know what you want before you purchase.
Conclusion
If you don't know what will fit your garden best, do some research. Find plants and shrubs that grow to just the right size and have just the right colors. Most places for research will even tell you if, and what kind of, birds or butterflies are attracted to each plant. This could provide some extra color and fun to your garden.
---


DiSabatino Landscaping is Delaware's #1 Hardscape and Landscape Specialist. We can help advise you what is best way to maintain your landscaping!  Give us a call today! 302-764-0408
June 25, 2019
Accentuate Your Landscaping With These Standout Plantings
The first steps in any landscape design involve establishing foundation plantings to allow your home to blend seamlessly with the surrounding landscape. Then come the transitional plantings to bring your landscaping forward and provide a welcoming facade. If your landscaping is well-established, you may be wondering what comes next.
In most cases, the answer is accent plantings. Once you have a lush and beautiful foundation, use accent plants to create a focal point in your landscaping. There are many reasons you may want to create a focal point, and just as many strategies for using accent plants to achieve it.
We like these accent planting ideas for landscapes at any level of maturity:
Accent with color. Accent plants should contrast with surrounding plants to draw attention. Consider planting small bursts of color along a border, or in clusters within a larger area of greenery to provide interest.
Accent with shape or texture. Another form of contrast is the shape of your plantings, or their texture; you can add contrast by planting naturally interesting shapes or pruning foliage into shapes designed to draw attention. Planting a more prominent cluster of bushes among lower-lying foliage can provide a focal point for a larger expanse of garden area. Or, use taller accents to draw the eye through the landscaped area.
Accent seasonally. Choose accent plants that will bloom at a different time of year than your background plants to provide interest against the background foliage. Or, choose plants that leaf early in the year or retain foliage later in the year to continue to provide interest after other plants have receded.
Use accent plants to focus on architectural features. You can use color, height, interesting textures, or some combination of the three to draw focus to an entryway, stairway, or water feature. Accent plants used for architectural features should contrast with surrounding plants as well as the color and texture of the feature itself.
Use potted accent plants.

A great way to accentuate areas not normally conducive to plant growth, such as a set of stone steps or a home entrance on a patio or deck, is to place potted accent plantings on either side. You can also place potted plants with seasonal blooms along walkways, clustered near benches or water features, or to provide height to a dramatic front entrance.
No matter which features you wish to draw attention to, choose accent plants that provide visual interest by contrasting with your existing landscaping. Staggering clusters of seasonally appropriate plantings can continue to accentuate your landscaping year-round.
Questions regarding varieties that contrast best with your existing landscape? Contact us today.
---


DiSabatino Landscaping is Delaware's #1 Hardscape and Landscape Specialist. We can help advise you what is best way to maintain your landscaping!  Give us a call today! 302-764-0408