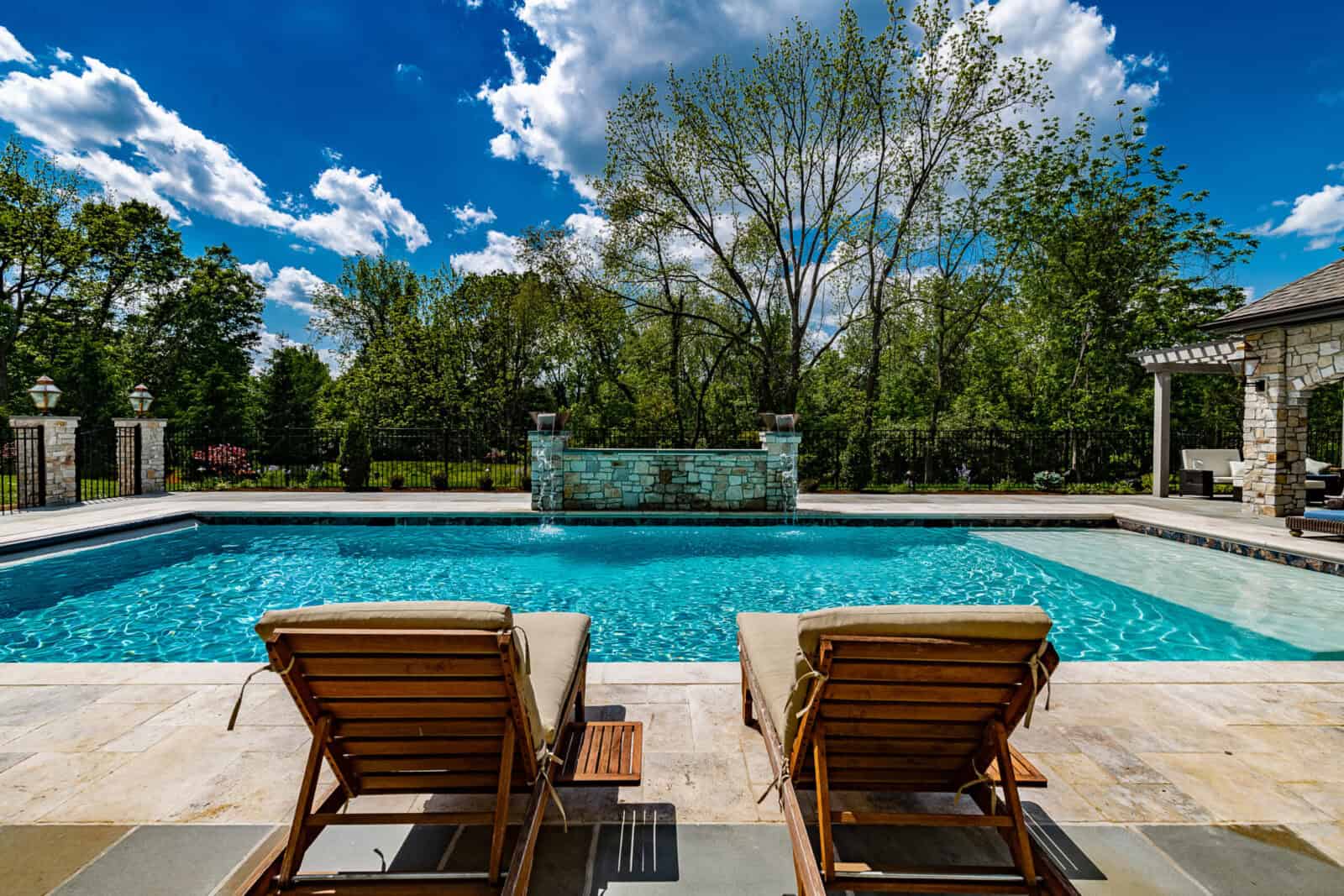 April 12, 2022
After this long brutal winter, don't you deserve to make the most of your summer? Enjoy every moment without ever leaving your own backyard. If you start planning now, you will soon be enjoying every sunny day with a custom pool retreat.
Endless Possibilities
The beauty of a custom pool is that it's built to fulfill your needs. Whether you want to relax with a small, private hideaway or entertain friends and family with an elaborate backyard resort, a pool designer can match your wishes. Countless options and customized features ensure your pool will reflect your personality and enhance the beauty of your home.
Building Within a Budget
Consider how much you're willing to spend. Professional pool companies are well equipped to work within a budget, ensuring your needs are met without breaking the bank. Most pool designers will suggest variations to allow for phasing, creating a multi-layered plan that makes room for potential features. This allows you to enjoy your pool now and add enhancements in the future.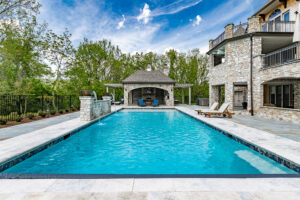 Entertain in Style
How will you be using your custom pool? If you like throwing large bashes, you might think about adding a swim up bar with a grotto or waterfall. If you want a place to relax and unwind after a long week of work, you may want to install a hot tub. Your pool professional will work with you and your family to create an outdoor environment that accommodates your vision and lifestyle.
Highlight Your Home
The best pools are incorporated into the existing landscape. Features such as stone walkways, pergolas or decorative garden borders will enhance your pool's setting. The right pool professional will design your custom pool so that it fits seamlessly into your backyard. Additional features such as outdoor kitchens, fireplaces and artistic lighting can be added to enhance your space.
Make the Right Choice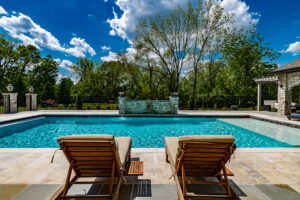 The first and most important decision when building a pool is picking the right firm. Use a pool expert with extensive experience building custom pools. Review their portfolio of projects. A montage of past work will give you an idea of their strengths and also spark ideas for you and your own backyard. The right firm will schedule an initial consultation, evaluate your landscape, and come up with a custom design that incorporates your vision and exceeds your expectations. They will also be able to back their work with a strong warranty.
Trust Delaware Valley's premier pool and landscape design firm, DiSabatino Landscaping. DiSabatino has been blending artistic vision and superior craftsmanship for more than 20 years. To schedule an initial consultation, call (610) 361-0595 in PA or (302) 764-0408 in DE. You can also view their custom pool portfolio online at DiSabatinoInc.com.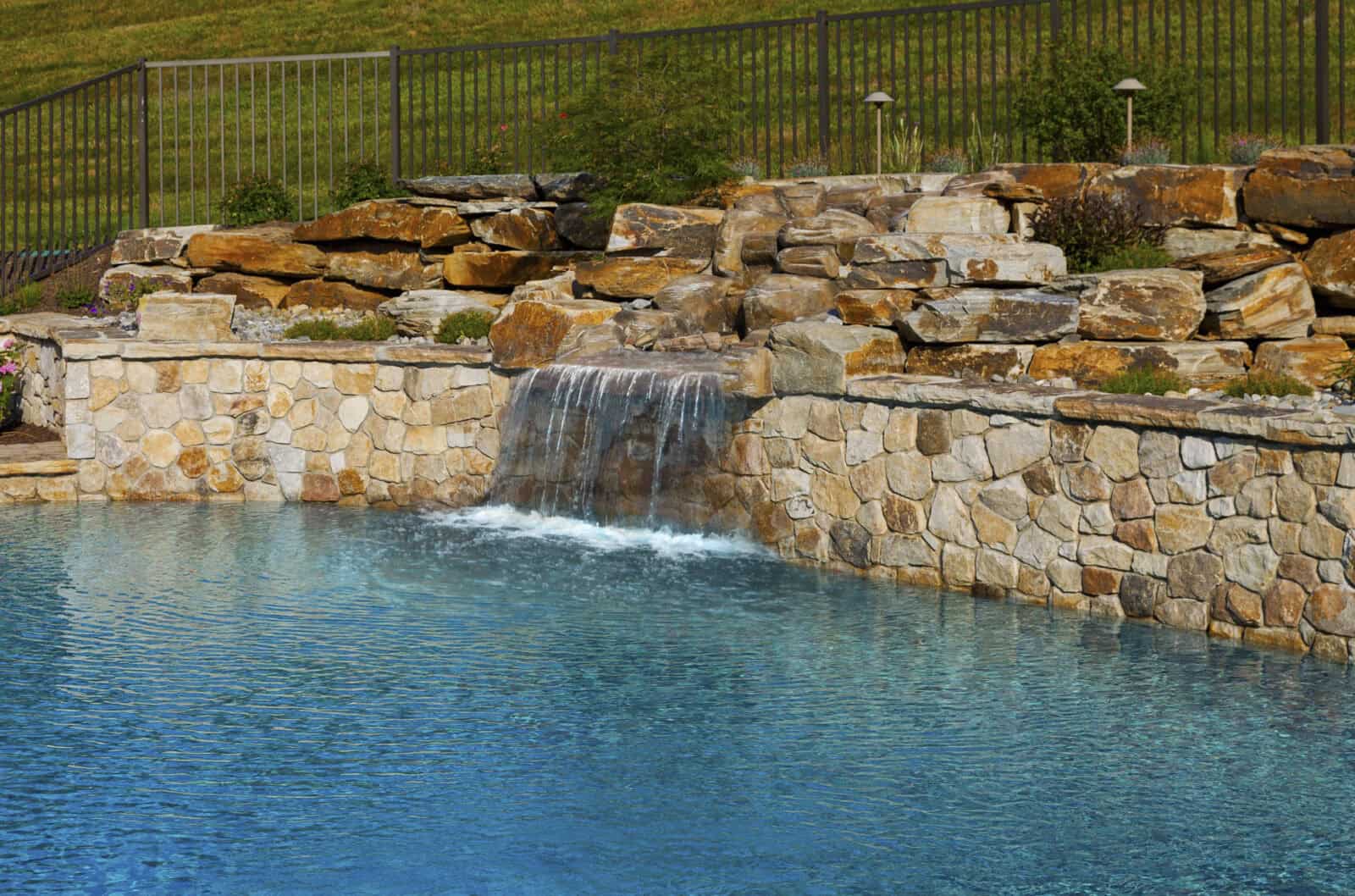 August 11, 2020
The benefits to having a water feature in your landscaping are many, from attracting wildlife and improved air quality to a reduction in noise pollution. According to Feng Shui, an ancient practice of looking to strike a balance with the natural world in living spaces, running water brings wealth.
This could easily be true, as the added curb appeal of a water feature brings up the value of your home. Landscaping water features attract potential homebuyers and are therefore a good investment. But, why wait until you sell to enhance your backyard with running water?
When it comes to relaxation in your own backyard, nothing is as soothing as the sound of running water. It is often said that flowing water soothes the soul. Throughout history, trusted doctors, philosophers and clerics have advocated the healing powers of water.
Here are Some Water Features that Will Add Value to Your Landscape:
Ponds:
Ecosystem Pond
Koi Pond
Water-Lily Pond
Trailing Stone Pond
Reflection Pond
Any one of the above pond options is bound to be the focal point of your landscaping. Ponds are the best way to attract birds, butterflies, dragonflies and other wildlife to your backyard. Making relaxation and the appreciation of nature easy and soothing. A great staycation solution for these challenging times.
Fountains:
Three Tiered Traditional Garden Fountain
Bubbling Urn Fountain
Stone Column Fountain
Classic Greek Fountain
Japanese Fountain
Endless/Disappearing Fountain
Cascading Fountain
Wall Fountains
Bird Bath Fountain
Surprisingly, any of these water fountains are an excellent solution for a landscaping area that is limited in size or as an entryway statement. Fountains, made with a variety of materials cement, ceramic, metal, cast stone, fiberglass and resin, create a soothing background noise to calm the spirit.
Waterfalls:
Pondless Waterfall
Spout Water Feature
Waterwall
Cascading Rock Waterfall
Rain Curtain
Scuppers
Sconces
Laminar Jets
Bubblers
Streambeds
Many homeowners are seeing the value of creating outdoor living areas and in doing so are using all types of unique water features to enhance their space. Likewise, these water features, such as a rain curtain or deck jets with LED lighting add a special ambiance in the darker hours of the day.
With outdoor entertainment being in high demand, adding one or more of these water features to your outdoor living area can make for many memorable occasions in your own backyard. Don't forget to explore the lighting options to enhance any water feature you install.
If you are considering a water feature installation, talk with one of our landscaped design specialist at DiSabatino Landscaping. We can quickly and expertly install a pond, waterfall, water fountain or streambed that will enhance your outdoor living area for years to come.
---
SOME RELATED ARTICLES:
---
---
302-764-0408 | DiSabatinoInc.com
---
The Landscape Experts
DiSabatino Landscaping is Delaware's #1 Hardscape and Landscape Specialist. Give us a call today! 302-764-0408
Custom outdoor swimming pools are a terrific way to have staycations throughout the spring and summer, sometimes into the fall months. Whether our clients opt for custom gunite pools, fiberglass pools or vinyl liner pools, they always ask us what added features are best.
While the answer to this question will vary depending on a client's preferences and needs, we find that laying out all the options help focus on inground pool designs to reflect their vision. Once they get a feel for the custom features that they want, they will need to compare the costs of such features to their budget and prioritize the ones they really want.
With the summer in full swing, parents are facing unique challenges this year. We thought sharing a few features of our inground pool designs that can help keep your kids at home safe, healthy and more importantly, happy!
12 Features to Consider With Your Custom Swimming Pool Installation:
1) Pool Slide: A custom pool slide can add a little life to any inground swimming pool and make your custom pool the envy of the neighborhood. There are a wide variety of custom designed pool slides available with different sized flumes that will reflect your style and wishes.
2) Diving Board or Diving Rock: Diving boards can serve as an enjoyable recreational feature to your custom swimming pool provided your pool design is deep enough. If you have energetic pool goers that would enjoy doing somersaults and backflips, this might be a feature you should add to your pool.
3) Hot tub: Hot tubs or spillover spas that are raised above the pool level serves a duel purpose; that of being therapeutic and an added water feature to custom swimming pools.
4) Grotto: Adding a cave or grotto as a place to retreat from the glaring sun or the crowd to peacefully meditate is becoming a very popular water feature in many custom pool designs.
5) Pool Bar: If you're planning on entertaining an adult audience that appreciate imbibing cocktails while relaxing in a pool, a swim up pool bar might be a nice feature to add to your pool.
6) Fountain: A cascading water fountain adds a peaceful ambience to custom swimming pools that are not only therapeutic but a great aerators that will keep the water cool.
7) Waterfall: Built with Real or Faux Boulders, cascading waterfalls add a naturalistic element to custom swimming pools and one of the most popular water features around. These too are great aerators to keep water temperatures cooler.
8) Rain Curtain: Young and old alike enjoy the cooling curtains of water falling into the pool from a pergola roof or some other overhang.
9) Bubblers: Small jets set in the floor of a shallow end of a custom swimming pool shoot streams of water that gurgle or bubble up to the surface.
10) Deck Jets: Thin arching streams of water shooting from the pool decking into the pool can be illuminated with color changing LED lights to make any night swim a fun event.
11) Mist Curtains: Having a  fog or misting system around the pool can greatly reduce the air temperature making for a much more comfortable pool side nap.
12) Pool House: Want to keep everyone comfortable and close to all the amenities? Consider a pool house with changing and bathroom, refrigerator full of everyone's favorite beverages and maybe even a comfortable sitting area to shelter from inclement weather.
Make summer at home this year full of fond memories of how your family chose to focus on what really matters in life, quality time with those you love in your very own custom swimming pool.
---
SOME RELATED ARTICLES:
---
---
302-764-0408 | DiSabatinoInc.com
---
The Landscape Experts
DiSabatino Landscaping is Delaware's #1 Hardscape and Landscape Specialist. Give us a call today! 302-764-0408