November 27, 2018
Properly preparing your hard outdoor surfaces serves to protect and extend their life span, saving you money and time. With that in mind, check out our suggested tip on preparing your patio for winter.
5 Tips for Preparing your Patio for Winter:
Sweep and wash off debris and leaves to prevent stains on your patios and walkways (
Fill any gaps in the joints with cement or polysand
Seal all masonry patios, driveways and walkways to prevent the ice and salt from damaging them
Ensure that the edges of your patio are backfilled (no soil erosion) to prevent water from pooling and freezing up to and under the patio causing the stone or pavers to lift
Ensure all gutters and downspouts are clear, properly sealed and directed away from masonry surfaces in order to avoid freeze or chip from the ice
Ultimately, spending the time and effort to keep your patio and other masonry surfaces looking their best will keep you from early replacement and will help to maintain your home's future resale value.
---


DiSabatino Landscaping is Delaware's #1 Hardscape and Landscape Specialist. We can help get your landscape ready to face the winter months ahead. Give us a call today! 302-764-0408
March 22, 2018
3 Ways to Enjoy Your Backyard With Protection From the Elements:
I am sure many are skeptical that spring will arrive to Delaware any time soon. With a fourth nor'easter ushering in the season of rebirth, it is hard to imagine warm days and nights spent enjoying the outdoors.
Yet, as sure as the sun rises and sets each day, the warm weather will be here soon. Make this the year that you enhance your backyard with a Pergola, sunroom or a beautiful outdoor living space installed by Delaware's #1 hardscape experts, DiSabatino Landscaping.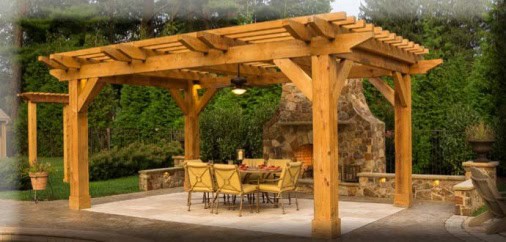 1) A Pergola can provide a beautiful accent to your rear yard. The structure alone can produce a comfortable amount of shade. Enhance that shade with a retractable canopy or overhead lattice work.


2) An Open Rear Porch is a wonderful way to enjoy the outdoors in any weather. The roof will provide protection from the sun and the rain. Add retractable screens for protection from insects. Add heaters to warm the area for all season entertaining.


3) A Sunroom is another wonderful way to enjoy the outdoors. Add wide open screen windows or a grand wall of doors that slide open to let fresh air in. Sunrooms can also have heat and air conditioning for yearlong enjoyment.
Don't forget the accents like an outdoor kitchen, fireplace, television or sound system to create your total outdoor living experience.
Entertainment can be a breeze with an outdoor living space full of all the luxuries that one would expect to have to go indoors to enjoy. Get family and friends together for some fresh air, great conversation and superb entertainment that will sooth and rejuvenate the soul.
If you're looking to extend your home's living space to the outdoors, get in touch with DiSabatino Landscaping – 302-764-0408