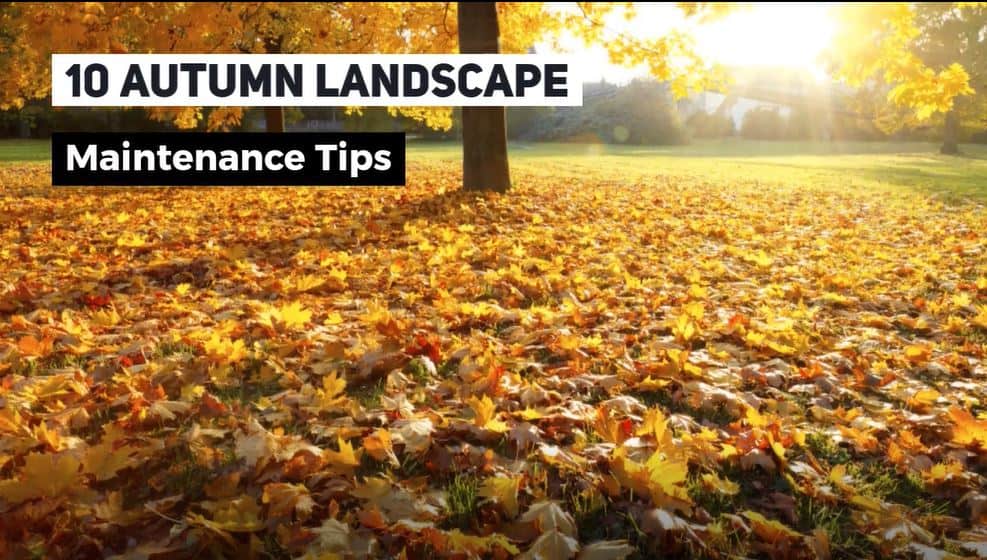 December 12, 2019
Timing is everything in the landscaping business. Particular chores or lawn maintenance need done during certain times of the year for best results.
Things, such as properly timed applications will have your landscape reaping the benefits. Doing these maintenance tasks at the wrong time could be a waste of energy or worse. It could actually harm your landscape.
Since very few of us have that a green thumb, we thought sharing some helpful tips for fall maintenance might be in order. Preform these chores to have a vibrant landscape year round. Doing right thing at the right time will keep your lawn and garden looking its best. Continue reading →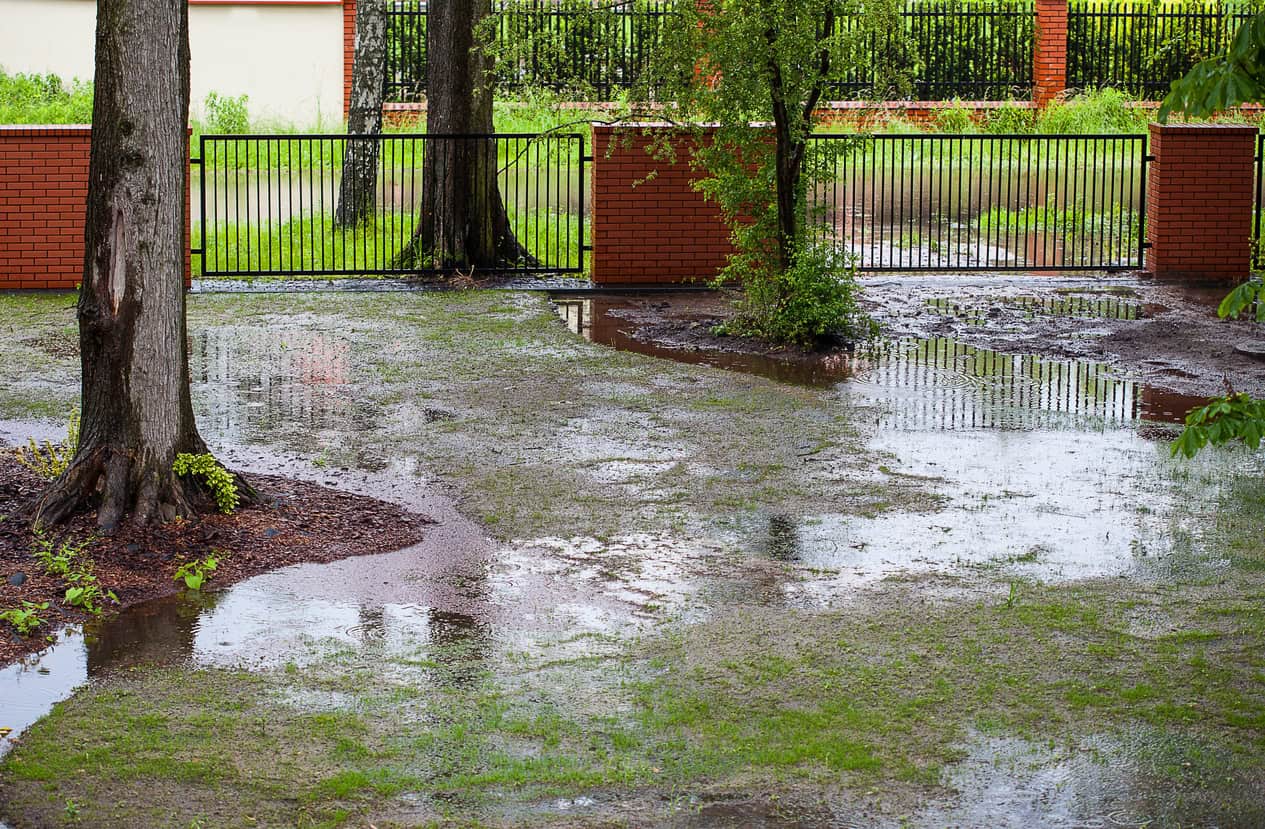 October 8, 2019
Is Your Property Experiencing Drainage Problems?
Anyone who has experienced drainage problems, such as a flooded basement, damage to their home's foundations and interior understands the importance of proper drainage. It is vital that water is properly directed away from your home's foundation.
Water management Tactics for Your Home
As more and more building is going on in our area, the amount of porous land is diminishing. This can cause drainage problems for even the most mature properties, as traditional water flow patterns are interrupted. This is something than many homeowners are starting to experience.
Grading around your home to prevent water from building up around the foundation is one-step in creating proper drainage. However, there are a number of tactics effective to help divert water to other areas of your landscape. We thought we would share a few of these with you today.
7 Ways to Solve Landscape Drainage Problems:
1) Downspout Extensions: Add a downspout extension to guide water collected by gutters well away from the foundation so that it does not end up in the basement. This is the most basic and necessary tactic to protecting your home from water damage. Re-route the water across the yard surface to avoid a pooling in one area.
2) Drain Boxes or Grates: Routing water to a surface drain, such as a 12" x 12" square or 6" round grate that keeps debris out, yet lets water flow into the box. Keep in mind that the pipe buried should allow the water to run downhill.
3) Drainage Swales:  Drainages swales are pitched areas lined with stone or grass designed to guide water off your property or to an area well away from the foundation. Water should not stand more than 24 hours unless we have an extreme rain event. Drainage swales prevent standing water, which can lead to mosquitos and other issues. With grass swales, turf should be kept healthy because the root system maintains the integrity of the swale. Whether you have a grass or stone swale, they should be kept free of debris so as not to impede water flow.
4) French Drain: A French drain consists of perforated pipe sheathed by a fabric sock to keep dirt and sand from clogging the pipe. Install the perforated drainage pipe in a trough fully surrounded by gravel before covering with soil and grass seed. This is another effective way to control proper drainage.
5) Dry Well: Simply put, a dry well is a large hole filled with gravel that catches excess water and holds it while it slowly soaks into the ground. It is possible to increase the dry well capacity by burying a commercially available holding tank surrounded by gravel or some other porous substance to control the draining of excess water.
6) Rain Garden: A rain garden located in problem areas of your property could be the solution when an underground spring or creek is the issue. First, the area needs to be excavated and replaced with an engineered soil or gravel soil mix to allow water to slowly absorb. Fill the garden with water loving plants such as ferns, hostas and colorful perennials.
7) Rain Barrels: Installing a water barrel or storage well below grade to capture the runoff to use to irrigate landscaping at a later date. This is a great 'green solution' to divert water from one location that receives too much water to other areas that are in need of that water.
Of course, one of the easiest ways to fix your grading and drainage problems is to hire a landscape drainage professional. A trained and experienced landscape professional knows what corrective drainage measures will work best for your specific water flow patterns. They will be able to assess the full scope of your drainage issues and create an overall design.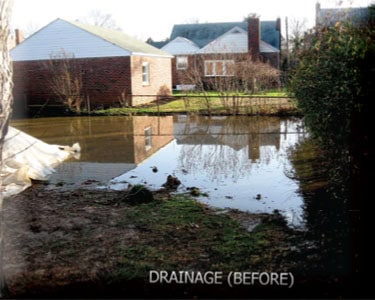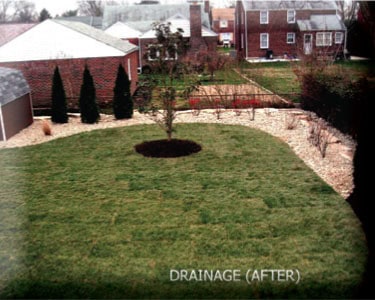 Please note this is not a full list of solutions to alleviate poor drainage areas. If you have a wet spot in your lawn or an area you are worried about please give us a call and one of our designers will find the right solution for you!
Interested in Talking with One of Our Grading and Drainage Experts?
Our drainage experts will perform a custom assessment of your landscaping drainage system, call us at 302-764-0408 – email us at reception@disabatinoinc.com or fill out the form on our grading & drainage page.
302-764-0408 | DiSabatinoInc.com
RELATED ARTICLES:
Drainage Fixes to Protect Your Home and Landscaping
Got Drainage? Proper Drainage Benefits …
How to Create a Sustainable Garden that Helps Wildlife
---


DiSabatino Landscaping is Delaware's #1 Hardscape and Landscape Specialist. We can help advise you what is best way to create your outdoor living space  Give us a call today! 302-764-0408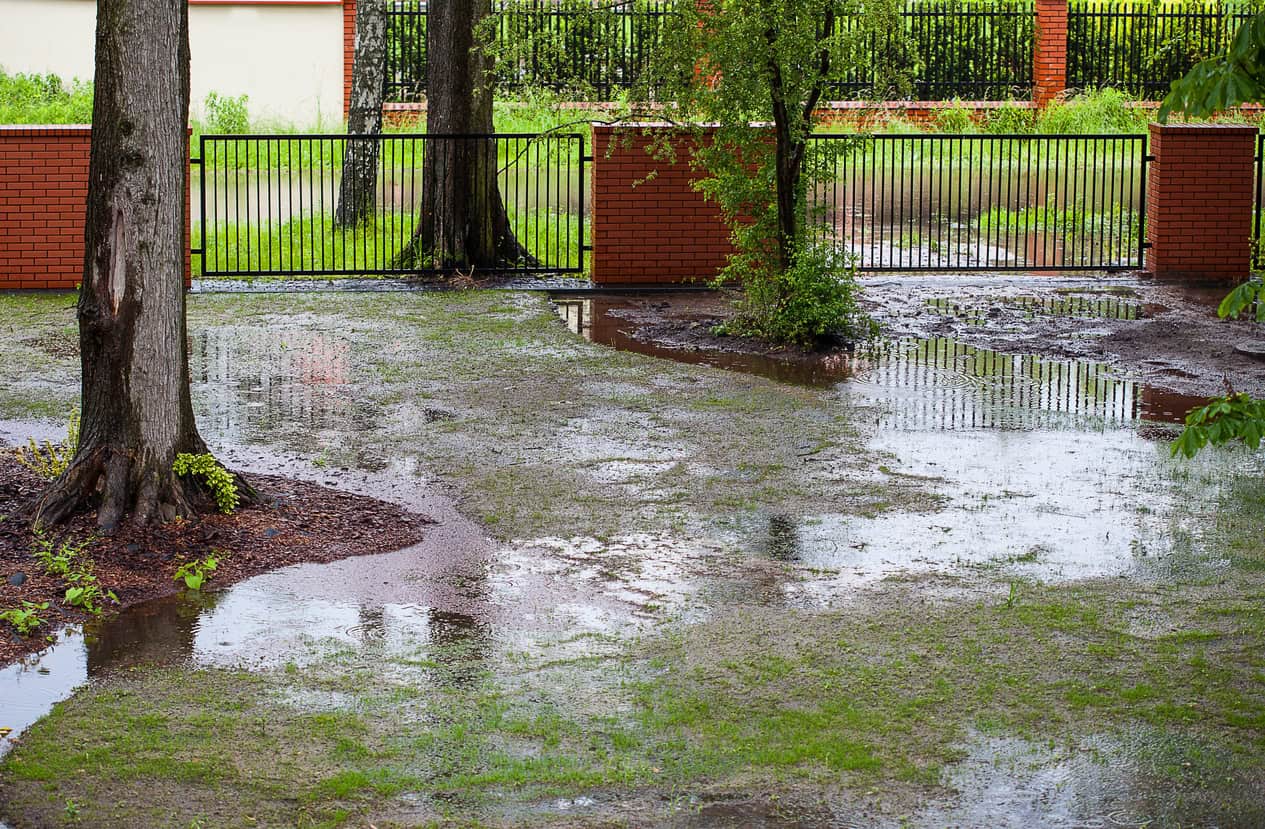 October 10, 2018
Two Thousand and Eighteen has been a record year for rainfall in the Delaware Valley Region. With average rainfall typically at 45 inches, we are currently nearing 80 inches plus this year alone! This crushes the previous record since the initiation of rainfall records back to 1895.
Due to the excessive rainfall you may have noticed your sump pumps running more, soft spots in lawns that were not there before, or water problems in the yard that have gotten worse with the record rainfall. DiSabatino Landscaping specializes in finding the appropriate drainage solution for your home.
Instead of guessing and doing the bare minimum to remediate the symptom we take the time to actually assess and correct these issues for both your basement and landscaping. During our consultation, we weigh not only the history of the area but also what you, as the homeowner, have experienced during your time in the home.
Whether you just built your home or your home has been in the family for generations; we have seen it all! All of our designers are equipped with state of the art leveling devices so we can find the correct solution for your home's specific situation.
DiSabatino Landscaping will always try to assess your personal property and find the best solution to fix your drainage problems
Drainage Fixes to Protect Your Home and Landscaping:
1. Surface Flow:
This is the most cost effective solution for many homes. With this solution your landscape needs to have a minimum of a 2% grade to have the water properly flow over your lawn to the appropriate storm water management location. This type of work is typically done in swale creation.
2. Down Spouts:
This is one of the most common culprits to having water sitting at the foundation of your home. By taking the downspouts out a minimum of 10' from your home this can alleviate the rainwater load at the foundation of your house by almost 80%. We always run your downspouts with SCH 40 PVC pipe to ensure no sediment will be caught, crushing of the pipe will not occur from typical lawn traffic and we install the pipes with an easy cleanout system if you have leaves in your gutters.
3. Dry River Beds:
This is a more extreme case of surface flow drainage solutions. Typically, a dry riverbed solution is used in areas where grass will not easily grow. By creating the same surface flow solution as previously mentioned; however, we would install decorative or ballast stone that will allow the water to drain directly through the area to the appropriate storm water management location.
4. Catch Basins:
Here we begin to get more in depth with your landscape. Catch basins/drain boxes are typically used when a low point in one point of your lawn does not drain properly and a surface flow or down spout solution is not the correct way to move the water away from your home. Here we install the appropriate sized catch basin to support the intake volume of water and move said water through the appropriately sized PVC SCH 40 pipe.
5. Flow Wells:
This solution is used when water cannot be moved away from where the water is pooling. Typically used in smaller areas to move water from the surface into the soil column this solution begins to get into the more complex drainage solutions.
6. French Drains and Percolation Drains:
Used in extreme solutions when water cannot be moved away from the location of pooling water in your yard; these solutions can hold and/or move the water underground to be dispersed into the soil column.
7. Retention/Detention Ponds:
This is one of the more costly installations of drainage solutions typically used on new homes or new hardscaping project needs. These ponds are designed to take excessive amounts of water from the surface and drain or collect them as needed by the county/township.
Please note that this is not a full list of solutions that DiSabatino Landscaping uses to alleviate poor drainage areas. However, if you have a wet spot in your lawn or an area you are worried about please give us a call and one of our designers will find the right solution for you!
If you're interested in talking with one our drainage experts regarding a custom assessment of your landscaping drainage system, call us at 302-764-0408 – email us at reception@disabatinoinc.com or fill out the form on our grading & drainage page.